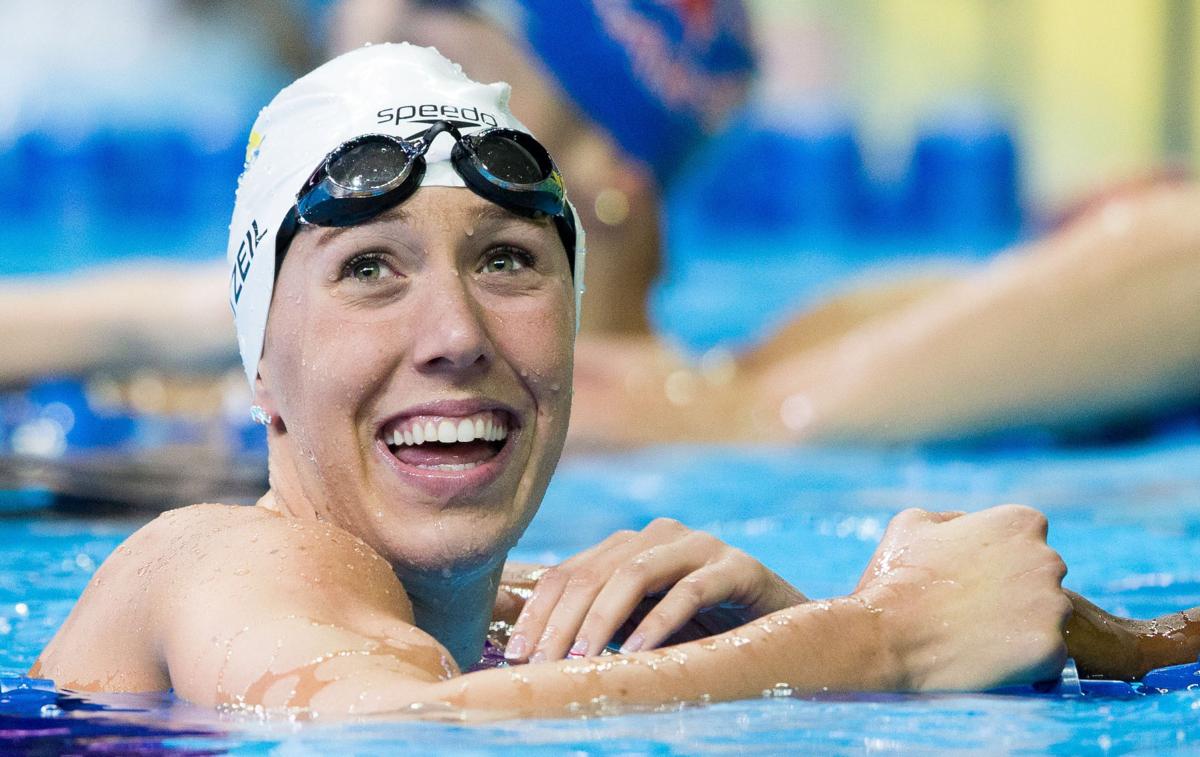 Delaying the start of her collegiate career by a year proved worth the wait for Abbey Weitzeil.
The future California Golden Bear earned her first berth on the Olympic team Friday night by winning the women's 100-meter freestyle at the U.S. Trials.
It turned out to be one of the deepest events of the meet. By the time the race was over, all eight finalists were members of the American team headed to Rio next month.
Weitzeil touched first in 53.28 to lead a field in which the top six bettered the winning mark at the 2012 Trials. Stanford's Simone Manuel was second in 53.52, and will join Weitzeil in Rio in the 100 free.
"I knew I was going to have to put my head down and fight for it because I knew everyone would be right there with me," Weitzeil said. "I had no idea where everyone was. I couldn't see anybody after the turn, so I just went for it."
Weitzeil also had a few extra fans at the CenturyLink Center thanks to her club coach, former Omaha Creighton Prep star Coley Stickels.
Stickels has tutored Weitzeil since late 2012, when he became coach of the Canyons Aquatic Club in Santa Clarita, California. He said after the race that there were a few extra fans rooting for Weitzeil.
"I felt like we almost had a home crowd advantage there," Stickels said. "My family gets to be here. My high school friends get to be here. They're all up there supporting our team."
After graduating from Prep in 1996, Stickels was a 14-time All-American at Arizona before getting into coaching. He's been leading the Canyons Aquatic Club after stints with the Phoenix Swim Club and the Lake Oswego Swim Club in Oregon.
Stickels said he's proudest of the way Weitzeil worked to put herself in position for Rio.
"Abbey took a year off from going to college to prepare for this day and this moment," Stickels said. "All of our work and all of our efforts have been directed towards this day. She worked very hard and earned it."
The race was destined to be fast: Five of the eight in the finals had bettered the 53.96 Jessica Hardy swam to win it in the 2012 Trials. In Friday's final, the top six — who all will be part of the 400 free relay rotation in Rio — were faster than that time four years ago.
Joining Weitzeil and Manuel in the relay rotation are American record holder Amanda Weir, Lia Neal and two others who already had qualified for the U.S. team, Allison Schmitt and Dana Vollmer.
Weir was third in 53.75 and Neal was 0.02 seconds behind her. Schmitt, who also is part of the 800 free relay squad, was fifth in 53.87 while Vollmer, the Trials 100 butterfly runner-up, was sixth in 53.92.
Just missing the cut were Katie Ledecky and Kelsi Worrell. Ledecky, who already won the 200 and 400 freestyle races and swam the third-fastest time in history to lead all qualifiers in Friday's 800 free prelims, was seventh in 53.99.
Worrell, who edged Vollmer for the 100 butterfly title, was eighth in 54.06.
"I know all those girls in that field and I (have) raced them before," Weitzeil said. "You've just got to stay in your own lane, stay in your own head. This meet is unlike any other meet that I've been to pressure-wise, but it was a ton of fun."
Weitzeil and Manuel were 1-2 from start to finish. Worrell was third at the 50-meter turn before falling off the pace. Weir was fifth at the turn but churned out a 27.83 final 50 to move into third.
Stickels said Weitzeil's strong résumé at meets around the world helped prepare her for the biggest meet of her life so far.
"Abbey has been in the heat of battle before at international competitions, and she's stepped up a number of times," Stickels said. "So she knows what the pressure is like. I think she just maintained her head and maintained good awareness going into her races.
"She didn't overthink it and just executed a race plan that we have worked on for a long time."