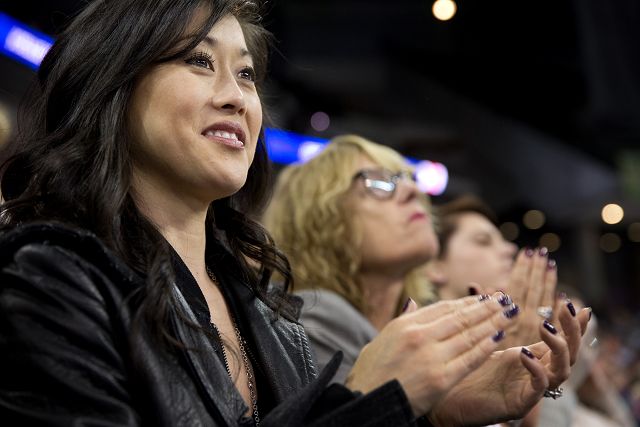 When she's at a skating competition, Kristi Yamaguchi can't catch a break.
She's barely settled in her seat to watch the ladies free skate on Saturday night and the fans in the row behind her are whispering. One woman taps her on the shoulder, her eyes wide.
"Kristi Yamaguchi," she says.
Someone else reaches out with a program and a pen.
Yamaguchi smiles. After all, it's been more than two decades since the golden year when she was at the top of the medals stand at the U.S. championships, world championships and the Olympics. She's used to this.
These days, Yamaguchi, 41, skates only occasionally. When she does get on the ice, it's usually to have fun with her 7-year-old daughter, who is just getting the hang of the sport that made mom famous. (And dad, too — Yamaguchi is married to former NHL player Bret Hedican.)
"If I do get out, it's a couple times a month," she said. "And I just go out and float around. I don't do anything difficult anymore."
But she's still a big skating fan. Every year, she turns up for at least part of the U.S. championships. She flew into Omaha on Friday and will stick around through the end of the competition.
Just like everyone else, Yamaguchi gasps when skaters stumble or fall.
But she can feel it — that heart-stopping moment of being alone out on the ice, knowing that you've got to do what you can to make people forget right away.
She watches skater Joelle Forte fall on a jump, get back up and then nail several elements in a row.
"She's fighting. … She was tentative on the first jump, but she pulled it together and that's what you want to see, as a coach," Yamaguchi said. "You want your skater not to give up."
Other little things make her think about being on the ice, too.
When a photographer starts snapping away nearby, Yamaguchi pays attention. She said that noise, of the shutter clicking away, stands out when you're whizzing by on the ice.
"I remember at the world championships in '91 — my first world title — all the photographers were in one area and when I'd go by them, that's all I'd hear," she said, mimicking the noise.
"That's all I remember from the performance."
Back when she was skating, Yamaguchi's programs were rated on the old 6.0 system. The new, more complex judging system has left many fans puzzled. But here's some good news: Even Kristi Yamaguchi doesn't have it all sorted out.
"It's still confusing for me," she said.