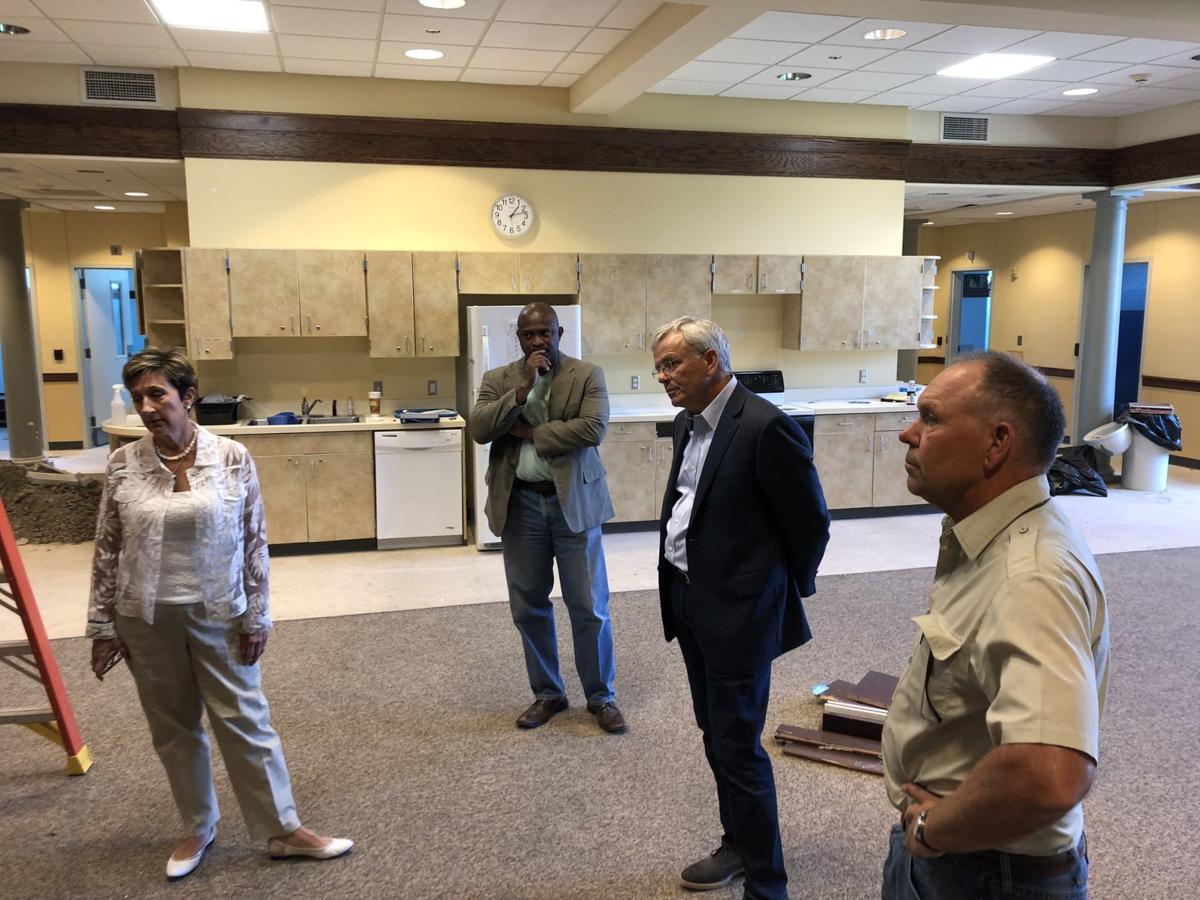 LINCOLN — An "urgent situation" at the state institution for female juvenile offenders in Geneva has forced officials to close two buildings and move four girls into an institution for males.
Dannette Smith, CEO of the Department of Health and Human Services, said she ordered the changes after a disturbance Aug. 10 at the Youth Rehabilitation and Treatment Center in Geneva. Law enforcement was called to help with the incident, which left one building uninhabitable.
But Smith said the center has been grappling with staff shortages, inadequate programming and deteriorating buildings for some time.
"It's been a program that's kind of been in decline for a while," she said. "We just came to a point where we had to make some decisions."
Those decisions included moving four girls with significant behavioral and mental health problems out of the center and putting the remaining 24 girls into two buildings. The building damaged in the Saturday incident and another building that has been torn up for repairs were closed.
The center, which serves girls ages 14 through 18 who are sent there by the courts for breaking the law, has a capacity of 82 beds.
Sign up for The World-Herald's afternoon updates
Receive a summary of the day's popular and trending stories from Omaha.com.
State Sen. Sara Howard of Omaha, who chairs the Legislature's Health and Human Services Committee, alerted fellow lawmakers to the situation in a letter Friday morning. She and three other lawmakers visited the facility Friday afternoon and talked with the remaining girls and with staff.
The group found numerous issues of concern, she said. Among them:
In one building, the mechanism that is supposed to unlock all doors in case of fire is broken, meaning that staff would have to unlock each door individually.
Three girls were being confined to their rooms alone with nothing to occupy their time. Two of the three had no working lights in their rooms and one had no mattress. The girls reported being confined for up to five days at a time.
Staff are being pulled from HHS facilities in Kearney, Hastings and other communities to help fill vacancies. But the practice offers little consistency or the chance to build the kind of relationships needed for rehabilitation and treatment.
Programming was minimal, with little therapy available and few activities. The girls reported that they get less than an hour of recreational time each day and get no time outside.
Smith said the facility has been confronted with a "perfect storm" of issues that appear to have been brewing for some time.
Girls come in with significant behavioral and mental health issues, she said. The center has difficulty hiring and keeping staff, particularly in direct care and clinical positions. Programming suffers from the lack of staff, despite efforts to fill in with people from other places. Added to that have been problems maintaining the buildings. The result has been dangerous and destructive behavior.
Mike Shipman, president of the Fraternal Order of Police, the union representing employees at the Geneva center, said several staff members had been assaulted and some injured at the center in recent months.
One employee was hurt during Saturday's incident, when some girls refused to go to their rooms. The disturbance ended quietly after the Fillmore County Sheriff's Office and Nebraska State Patrol responded to a call for help.
On Friday, Howard said the girls told lawmakers that they had not wanted to stay in the building, because broken sprinkler heads had caused extensive water damage and the building smelled of mildew and mold.
Howard said the lack of programming contributes to the building maintenance problems. Breaking the sprinkler heads is an example.
"When you put a bunch of teenagers in a cottage with nothing to do, they're going to tear things up," she said.
HHS initially moved the four girls, all of whom came from Lancaster County, to the Lancaster County Youth Services Center.
They moved in on Monday but had to move out on Thursday, after Lancaster County Attorney Patrick Condon got a court order barring them from the county detention facility. Condon said state law does not allow youths to be held in detention after being adjudicated in court as juvenile offenders.
HHS officials then moved the four girls to the Youth Rehabilitation and Treatment Center in Kearney, which has been only for boys since 1892.
At the Kearney center, the girls are in a building where they can be housed separate from the boys, Smith said. They are getting treatment, education and other services on opposite schedules from the boys. But she said HHS is pursuing the possibility of leasing space from Lancaster County to house and serve the four girls.
Smith said she is continuing to assess the situation.
"This is a department that cares and its leadership cares," she said. "I think that right now we are just OK (at the center). There may be other decisions that are going to have to be made."