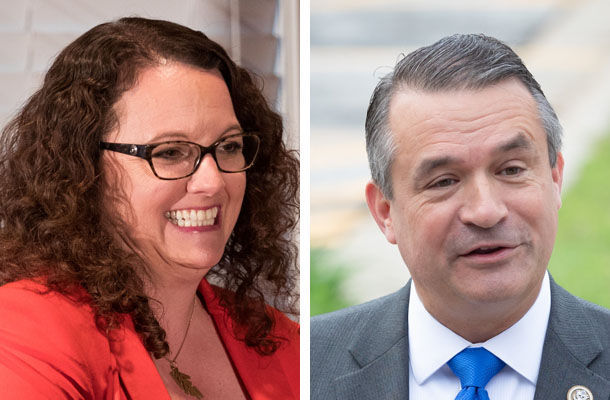 The Social Security system's financial health is a looming issue for Congress, and Nebraska's 2nd District candidates take wildly diverging views on the topic.
Republican Rep. Don Bacon and Democratic challenger Kara Eastman don't even agree on the extent of the Social Security system's solvency problems.
Bacon argues that Social Security will become "insolvent" by 2034 and that something needs to be done now to fix it. He suggests making some cuts to benefits, including increasing the full retirement age for people who are currently younger than 40.
Eastman calls the solvency issue a "modest funding gap" and wants to solve it by lifting the cap on incomes subject to Social Security taxes. She said if anything, Social Security benefits should be increased, not decreased.
"Bacon supports raising the retirement age and cutting ... Social Security," Eastman says in the ad. "That's your money. You pay into the system, you deserve your benefits."
Bacon has called the ad "false," and he argues that he wants to make "tweaks" to the system in order to protect Social Security, Medicare and Medicaid.
"The longer we wait to make improvements to these systems, the harder it gets and the fewer options we have for solutions," he said.
"Everyone in Nebraska knows that when you turn up the heat, bacon gets even better," Bacon says.
Extent of the Social Security problem
So, is Social Security going to become insolvent?
Forecasts for Social Security are uncertain and depend on a lot of factors, like birth and death rates. But it's clear that Social Security is facing a problem, which is that the number of retirees is growing fast, meaning that more and more people are taking from the system rather than paying into it.
Politifact, a nonpartisan fact-checking organization, has weighed in several times on how to most accurately characterize the financial troubles of the Social Security system. In 2013, it rated a claim that the Social Security system is sound as "half-true," saying that's a too-rosy descriptor.
What each candidate wants to do
Both candidates take a pretty standard party line on this issue.
Bacon said that raising the retirement age for younger workers is one piece of the solution and that he's willing to look at other solutions as well. He noted that average life expectancy has risen from age 61 in 1935, when Social Security was implemented, to almost age 80 today.
"This issue is complex for many reasons," Bacon said. "Every tweak to the current system is controversial. This does not mean tweaks aren't necessary — in fact, they are crucial. Fixing big problems incrementally is the path of least resistance in Congress, and unfortunately, often the only way to make major changes."
He has said he is not currently in favor of privatizing Social Security — once a centerpiece of the Republican congressional platform, though the idea has lost favor since President George W. Bush's unsuccessful attempt to do so in the mid-2000s.
Eastman says the problem lies not in the benefits but rather a cap on the amount of income that is subject to Social Security taxes. That cap is $128,400 for 2018. She also said that raising the retirement age would present major problems, and it could be particularly tough for people who do manual labor to continue working into their late 60s or 70s.
"People are scared, and this is something we need to be fighting for," Eastman said. "This is one of the most successful and popular programs in the United States."