It all started with his mother, Dorothy Lynch.
But the popular, Nebraska-born product never would have made it out of Dorothy Lynch's kitchen in the 1950s and on to grocery store shelves still today without the ingenuity of her son, Neal Lynch.
Neal grew up in St. Paul, Nebraska, where he helped his parents at their supper club that served his mother's tomato-based salad dressing. He died Oct. 30 at 82 years old in Livingston, Montana, where he moved earlier this year to be closer to his son, Monty Lynch.
Neal Lynch was always an entrepreneur, but his most famous endeavor came when he was 18. His parents were away in Europe, and he decided to bottle and deliver his mother's salad dressing from his parents' basement in St. Paul.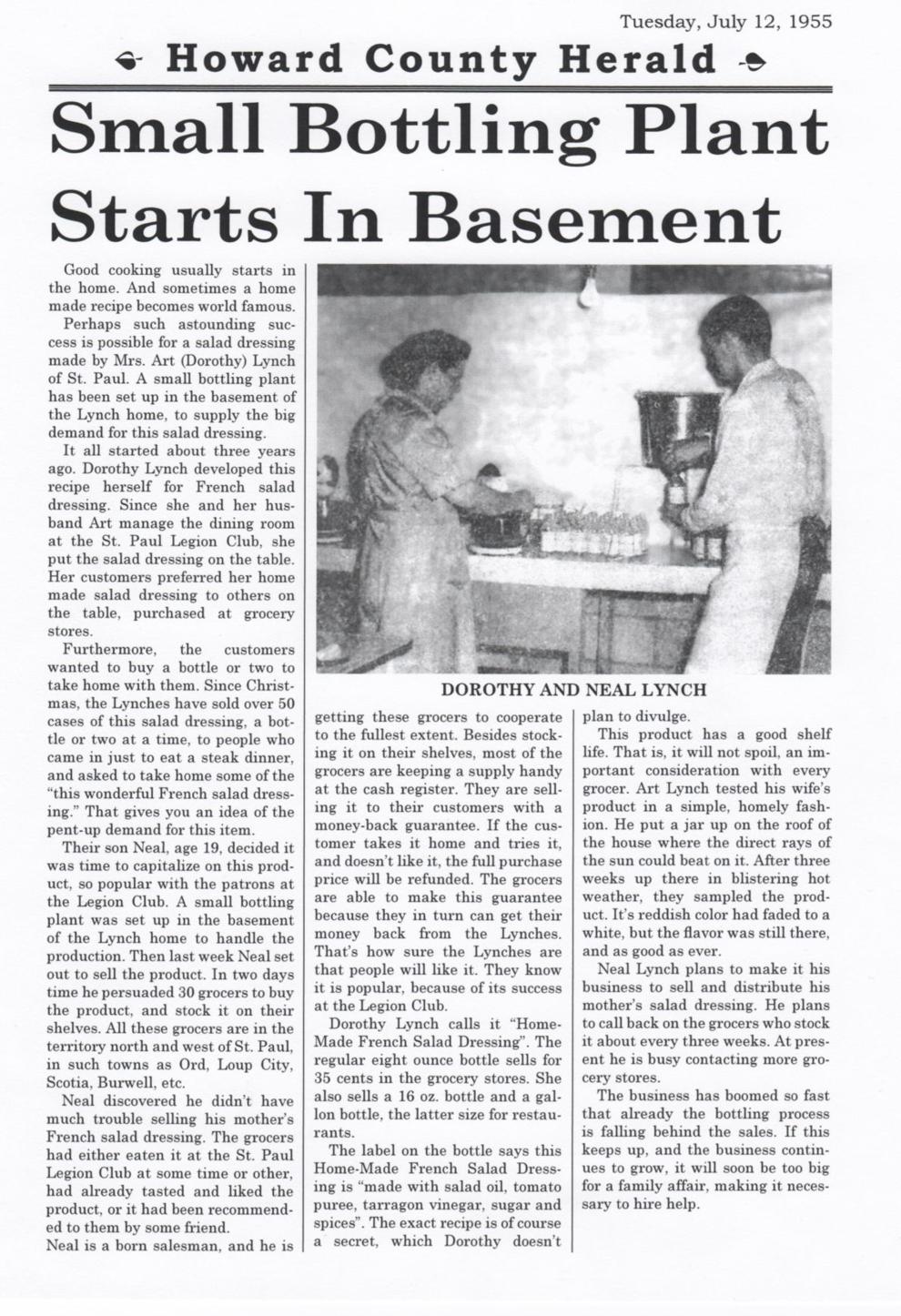 At the time, some supper club customers would ask to buy the sweet-and-spicy dressing. But others were stealing it from the tables, Monty Lynch said, so Neal Lynch "just saw it as an opportunity."
He removed the seats from his car to make room for the boxes of dressing, then started hand-delivering them to restaurants and grocery stores all over Nebraska. The product caught on from there.
"There never would have been any Dorothy Lynch salad dressing anywhere on the market if it weren't for my dad putting it on the market and promoting it," Monty Lynch said.
Dorothy and Arthur Lynch sold the recipe to Gordon "Mac" Hull in 1964. (Dorothy died in June 1975.)
Today, Tasty-Toppings Inc. in Columbus, Nebraska, produces the dressing that can be bought online and in grocery stores across the country.
Even after selling rights to the product, the family received a 1 percent royalty on the sales for 50 years, for use of the Dorothy Lynch name, Monty said. As time passed, he said, the royalty checks became "quite substantial."
Neal Lynch "had a likable personality," Monty said, "and since he's died, a lot of people have contacted me and told me how much they enjoyed his company and friendship over the years."
Neal's connections brought him some celebrity friends, Monty said, including Wayne Newton, Ed McMahon, Don King and Robin Williams.
Neal Lynch had three kids with his high school sweetheart, Janice (Allyn) Lynch, whom he married in 1956. The couple stayed in the food service business for a while and owned the Lynches' supper club. Neal Lynch went into the oil industry after that, Monty Lynch said, which is what he was doing when he retired around 2010.
Neal Lynch loved hunting, so Monty Lynch grew to love it, too. When Monty Lynch was in high school, he trained his black Labrador retriever for a hunting show. Neal Lynch was right there with him "promoting the whole thing," and "Duke, the Wonder Dog" was born.
"But his business cards," which he was handing out until a week before he died, "always read, 'Neal Lynch, Founder of Dorothy Lynch salad dressing,' " Monty Lynch said.
Their family's signature salad, which started with Neal Lynch, looks like a regular salad with "whatever kind of lettuce you like," such as iceberg or romaine. Add a few garnishes like tomatoes, sliced radishes and onions. Then top with Dorothy Lynch, blue cheese crumbles, club crackers and crunchy fried onions.
"I like French fried onions," Monty Lynch said. "But if you put it together like that, BAM! You got a good salad."
Monty Lynch still has his grandma's original salad dressing recipe — the secret one without preservatives. Every once in a while, he whips up a batch for the family to enjoy.
But when he doesn't have time, there's always a bottle or two in the pantry.