Meatpackers and immigrants. Immigrants and meatpackers.
Since the first cattle shuffled off of a railcar at the Omaha Stockyards in the 1880s, headed for slaughter on a packing line made up of meat cutters from Poland and Eastern Europe, the fates of the workers and the companies that employ them have been bound together here in Nebraska.
Yet waves of immigrants have overcome poverty and discrimination to thrive in the Midlands. The meatpacking industry has survived labor strife, low prices, a sharp drop-off in red meat consumption, and the 1980s farm crisis.
Now, heads down and knives sharpened, they are pulling together through a pandemic.
"One thread that runs throughout is the resilience of immigrants and the resilience of meatpackers," said Lourdes Gouveia, a University of Nebraska at Omaha sociology professor emerita, who has studied meatpacking and labor for decades. "It's a complex and nuanced relationship."
Urban America doesn't like to think much about how the steaks and pork chops and chicken wings it consumes get to the table.
From time to time, though, reality sinks in.
And we've seen images from inside the plants of meatpacking workers swathed in gowns and masks of medical blue, separated by thin sheets of plastic as they work shoulder to shoulder, bloody knife blades flashing.
Most are brown-skinned. Many don't speak English. Some are undocumented.
"It has been immigrants all the time who have been essential workers," said Sergio Sosa, executive director of the Heartland Workers Center in South Omaha. "These essential workers became invisible. Because of COVID-19, they've become visible again."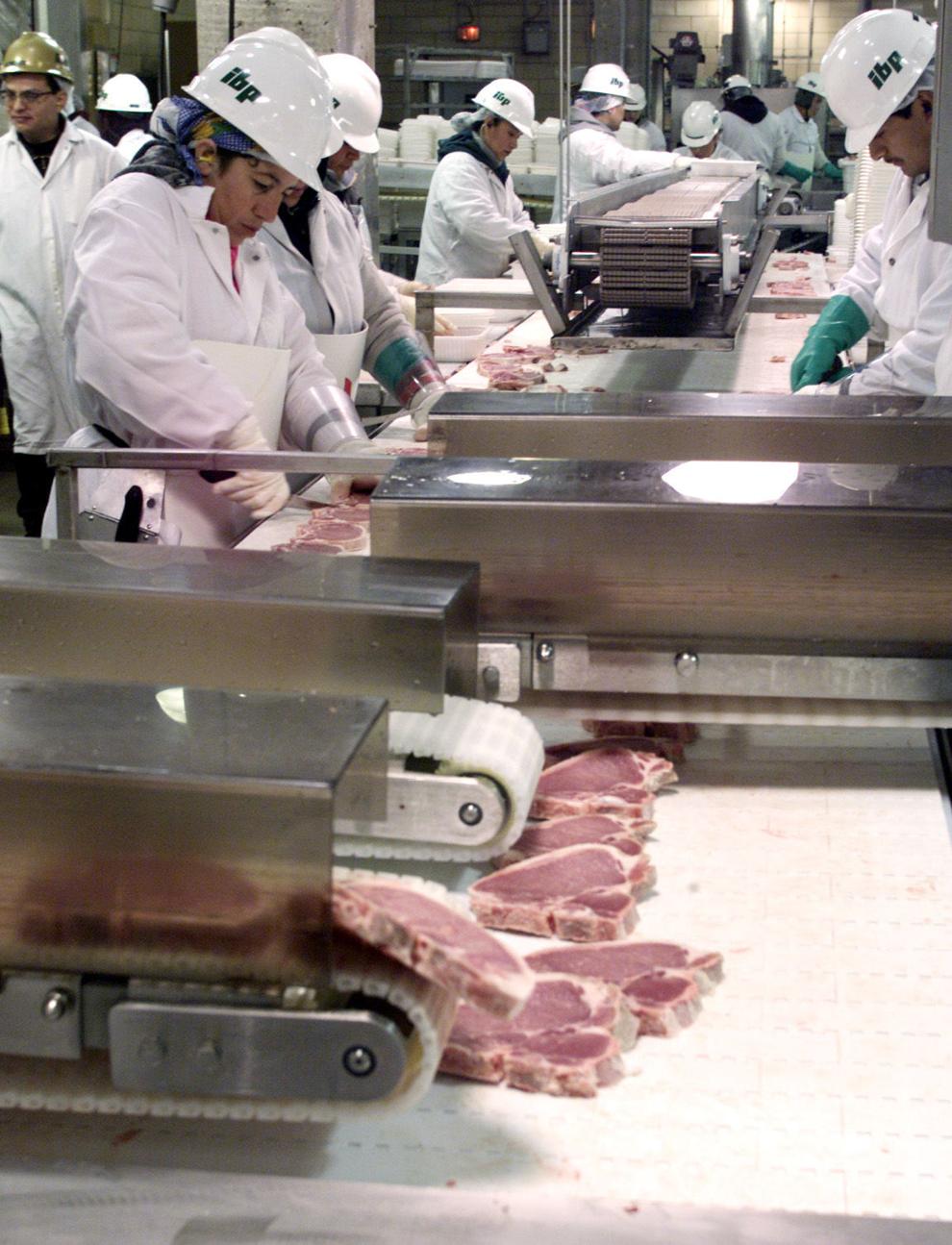 The slaughter of animals to put meat on our dinner tables has always been dirty, dangerous work.
Cutting beef and hog carcasses into prime rib and pork chops is fast-paced, stressful and exacting, hard on the wrists, fingers and hands. Though reported injury rates have fallen for at least the past 30 years, meatpacking workers still are injured on the job more often than almost any other industry, Gouveia said.
Then, in March, COVID-19 hit meatpacking plants hard. Few companies have released statistics about cases in their workforce, but a report in early May by the Centers for Disease Control and Prevention listed 4,913 cases and 20 deaths nationally among meatpacking workers at the time. At the end of May, the nation's largest meatpacking union estimated the number of deaths at 44.
The outbreaks led some plants to shut down in March and April, resulting in spot shortages of some cuts of meat. President Donald Trump, in turn, ordered packing plants to remain open — adding to the pressure on workers.
"You have the workers who are afraid of the virus, and then you have the workers who are afraid of losing their jobs or their homes," Eric Reeder, president of United Food & Commercial Workers Local 293, told The World-Herald in April.
The predecessors of today's meatpackers faced the same terrifying dilemma a century ago, when the Spanish flu pandemic slammed Omaha hard during the fall of 1918.
More than a quarter of the nearly 1,000 Omahans who died in the pandemic were meatpacking workers, according to research by Gary Gernhart for his 1999 UNO master's thesis, "A Forgotten Enemy: Omaha Encounters the 1918 Influenza Pandemic." Two weeks after the city reported its first flu case, about 15% of the 9,000 laborers at Omaha's Big Four packing plants were out sick.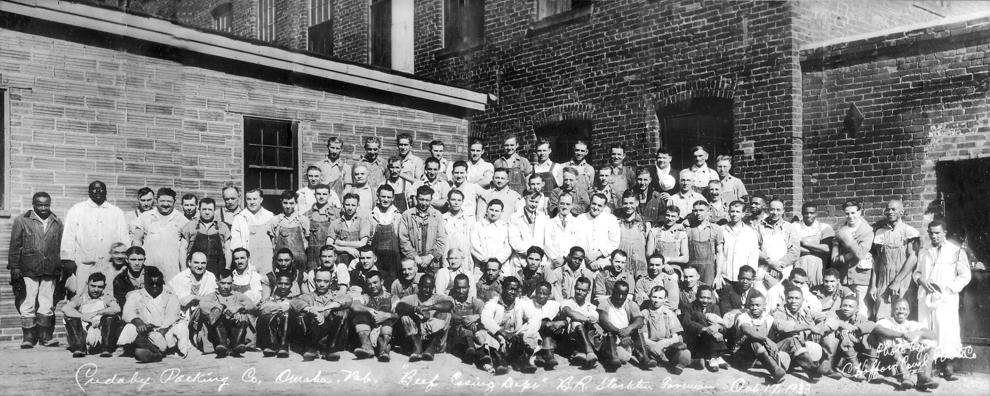 Omaha then was a center of the nation's meatpacking industry. The westward extension of railroads allowed for large-scale ranching on the Great Plains after the Civil War, with trains carrying cattle to meatpacking hubs: first Chicago, then Cincinnati, Milwaukee and Kansas City.
Omaha joined the group in 1884, with the opening of the Union Stockyards. They abutted a railhead near what is now the Kennedy Freeway and L Street, in the then-separate town of South Omaha.
In just a few years, meatpacking became Omaha's biggest industry. Nebraska called itself "The Beef State," and the massive South O Stockyards proved it.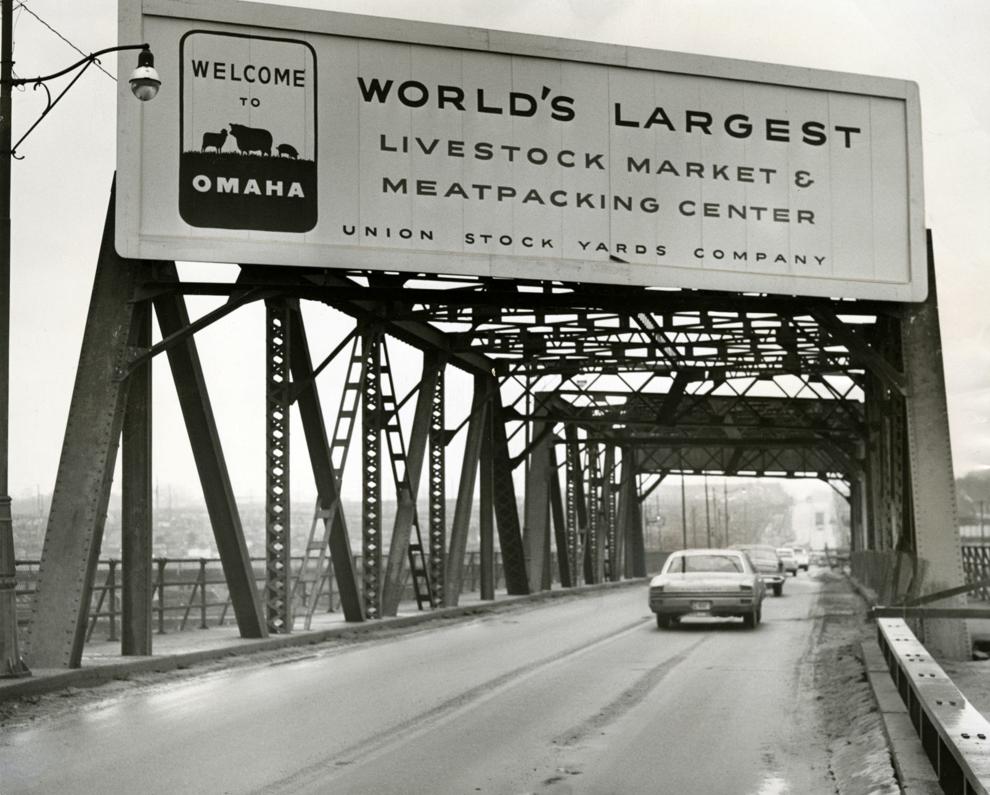 Gary Kastrick's Polish grandfathers were among tens of thousands of immigrants who surged into South Omaha in the late 19th and early 20th centuries to work as meatpackers.
"South Omaha was created around the Stockyards and the packinghouses," said Kastrick, 68, a longtime Omaha South High School teacher who chronicled the neighborhood's history for decades.
The United States had few controls on immigration in those days, and the packinghouses took advantage. They hired brawny but unskilled workers, then discarded those who became sick or injured.
"America has always been a place that exploited cheap labor," Kastrick said. "They were poor, they were illiterate. And they were very expendable."
They built a rough, rowdy community in South Omaha, filled with bars and pool halls where the workers could try to forget the blood and killing they witnessed each day.
"These were not nice jobs," Kastrick said. "Nobody aspired to work on the kill floor. They did this work so their children wouldn't have to."
Upton Sinclair's sensational novel "The Jungle," published in 1906, alerted the public to horrific conditions in the Chicago packinghouses.
Responding to public outrage, Congress quickly passed the Meat Inspection Act and the Pure Food and Drug Act, which provided for government oversight.
The laws helped reduce workers' exposure to toxic chemicals, dangerous machinery and crippling injuries.
Soon after World War I, the United States experienced a wave of anti-immigration sentiment, culminating in a 1924 law that clamped strict limits on immigration from Europe.
The packinghouses began hiring African Americans, many of whom moved from Southern states to find better-paying work in factories, while escaping from repressive Jim Crow laws and Ku Klux Klan terrorism.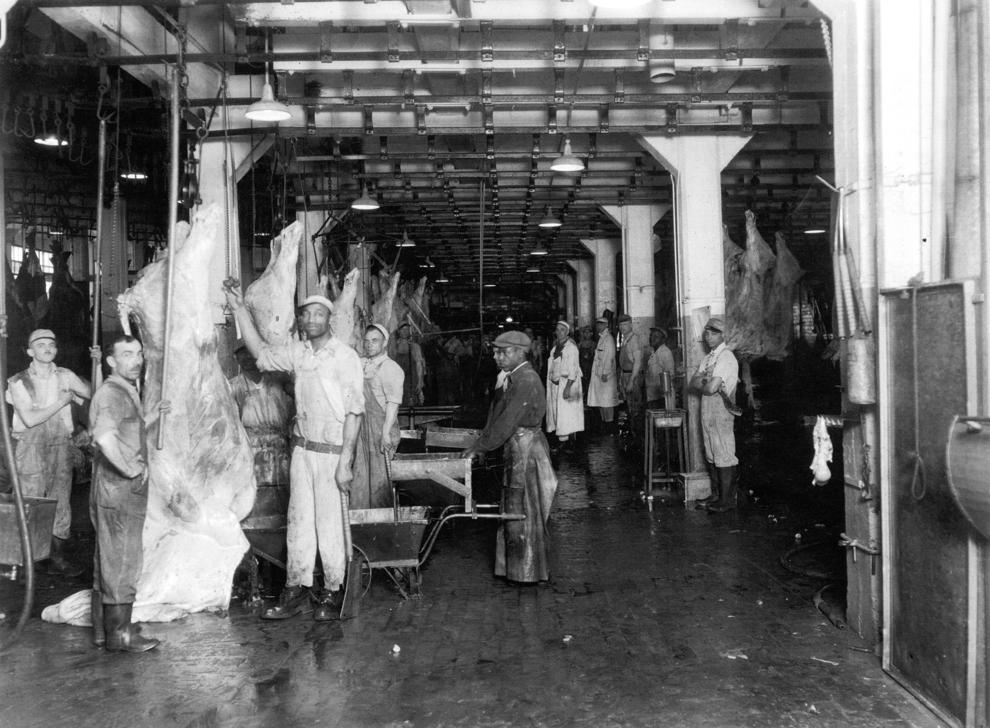 Unions, strengthened by labor laws in the 1930s, got pay boosts for their workers. Meatpacking remained a hard and dirty job, but a worker could earn a decent middle-class living.
That was the heyday of South Omaha, the gritty, lively, smelly place where the sons of the South blended with the sons of Eastern and Southern Europe.
Whatever the color of their skin, they took pride in the toughness of their work, and the way other Omahans looked at them with a mix of distaste and awe.
"There was racism, but it wasn't as bad in South O," said Kastrick, whose father owned a neighborhood bar there. "You were all in it together. If you were willing to work that hard, nobody was going to deny you a drink."
In 1955, Omaha passed Chicago as the nation's No. 1 meatpacking center. That year the Stockyards set a record: 42,817 head of cattle streamed through the gates for slaughter in a single day.
But come the 1960s, one man — himself an Omahan — saw an opportunity to knock the city's crown into the mud.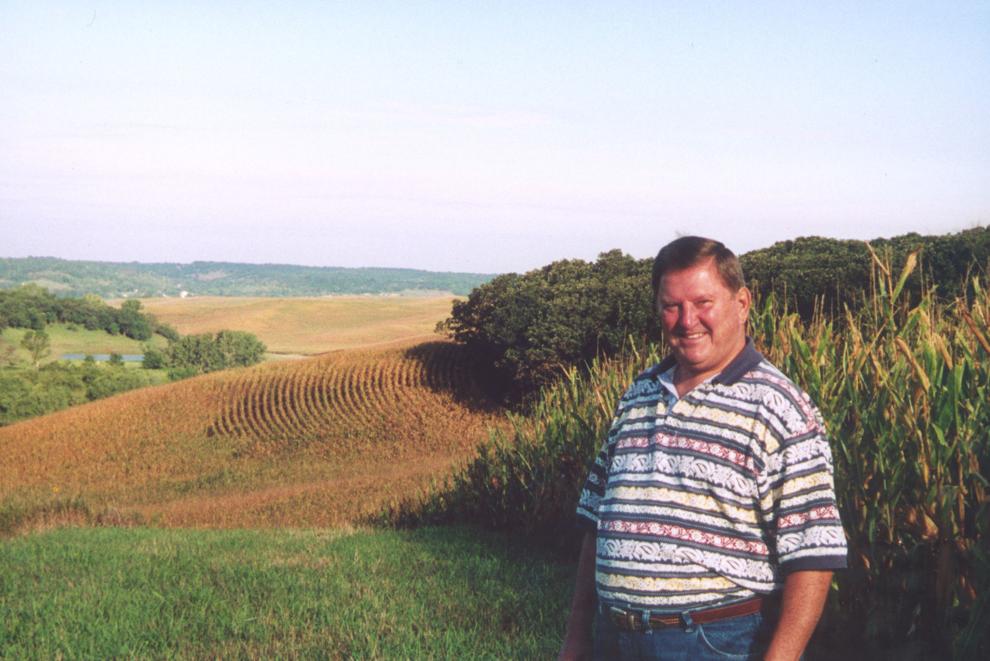 Robert L. Peterson had been a cattle buyer in the Omaha Stockyards until an upstart company called Iowa Beef Packers (later, IBP), just five years old, hired him in 1965 to manage one of its three plants, in Fort Dodge, Iowa.
Peterson thought the Omaha packinghouses were antiquated and inefficient and their unionized workers made too much money. With new machines and increased automation, he believed, skilled meatpackers could be replaced with unskilled, lower-paid workers.
Peterson bought or built smaller, more efficient plants across the Midwest, in small towns closer to feedlots and hog farms. He pioneered the shipping of boxed beef and pork instead of whole carcasses, which cut costs substantially — and reduced the need for skilled butchers.
"He revolutionized the entire meatpacking industry," Bruce Simon, president of Omaha Steaks International, told The World-Herald in 2001, "and he did it more than once."
Peterson butted heads with the meatpackers union again and again, most famously at the IBP plant in Dakota City, Nebraska, both before and after he took over as the company's chief executive officer in 1981. The plant was the site of a series of contentious and sometimes violent strikes from the late 1960s to the late 1980s.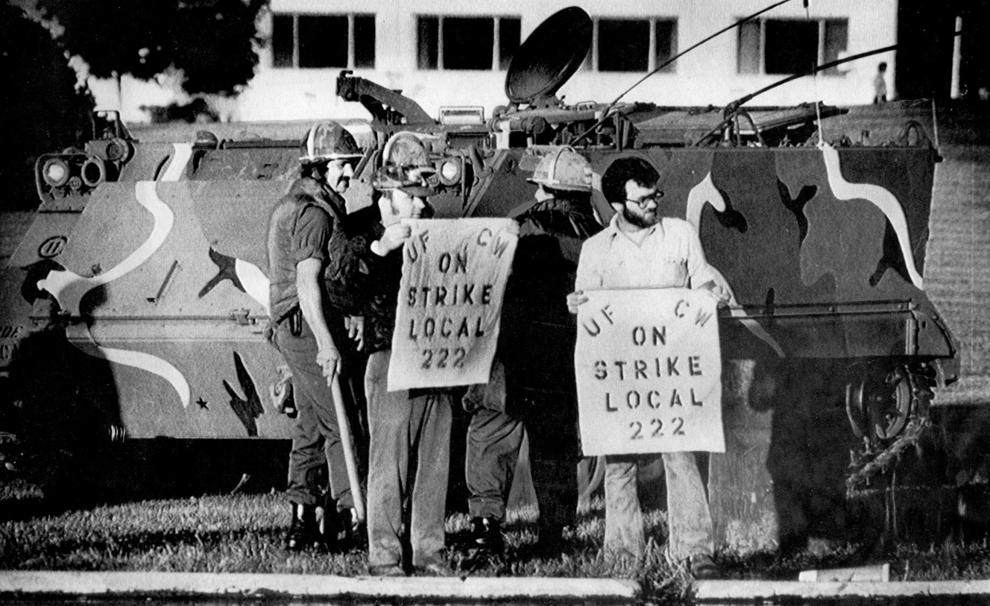 "Robert Peterson drove a lot of change in meatpacking," said Chuck Hassebrook, then executive director of Nebraska's Center for Rural Affairs, when Peterson retired in 2001. "One of those changes was to drive down pay scales and move the industry from being seen as one that provided good jobs to one providing jobs that most Americans wouldn't take."
In 1982, meatpacking workers nationwide earned an average of almost $24 an hour in today's dollars. Today the wage is less than $14, according to the U.S. Bureau of Labor Statistics.
To fill those jobs, IBP brought in immigrants from Mexico and Latin America, which brought profound changes to small towns in the Midlands that were home to their plants.
Gouveia, the UNO professor emerita, spent several years chronicling the impacts on Lexington, Nebraska, after IBP opened a plant there in 1990.
The town of 6,600 had been hard hit by the farm crisis of the previous decade and had recently lost a Sperry New Holland production plant.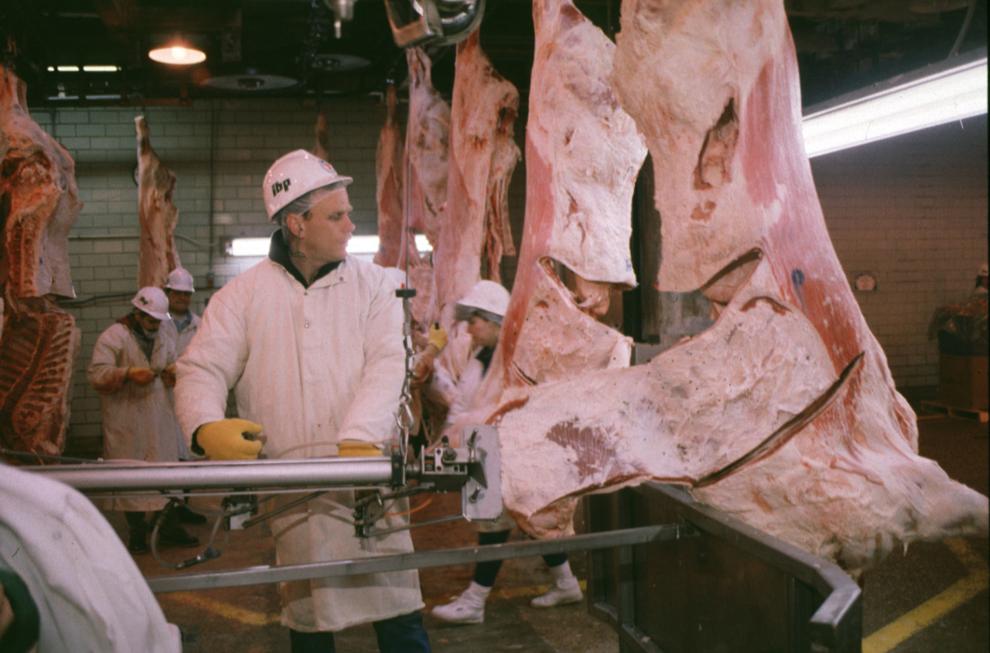 Within three years, the population swelled by almost 2,000. In five years, the school population had nearly doubled. Many of the children didn't speak English, at least at first. The plants didn't give workers medical coverage, so many used Medicaid. At first, there were severe shortages of housing.
Gladys Godinez experienced those changes in her own family. As a 10-year-old, she moved to Lexington in the early 1990s from Los Angeles with her parents — who were Guatemalan immigrants — grandmother, and several siblings.
Her father first got a job in Grand Island, but later moved to the rendering room of the IBP plant in Lexington. Her mother got a job there, too, but they staggered their 12-hour shifts so someone was always home with the children and their grandmother.
At first they lived with relatives, 12 people in a three-bedroom mobile home. Later they moved into their own mobile home, but it remained a tight fit.
Her father kept up the demanding work for more than 20 years.
"Now they have a five-bedroom house," Godinez said. "He stuck with it. His goals are the American dream."
All of her siblings are professionals, and Godinez herself is a community organizer in Lexington with the Center for Rural Affairs. Part of her job is advocating for workers at the packing plant where her parents worked. It is now owned by Tyson Foods, the poultry giant that bought IBP in 2001.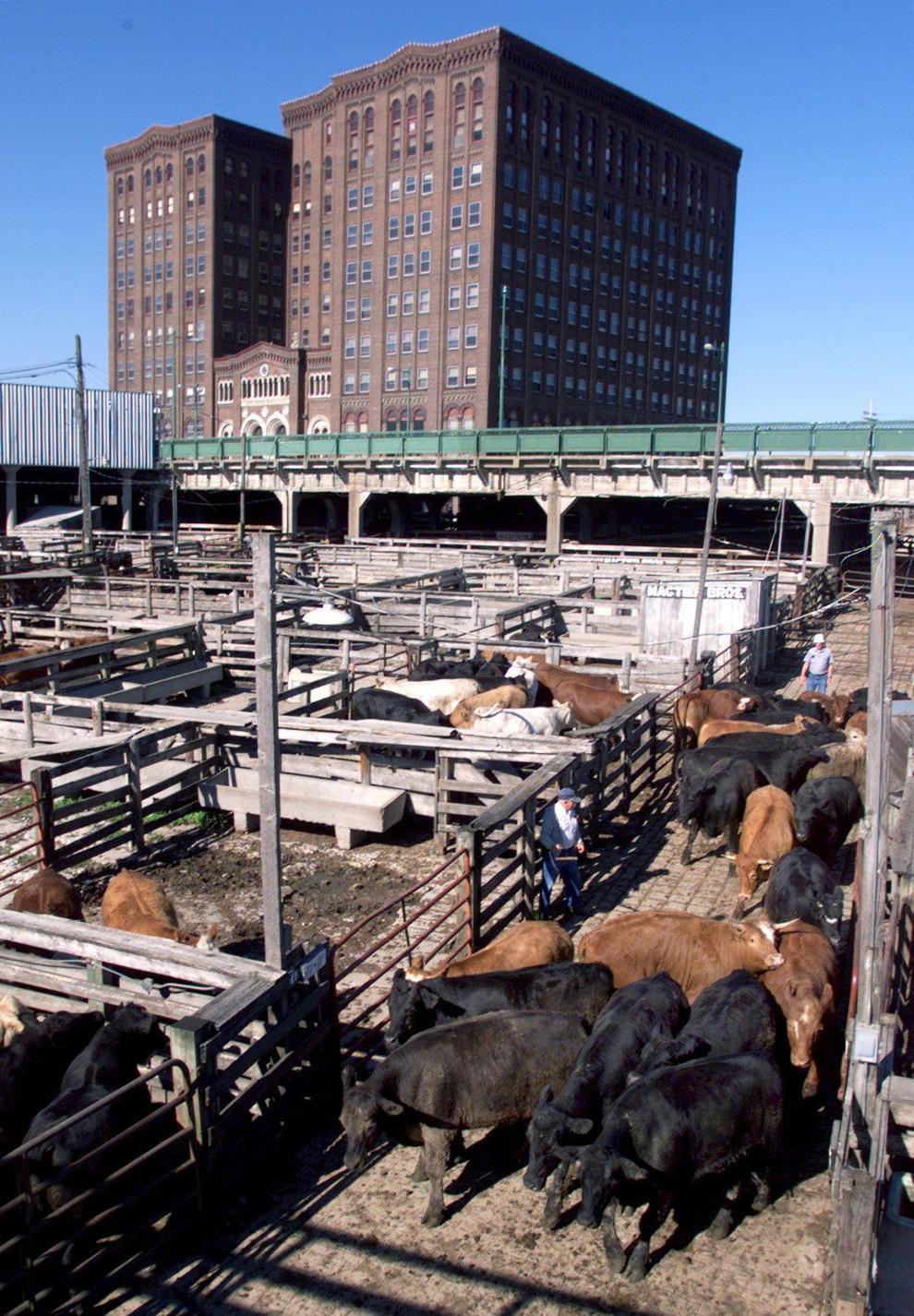 By then, the brass-knuckled Iowa upstart had become the nation's dominant meatpacker. Peterson had knocked Omaha's Big Four off their pedestal, forcing them to adopt his innovations, or die. What was left of the once-famous Union Stockyards closed in 1999.
Yet even in South Omaha, meat processing survives. Independent companies such as the 100-year-old Greater Omaha Packing Co., Omaha Steaks International, and Nebraska Beef still operate.
Meatpacking employment in Omaha totaled 8,748 in 2019, according to Nebraska Department of Labor statistics, one-third of the state's total. That's up 2,000 since 2012, and about the same as a century ago.
Their workers include longtime Latino employees who have built a vibrant community in South O, as well as a new generation of immigrants from places like Somalia, Sudan and Myanmar who are gaining their first footing in America — like their predecessors from Eastern Europe and Mexico.
It's taken time, but those Latino immigrants who followed meatpacking jobs to Lexington and Schuyler, to Dakota City and Denison, have begun to bring a measure of prosperity to those towns, too. New businesses have started up in storefronts that were boarded up in the wake of the farm crisis.
Godinez wants to be clear, though: It is the workers themselves who deserve credit, not the companies she believes exploited them.
"I succeeded because of my parents' hard work, not because of Tyson," she said. "My parents would have worked their butts off anywhere, to be able to give us a good life."
The flow of immigrants has been nearly shut off in recent years, a backlash that mirrors one in the 1920s. It's not yet clear whether that will continue, or what impact that will have.
But Gouveia believes it is likely to exclude people who will make America a better place.
"People who leave their country, who say 'I'm going to risk it all to make things better for my family,' are very resilient," Gouveia said.
"If you allow people to have equal rights," she added, "you're going to improve everyone's life."