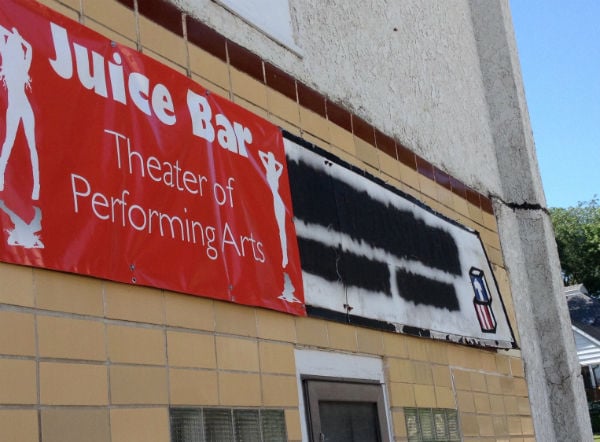 MOORHEAD, Iowa — At least three small Iowa cities have passed ordinances designed to limit adult entertainment establishments after a Minnesota strip-club operator opened up shop in town last fall.
The Juice Bar Theater of Performing Arts opened in November in a single-story commercial building just north of Moorhead's block-long downtown. It sits within a stone's throw of several homes.
"I don't want my family exposed to this. It hurts my property values," said Sharon Holverson, 62, of Moorhead, whose house is a half-block from the Juice Bar.
After the bar opened, one of her children refused to bring over the grandchildren until Holverson fenced her back yard.
The Juice Bar's arrival caused city councils in the nearby towns of Dunlap, Onawa and Pisgah to pass ordinances limiting where adult businesses can go and what can occur inside them.
"They got these strip joints in Des Moines and all these other places I've been to, and they are no place for me, let alone any kids," said Dunlap Mayor Barney Murphy. "This is a Christian community, and we just don't feel like we need anything like that in town."
Moorhead has no similar ordinances in place but is reviewing Dunlap's as a possible model.
Moorhead Mayor Ivan Nielsen said it's too late to keep out the Juice Bar. Some townspeople have shown up City Council meetings, only to learn that nothing could be done to shut down the establishment, Nielsen said. But other nearby towns are taking action.
"Communities were suddenly aware they were ill-prepared in having the ability to somewhat determine the location of adult entertainment businesses," said Teresa Miller, executive director of Monona County Economic Development Partnership.
Moorhead is in Monona County, as is Onawa, which enacted an ordinance June 9.
Pisgah and Dunlap are in Harrison County. Pisgah's ordinance was enacted in January. Dunlap adopted its adult entertainment ordinance April 8.
Dale Peterson, who owns the Juice Bar, said earlier this month that he saw the building for rent on Craigslist. Formerly used as a location for Head Start, the school readiness program, the building had plenty of potential so-called VIP rooms, he said.
Iowa law prohibits business owners from allowing actual or simulated sex acts or the exposure of private parts, but the law does not apply to theaters "or (a) similar establishment which is primarily devoted to the arts or theatrical performances." Adult establishments in Iowa frequently use terms like "performing arts" in their names.
Onawa's ordinance prohibits adult-oriented businesses within 800 feet of a residential area or church or within 2,000 feet of day cares, among other restrictions. Dunlap prohibits such businesses within 1,000 feet of a church, school or any dwelling. Pisgah prohibits them within 1,000 feet of a playground or child-care provider.
Regulating the location is the best option for most communities, according to the Iowa League of Cities.
"You can't cagily decide to use your zoning code to de facto outlaw them," said Alan Kemp, executive director of Iowa League of Cities. "Obviously, you don't want them in a residential area, and there are probably some commercial areas you don't want them in, like your central business district."
Beyond location, cities' options are limited. A 2012 ruling by the Iowa Supreme Court struck down a Hamburg ordinance that required sexually oriented businesses and their employees to be licensed and undergo background checks. The ordinance forbade total nudity and prohibited semi-nude performers from touching customers and taking gratuities from them.
The Dunlap and Pisgah ordinances limit what private areas can be exposed and require an adult-oriented business to obtain a permit. Allen Nepper, Dunlap's city attorney, said he was aware of the Iowa Supreme Court's 2012 ruling but not familiar with it.
"Everything is constitutional until it is challenged. Then you find out if it meets the standard of at least the majority of the justices of the Supreme Court," he said.
In Council Bluffs, enforcement of its ordinances, such as one requiring dancers to wear pasties, has slackened since the ruling, said City Attorney Dick Wade.
"It's not really clear what cities can or can't do," he said.
An attempt in 2013 to change state law to allow local communities more control died in the Iowa Senate.
Many residents of Moorhead said the Juice Bar does not cause many problems because it doesn't seem to be open much or attract much business. A sign posted on the bar recently listed its hours as 7 p.m. to 3 a.m. on Friday nights, but it hasn't been open for the past two weeks, residents said.
Peterson did not respond to requests for comment last week.
"I ask the younger guys what it's like, and they just laugh and say they don't know because they haven't been there," said Nielsen, who has been mayor for about 40 years. "I truthfully don't think he'll make it."
"The majority of the people don't probably like it, but they are going to let it run its course," said Chris Eyberg, 55, of rural Moorhead.
Peterson formerly operated a similar club in Corwith, in north-central Iowa, but shut it down in 2013 amid local protests.
He has a history of legal difficulties involving his strip clubs in Minnesota. In 1996, he was convicted of using a minor in a sex performance. He also has a 2003 conviction for promoting prostitution and paid a fine in 2013 for operating an adult establishment without a license.
He said the 2003 conviction was "bogus" and now wishes he had taken the case to trial. He said he was busted by undercover agents who tricked performers into agreeing to sex.
In Moorhead, he has not run into that kind of trouble. He reported that the cloth banner for his business was stolen late last month. He said he figured it was stolen by a Juice Bar opponent. He later replaced it.