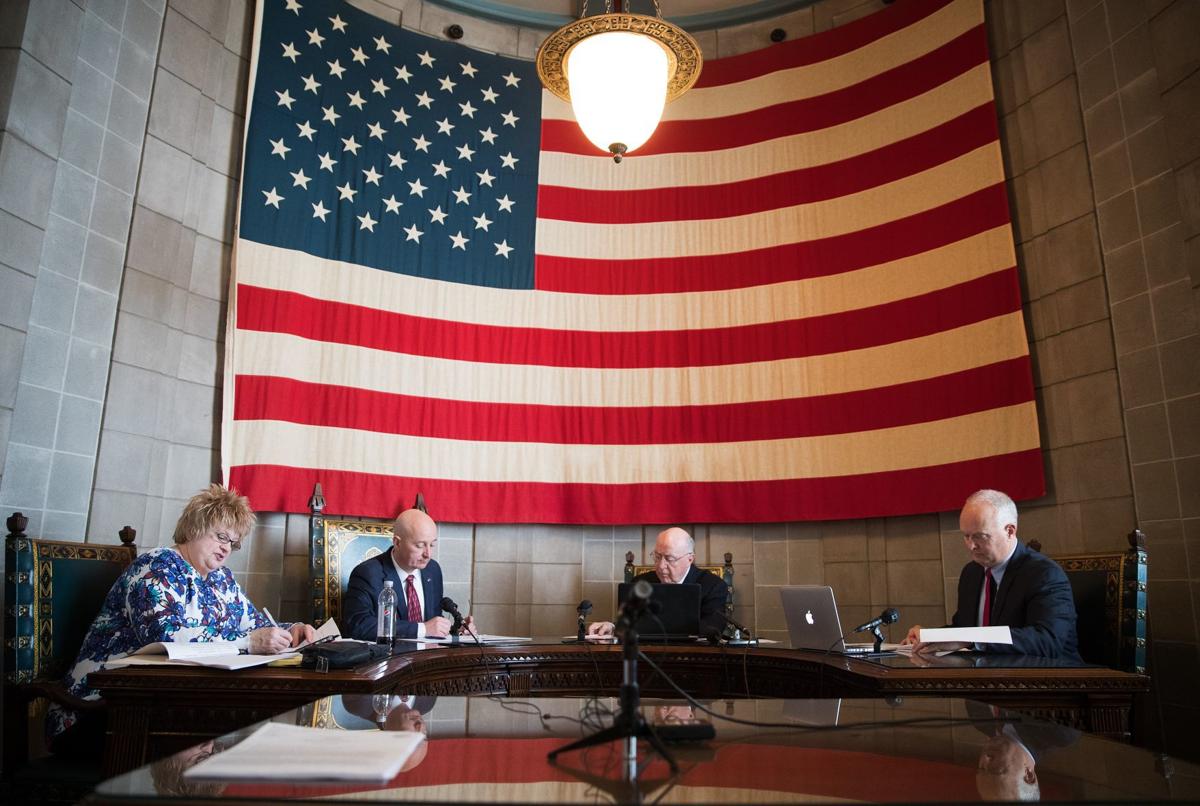 LINCOLN — Reformed criminal offenders are being denied "a fresh start" because of a dramatic drop in meetings by a state board that grants pardons, a legislative committee was told late last week.
The State Board of Pardons — which consists of the governor, attorney general and secretary of state — held only 13 hearings over the past three fiscal years, compared with 345 hearings during the three years previous to that. The board, which used to meet six to eight times a year for multiple hearings, met only twice during 2019.
A pardon is an official act of forgiveness, not a statement of innocence. Pardons are often sought for drug crimes committed when young or for drunken driving offenses. Pardons can provide the restoration of gun and hunting rights, and can, in very rare instances, result in a release from prison for serious crimes like murder after years behind bars.
A University of Nebraska College of Law professor said the lack of ability to seek a pardon for past crimes not only denies "a fresh start" to someone who's had a clean record since ending a criminal sentence, but also removes an incentive to remain crime-free.
"It's a formal removal of that label, 'criminal,' " said Ryan Sullivan, who heads the "Clean Slate Project," which helps people "clean" a past conviction from their criminal record.
Obtaining a pardon is important, said Josh Waltjer, an NU law student, because it removes a stigma and can open up job opportunities and remove a barrier to renting property or obtaining insurance.
One Omaha attorney said he has had three applications for pardons on hold since October 2018. And Sullivan said the opportunity for a "new beginning" is denied if the Board of Pardons meets only twice a year, as it did last year.
Representatives of Gov. Pete Ricketts and Attorney General Doug Peterson referred questions to a letter signed by all three members of the Pardons Board in opposition to LB 968. The measure, introduced by Sen. John McCollister of Omaha, would require the board to meet at least every 90 days, or four times a year, and submit an annual report to the Legislature.
The Pardons Board members said that they had become aware of the large backlog of cases in early 2019 and have developed a plan to address it.
The letter didn't precisely say why meetings were cut back, citing "numerous obstacles." But it blamed the lack of recent meetings on a transition in board administration. A year ago, longtime Pardons Board administrative assistant Sonya Fauver retired, and it was quickly realized that one person was not sufficient to replace her.
Since then, the letter said, the administrative duties were transferred from the Board of Parole to the Nebraska Crime Commission.
Secretary of State Bob Evnen, who responded to a request for further comment, joined the Pardons Board after his election in 2018. He said that he did not know why the board held only two meetings during 2019 but said it had already decided to hold more meetings in 2020. The first is scheduled on Feb. 18, when 60 applications for pardons will be considered.
Evnen said he did not know how large the backlog of pardon requests had grown.
McCollister said he would continue to work with the Pardons Board to resolve his concerns. But Spike Eickholt, who represents the ACLU of Nebraska, urged the Judiciary Committee to advance the bill as a "legislative expression" that more hearings and meetings are needed.