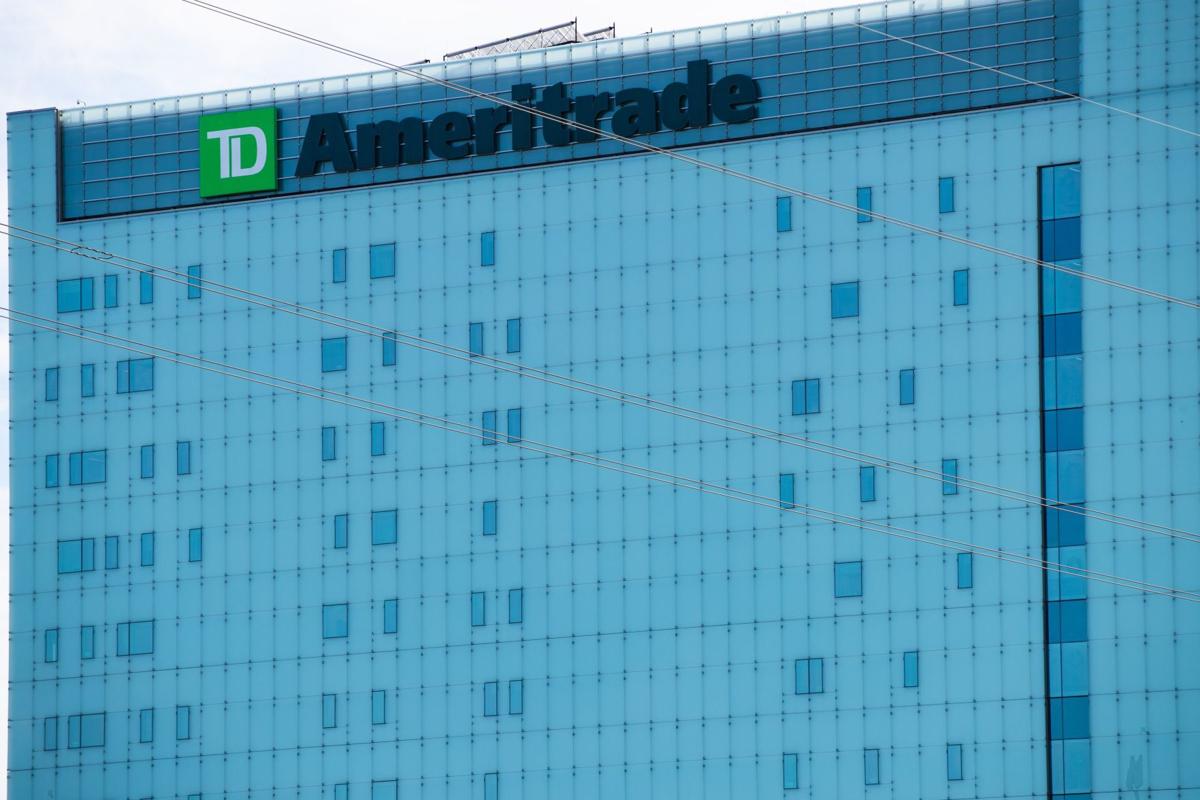 LINCOLN — Collecting more than $28 million in Nebraska business tax incentives over the years was not enough for TD Ameritrade to keep its headquarters and all its associated jobs in the state.
The Omaha-based company sought state tax incentives more than once as it grew from a small discount brokerage to a Fortune 1000 corporation. State reports show the earliest incentive agreement was signed in 1988, the most recent in 2017.
But when San Francisco-based Charles Schwab confirmed plans to buy Ameritrade this week, it said the combined headquarters would be in a Dallas-Fort Worth suburb. The announcement said information would be provided later about the fate of Ameritrade's Omaha facilities and workers.
The $26 billion acquisition would create a brokerage industry giant with more than $5 trillion in client assets and $17 billion in annual revenues.
State Sen. Megan Hunt of Omaha, among others, offered a skeptical take on the announcement. She said Ameritrade benefited from tax credits and refunds, leaving other Nebraskans to cover state expenses.
"As a thank you to Nebraska taxpayers, the business is now moving to Texas, with over 2,000 Omahans expected to lose their jobs," she said on Twitter, adding later, "It's not about loyalty to Nebraska. It's about profit."
Sign up for our Money headlines newsletter
Get the latest development, jobs and retail news, delivered straight to your inbox every day.
But Sen. Lou Ann Linehan of Elkhorn, the Revenue Committee chairwoman, argued that Nebraska profited from the millions of dollars in incentives provided to Ameritrade under the Nebraska Advantage Act and its predecessor, commonly known as the LB 775 program.
"They've been a huge benefit to our community," she said. "Do we have any idea how much gross revenue and income they have generated for the state of Nebraska?"
Gov. Pete Ricketts also defended the state's tax incentives, saying they played a part in persuading companies like Google, Facebook and Costco to do business in the state. He said they also contributed to Nebraska earning the Governor's Cup from Site Selection magazine in three consecutive years for having the most new economic development projects per capita.
"Unlike other state incentive programs, Nebraska's tax incentives are performance-based," he said. "Tax benefits aren't given in the hopes of future investment. They're only earned by businesses that have already made a significant and verifiable investment in our state."
Controversy over the value of business tax incentives has raged in Nebraska since Legislative Bill 775 was passed in 1987. Fear of losing the corporate headquarters of Omaha giant ConAgra drove debate at that time.
The argument heated up again recently, as first ConAgra and then Cabela's moved their headquarters out of Nebraska. Both major corporations left despite having collected business tax incentives multiple times through the years. In fact, both still have active incentive deals with the state.
The company took some jobs to Illinois and cut 1,000 more, but still employs about 1,300 people in Nebraska.
Cabela's was bought out by its Missouri-based competitor, Bass Pro Shops, in 2017. That was two years after Cabela's signed an agreement to invest at least $17.7 million and create at least 300 jobs across the state.
The agreement remains on the books, although Bass Pro Shops closed the Cabela's headquarters in Sidney, Nebraska, and cut the number of jobs in Sidney from 2,000 to about 400. The company announced plans earlier this month to move another 120 jobs out of Nebraska.
Ricketts, the son of TD Ameritrade founder Joe Ricketts, is the firm's former chief operating officer. He owns a share totaling less than one-tenth of 1% in the company. The company went public in 1997, and the Ricketts family no longer has a controlling interest.
The acquisition by Schwab is expected to close in the second half of next year, assuming it is approved by federal regulators and stockholders of both companies.
Details about Nebraska jobs and facilities will not emerge until after closing. But a company FAQ document released Monday said workforce cuts are expected.
Job losses in Nebraska could affect Ameritrade's ability to collect tax incentives on its 2017 tax incentive agreement, in which the firm promised to invest at least $12 million and create at least 100 jobs in Lincoln and Omaha.
Under state law, companies qualify for tax incentives by meeting certain agreed-upon investment and job creation levels. The companies get a specified number of years to reach those levels, after which they can start using their tax credits and refunds.
After reaching the agreed-upon level, companies must sustain those jobs and investments for a certain number of years to collect tax incentives. Failing to fulfill their agreements means the companies have to give back some of their tax incentives in a process called recapture.
But Nebraska has no claim on the money that Ameritrade collected for fulfilling its 2007 agreement, in which Ameritrade promised to invest at least $10 million and create at least 200 new jobs in Bellevue and Omaha. The company met those levels before 2011 and maintained them for the seven years required.
Nor can the state take back any incentives provided under a 2002 agreement to invest at least $19.2 million and create at least 110 jobs in Omaha or a 1988 agreement to invest at least $4.4 million and create at least 48 jobs in the Omaha metro area.
The amount, if any, that Ameritrade collected for those earlier agreements is not public. Both were done under LB 775, which did not require as much disclosure as the Nebraska Advantage Act.
Sen. Curt Friesen of Henderson said the Ameritrade situation illustrates his frustration with Nebraska's business tax incentive programs. The state provides companies with millions of dollars in incentives to move into or stay in Nebraska, but can't control whether the companies stick around.
"We give these companies a lot of money, but in the end they're going to make decisions that are best for them," he said.
Friesen was among the mostly rural senators who blocked advancement of a proposed update to the Nebraska Advantage Act this year. The senators objected to legislation that would reduce state tax revenues for the benefit of business, while proposals that sought to relieve property taxes on farmers were left to languish as being too costly.
But Sen. Mark Kolterman of Seward, who introduced LB 720, the ImagiNE Act, argued that having a business tax incentive program is critical for Nebraska. His belief is unshaken by the Ameritrade announcement. He said it is too early to know how that deal will impact the state.
Even if the worst happens, he said Nebraska has gained more new jobs through incentives than it lost from companies like ConAgra and Cabela's moving their headquarters.
"I don't think you can point to one or two businesses and say the sky is falling," Kolterman said.
---
The Omaha area's largest employers