Rick Addink can't imagine leaving the town and house he's lived in, on and off, since he was 3 years old.
It might sound silly, he says, his voice sounding a little sheepish, but he's got a sentimental attachment to the white house built in the late 1930s.
He promised his mother he'd take care of it. It has a wheelchair ramp for his disabled wife. He enjoys the privacy and the rural feel of Winslow, a tiny gravel-road village in Dodge County about 12 miles north of Fremont. Settled on a railroad line near the Elkhorn River, it's surrounded by lush fields of soybeans and corn.
There is one major drawback to life in Winslow, and that's what has brought Addink and the entire village to the brink of a very big decision.
One in 1996 brought water inside town and into basements, but it was nothing like the surge of water that clobbered Winslow in mid-March, when historic flooding struck parts of central and eastern Nebraska.
The swollen Elkhorn River flowed over a levee built in the early 2000s to protect the town from the river, damaging virtually every structure in town — all 48 buildings. Some homes took on several feet of water that tossed furniture around, fried electrical wires and left behind mold and mildew.
So now the residents of this little village — where the population that hovered around 100 before disaster struck — are pondering a pivotal question about its future.
In order to survive, should the flood-prone town follow in the footsteps of Niobrara — which has moved twice, once in 1881 and again in the 1970s — and just pack up and move to higher ground?
Town leaders in Winslow, led by Volunteer Fire Department Chief and Village Trustee Zachary Klein, have proposed the out-of-the-box idea: moving Winslow out of the flood plain that has brought destruction, heartache and piles of federal paperwork to a new site, possibly a hilltop about 2 miles away.
State officials said that as far as they know, no other flood-ravaged Nebraska towns are exploring relocation.
"We've not done this before," said Dan Curran, the deputy director of programs for the Nebraska Department of Economic Development. "How do we look at structures, look at our infrastructure and make sure whatever money we're putting into it prevents it from happening again? We don't want to be in the same place next year."
It's a complex proposal that will require consensus among Winslow residents, some of whom, like Addink, don't want to move, a patchwork of funding from state, federal and local sources and some really big trailers to transport houses that are structurally sound enough to survive a move.
"I'm going to fight until I run into the last 'no,' " said Klein, who was born and raised in Winslow. "There's no reason for this community to go away, if there's an alternative that will work."
It's been done before, largely successfully, in Niobrara; Valmeyer, Illinois; and Pattonsburg, Missouri. But relocation can be a long, drawn-out operation involving site surveys, land acquisition, appraisals, millions of dollars and no small amount of persuasion.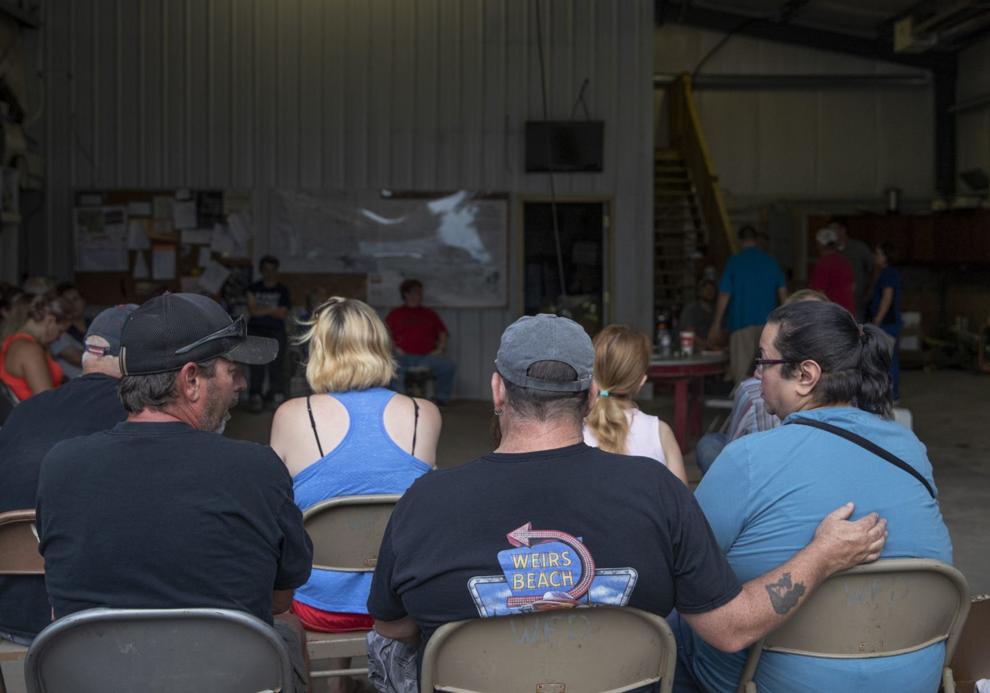 "That's a pretty daunting process, trying to relocate," said Bryan Tuma, assistant director of the Nebraska Emergency Management Agency. "We'll just stand by and try to work with them."
Other heavily flooded towns, including Pacific Junction and Hamburg in Iowa, are considering buyouts of flood-prone properties. Over the past three decades, federal and local governments have spent more than $5 billion buying tens of thousands of properties vulnerable to flooding, according to an Associated Press analysis of data from the Federal Emergency Management Agency and the Department of Housing and Urban Development.
At a sometimes-tense community meeting in the firehouse one sweltering night last month, Winslow residents fanned themselves and drank from cans of pop and Busch Light as they peppered Klein with questions: How long would it take to relocate? How much of the cost would be covered? Who might stay, and who might go?
"It's a cluster****," resident Ed Nelson said after the meeting. "Excuse my French. There's too many questions and not enough answers."
Still, Nelson is leaning toward relocating because he's not sure he wants to be left behind. "I'm going to keep my options open," he said last week.
At these meetings, residents have been presented with three options by Klein:
They can relocate to Winslow 2.0, taking a buyout of their current property so they can move their house or build new. Lots would be chosen via a lottery process and Winslow would basically be re-created from scratch, as a sanitary improvement district that would lay roads and utilities.
Excess lots would be sold for new homes, helping Dodge County's current housing shortage and hopefully boosting Winslow's population and tax base.
They can stay put but risk future flooding and a town that may empty out, leaving them on the hook to plow snow from roads and install septic tanks and wells if the sewer and water lines are disconnected.
Owners whose properties were substantially damaged — meaning the costs of repairs would exceed 50% of the building's pre-disaster value — would most likely be required to elevate their homes or businesses by a foot or more to prevent future flood damage, a calculation called base flood elevation. That option is unpopular — raising a structure typically costs thousands of dollars, while adding little to a home's resale value.
Or they could take a buyout, watch the government tear down their flood-damaged home and permanently move elsewhere, maybe nearby Hooper or Fremont. Through state or federal buyout programs, residents could receive 75% of the pre-flood value of their property. FEMA-funded buyouts require land to be deed-restricted as permanent green space — nothing can be built there.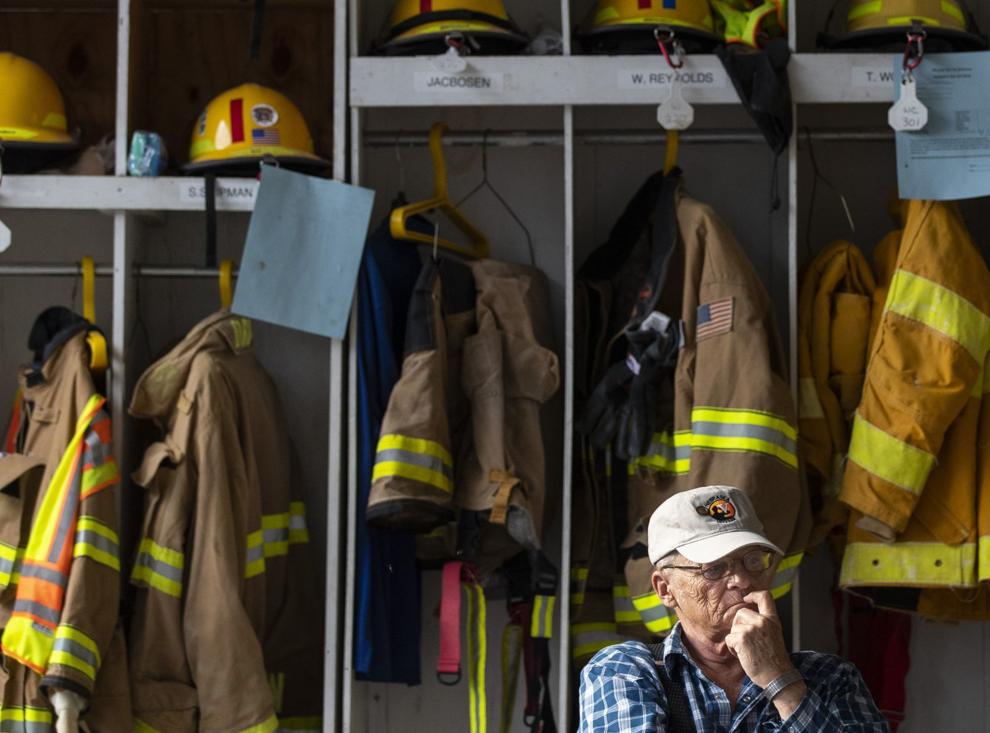 Voluntary buyout application forms were passed out at a meeting last week. In a perfect world, the first house could be ready to move by fall 2020, Klein said.
Several residents are skeptical that government can move that quickly and fear that recovery could drag on for years.
"A lot of people left their homes and aren't going to wait around," Bev Heinke said.
After the July meeting, Klein said about 50% of residents — maybe 25 households — seem willing to relocate. A handful of families have indicated that they'd like to remain and the rest are undecided or might just take a buyout and leave Winslow for good.
Marcus Wagner, whose family owns Smiley's Bar, one of Winslow's only businesses, ("Voted Winslow's #1 bar," its sign boasts) can't imagine the cruel irony of rebuilding and then getting hit by floodwaters again. The bar has been closed since March.
"We love the idea of relocating Winslow and Smiley's to higher ground," Wagner wrote in an email. "Staying at our current location could put us back in harm's way and we really don't want to go through this experience again."
Don Heinke has lived in Winslow for 32 years and said there's no way his tidy concrete block house could be moved — it's too heavy. And he can't understand why different government entities would spend money to buy land, plat a new town, construct roads, install utilities and move houses. Why start over when those things already exist in Winslow?
"Why in the heck can't they put a 100-year dike around town, make it a little higher, a little wider, put better floodgates in?" he said. "We don't have to move this town."
During a back-and-forth with Heinke at the July meeting, Klein said a bigger and better levee won't happen.
"FEMA is not fixing levees," Klein said. "They will not put money in levees. You know why? Because they fail."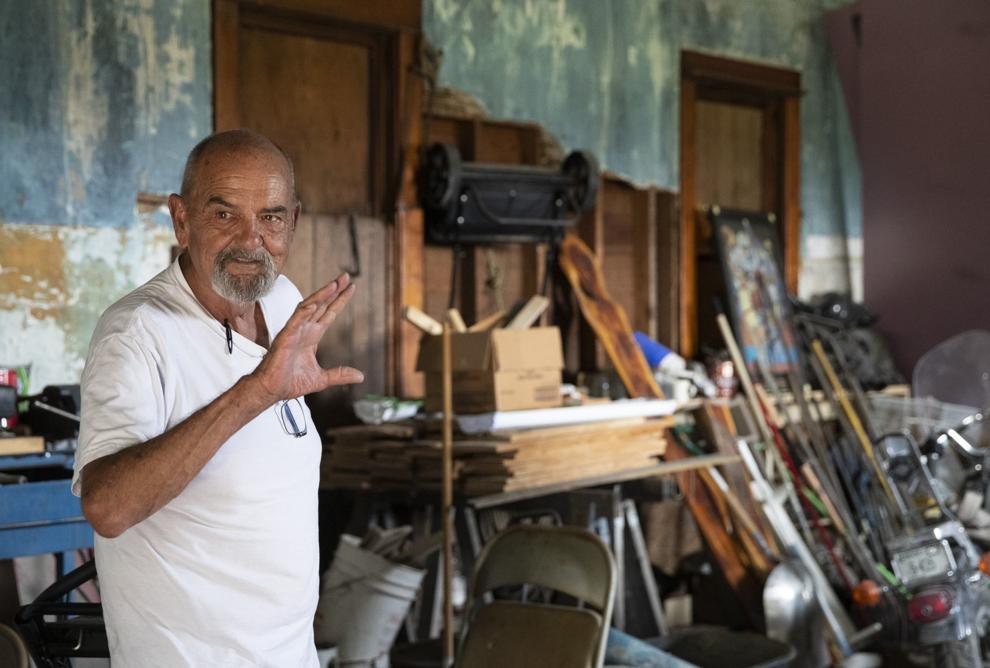 While assuring residents that the decision is theirs, Klein has outlined the choices in stark terms.
Winslow will not be able to limp along much longer in its present state. Only 10 or so families have moved back since March, and the village has always been one busted water main away from financial ruin, he said.
The unpaved roads, never in great shape, are torn up and pitted with white rock. While some yards are neatly mowed, others are growing wild with weeds, and residents say some of the houses that have been red-tagged — deemed uninhabitable after the flood — appear virtually abandoned. The post office is boarded up and mail now goes to Hooper.
The assessed value of all the property in the town is about $2.7 million, and Winslow has the highest property tax rate in Dodge County, at about $3.82 per $100 assessed value. (A chunk of that goes to paying off the levee that overtopped in March.) For comparison, the rate in the much-larger city of Fremont is $2.08.
"There's two inevitable outcomes for the village: One, we can get the relocation done and we can move the incorporation to a new site and we can make a hell of a go of it up there," Klein told residents.
"If that doesn't happen, the village incorporation as it stands is done," he continued. "There is not going to be enough tax revenue in the village with the houses that are left. We're not going to be able to afford to run."
The homes in Winslow are modest, with many valued at $30,000 to $70,000. Some residents are on fixed incomes and expressed doubt that they could afford to move elsewhere or build new, even with FEMA aid or insurance payouts.
Addink, whose mortgage is paid off, said he looked at modular homes. The least-expensive, a 1,000-square-foot model with nothing inside, cost $80,000.
"If you're offered $60,000 or $70,000 for your house for a buyout, you'd still have to get a mortgage for a modular," he said. "That made our decision pretty much finalized."
The cheaper option, he said, is for him and his neighbors — Heinke and Ralph Weatherly — to stay and split the cost of installing a shared septic tank and well.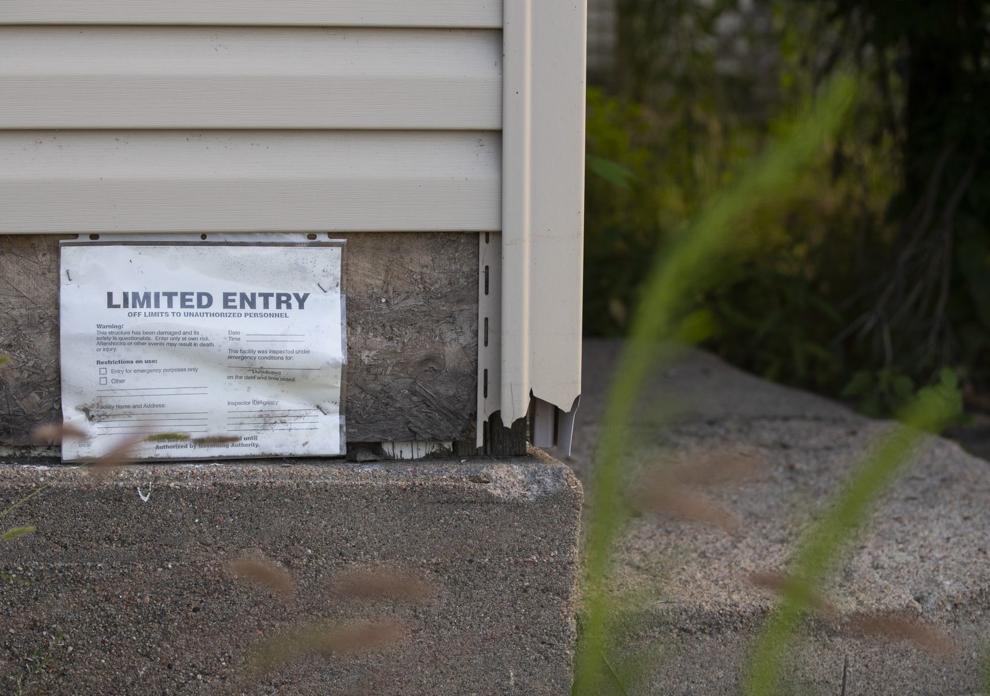 Klein has been working with an alphabet soup of community, government and lending agencies, including NEMA, FEMA, Dodge County, the Nebraska Department of Economic Development and the Northeast Nebraska Economic Development District. Between hazard mitigation funds, grants, private donations and village-issued bonds for infrastructure, he's hoping that much of the relocation costs could be covered.
"We're going to try to get as close to that 100% as we possibly can," he said.
Tuma said investing in prevention measures, which include buyouts and relocation, can pay off in the long run, saving property owners and taxpayers millions of dollars in future disaster costs.
Nicholas Pinter, a geology professor at the University of California, Davis, studies towns that relocate after flooding, including communities in upstate New York and Missouri, with a focus on how relocation affects community ties. Grantham in Australia pulled off a move in a record 13 months after a fatal flood in 2011. In America, it often takes three years or more.
Winslow isn't the first and won't be the last to explore relocation, especially as extreme weather accelerates, he said.
"There's a wealth of lessons to be learned, and people to talk to who have been through this who can really help get the community through some of the tough steps it would take to make this a success," he said. "Every single successful relocation, by any definition we've looked at, takes one or more strong leaders with a sense of almost manifest destiny to make this happen."
Still, state and local officials cautioned that the needs in Nebraska are huge after multiple rounds of flooding in the spring and summer, and the pot of money available to help communities rebound is not infinite.
Sign up for The World-Herald's afternoon updates
Receive a summary of the day's popular and trending stories from Omaha.com.
"We don't have enough money to do it all; nobody does," said Lowell Schroeder, a community planner with the Northeast Nebraska Economic Development District. The organization has applied for a $550,000 grant, which includes matching funds, to rehab flooded homes in Dodge County, which could include Winslow.
Resident Ken Rice said he has no reason to doubt Klein, but he'd like to see some commitments in writing from state or federal officials. "If they'll move everything for free, no money out of my pocket, please."
But as the questions over funding and logistics get sorted out, several residents said it feels like they're stuck in limbo. Should they fix up their house, only to have it jostled during a move? Should they take a buyout and not wait around for a relocation that could be years away?
"It's been since March and we still don't know definitely what's happening," said Weatherly, who has lived in his slate-blue farmhouse with his wife, Lana, since 1997. Eighteen inches of water ruined the flooring and drywall, damage that one adjuster estimated at $72,000, not counting ruined furniture and appliances. The house is assessed for tax purposes at about $65,000. "You just kind of feel like you've been left out on this island."
"And you don't know when the boat's coming back," Addink added.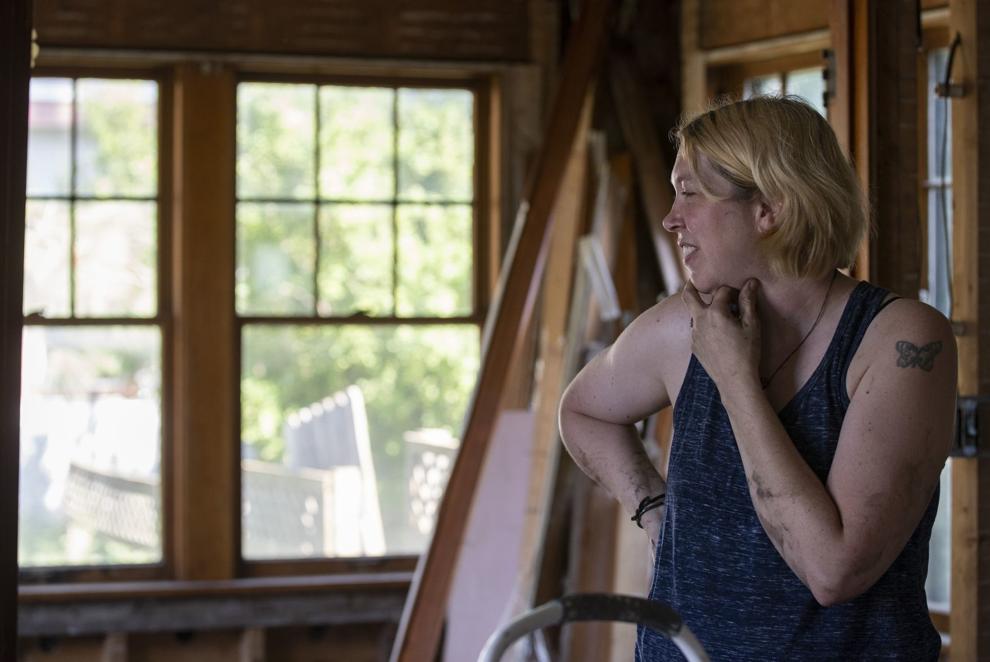 Nilene Parker, who's renting an apartment in Scribner while she repairs her house, said it seemed like local officials jumped quickly to relocation as the answer to Winslow's problems. But she's all for whatever helps residents get back on their feet the fastest.
"In the end, we all just want to get our homes back, and I don't care how they do it," she said.
So Parker has ripped up her first floor, tossing insulation and drywall into a dumpster outside, and plans to close up most of her house. Waiting for relocation, she'll live out of four rooms, using window air conditioners and space heaters to get by. Once her house is moved, she'll finish remodeling.
"I just want to put the flood behind us," she said. "I'm so tired of mud and dirt. I'm so tired of thoughts and prayers. Thoughts and prayers don't put my drywall and electrical and floors back."