GLENWOOD, Iowa — In the small, crowded conference room, it was starting to get warm.
People stood two and three deep around the conference table. But none of the Mills County officials were fidgeting. No one was leaving.
Iowa Gov. Kim Reynolds had come to listen. Flooded riverside communities have been lobbying in vain for funding to improve levees, local leaders told her.
And now Pacific Junction is awash. And like other communities behind levees, most of its residents have no flood insurance — they thought the levee protected them.
The water plant that supplies Glenwood and Pacific Junction flooded.
A new business that had planned to locate in Glenwood has decided to pull out.
Millions of dollars in farm equipment and crops have been lost.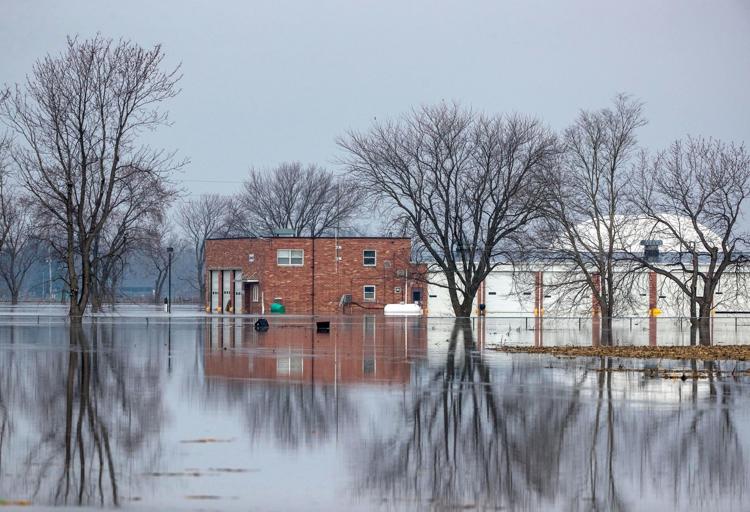 "(Officials) always talk about it, but now the devastation is here," said Carol Vinton, a member of the Mills County Board. Just weeks ago, Vinton said she was in Washington, D.C., lobbying for money for levees.
Levees along some 210 miles of the Missouri River from Bellevue, Nebraska, to Leavenworth, Kansas, have failed or are at risk of failing, according to the Army Corps of Engineers. The Missouri River has crested and is dropping in most locations.
Reynolds told those gathered in the room that the state would help them recover.
And in response to repeated complaints from local officials about a lack of early notice that their communities could flood, she committed to developing better lines of communication with the federal agency that operates massive dams upstream on the Missouri River and oversees the levees.
"We are in this for the long haul," Reynolds told those gathered around the table.
The corps has been criticized for releasing water from Gavins Point Dam near Yankton, South Dakota, following the onset of the storm. It increased discharges to five times above their previous levels and has since been lowering them. In its defense, the corps has said Gavins Point isn't designed to hold back flooding. It's entirely a pass-through dam and the huge increase in discharges reflected the impacts of a storm that caused sudden inflows that reached as much as 30 times the normal rate.
With all of Pacific Junction flooded, and most of its people without flood insurance, residents in the town of 480 will need help from the federal government, Mayor Andy Young said.
"This is going to be tough," Young said.
Lola Michaelsen was among those stopping by Grace United Methodist Church in Glenwood to pick up groceries and other supplies after flooding chased her from her lifelong home in Pacific Junction.
"We got our clothes and medicine and that was about it," she said.
She and her family are staying in a camper behind a local business. "I hope the water goes down quickly," she said.
Photos: Major flooding hit Nebraska and Iowa towns in March 2019