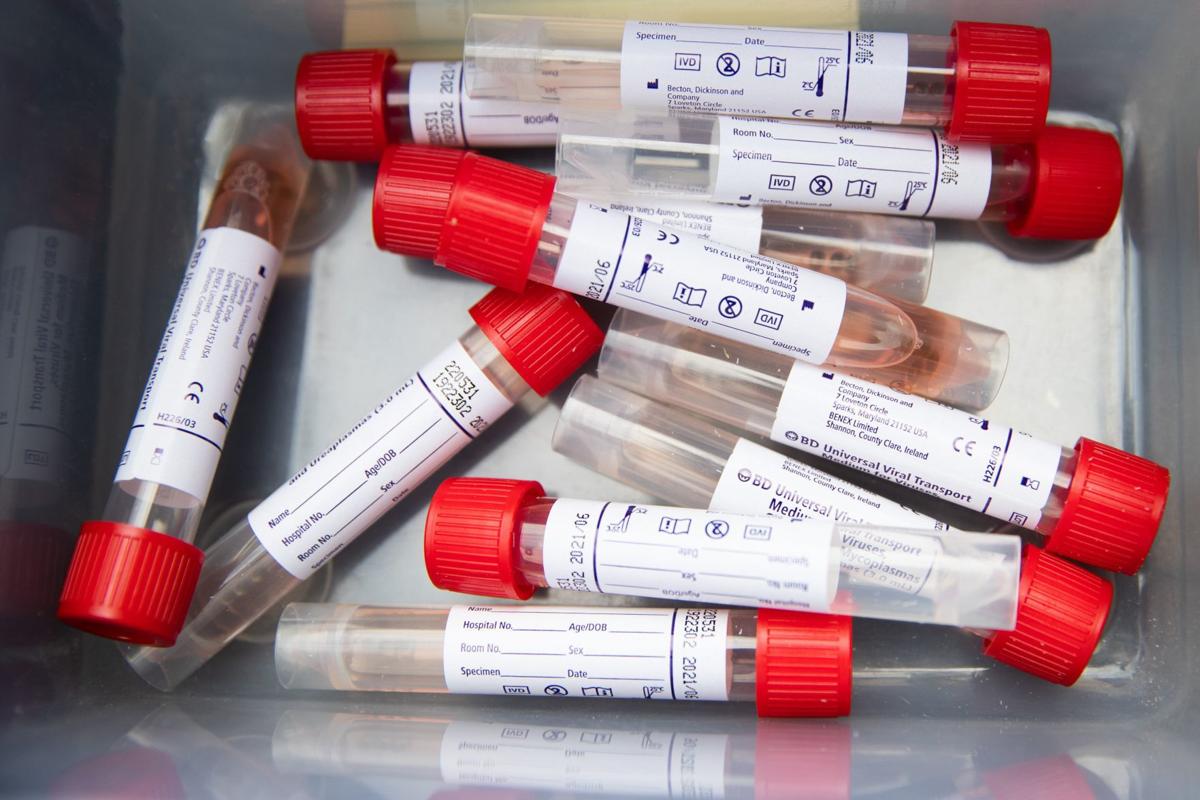 A coronavirus hot spot is brewing in the Grand Island area, where local leaders are pleading with residents to stay home, practice good hygiene and do all they can to slow the outbreak.
The virus has emerged at several nursing facilities, a clinic and the massive JBS USA meatpacking plant, where beef processing continues after 10 workers tested positive.
By Friday, 41 people had confirmed cases of COVID-19, the disease caused by the novel coronavirus, in the Central District Health Department, which stretches across Hall, Merrick and Hamilton Counties. That includes several health care workers at the Grand Island Clinic and three nursing and rehabilitation centers, Westfield Quality Center in Aurora, Emerald Nursing and Rehab Lakeview in Grand Island, and Heritage at Sagewood in Grand Island.
On Sunday, there were only six confirmed cases, showing how quickly the virus can spread.
Most of those who are ill live in Hall County, where Grand Island, population 51,000, is located. Only much-larger Douglas County has more positive cases in Nebraska. A Hall County woman in her 60s with underlying health problems was the state's second recorded death related to COVID-19.
"Our numbers are ever-increasing," Teresa Anderson, director of the Central District Health Department, said at a Friday afternoon press conference. "This is not good. But it is not unexpected."
The JBS USA plant, where an estimated 3,000 people work cutting and packaging beef for customers in the U.S., Japan, China, Chile and more, will not be shut down, Grand Island Mayor Roger Steele said.
People have asked why large production sites in Grand Island like McCain Foods, Case New Holland and the Hornady ammunition plant are still open while restaurants and bars are limited to takeout-only. Food and agriculture production and processing facilities are considered essential infrastructure by the Department of Homeland Security, Steele said.
"We have made decisions to close some functions of our business community because they are not essential to your life or well-being," he said at the press conference, which was also translated into Spanish. "Things such as food production are essential to the functioning of America."
Zack Ireland, the general manager of the JBS plant, said the food company is taking the outbreak seriously.
"JBS Grand Island is not forcing anyone to come to work for any reason, especially those who are sick," he said. "We want all workers who are sick to stay home."
Workers are wearing face masks and checking their temperatures daily, and the plant is being cleaned and sanitized each day, he said. A tent has been erected so workers can spread out during breaks.
Asked about food safety, JBS USA spokesman Cameron Bruett cited guidance from the Food and Drug Administration, which says: "Currently, there is no evidence of food or food packaging being associated with transmission of COVID-19."
Hundreds of JBS workers in Greeley, Colorado, called in sick after coronavirus cases cropped up there, and another plant in Pennsylvania has partially shut down, according to news reports, even as demand for beef and chicken soars as more people stay home and cook.
Gov. Pete Ricketts said Friday that he didn't have any information about whether workers at other food or manufacturing plants in Nebraska have tested positive for the coronavirus. But he said he had spoken with a JBS executive.
"They've had increased absenteeism, which has actually slowed down the number of people coming into the plant," he said. "They're sanitizing the plant and fogging it, so they're working on wiping down surfaces. So they are taking a number of steps to be able to keep that plant sanitized and be able to separate the folks they got working there."
Directed health measures ordered by Ricketts and Anderson have closed dine-in areas at restaurants, parks and salons in Hall, Hamilton and Merrick Counties. Gatherings must be limited to 10 people.
Still, the numbers continue to climb.
Hall County's current number of cases trails only Douglas County, the Nebraska population center where Omaha is located and an estimated 571,327 people live. Roughly 61,000 people live in Hall County. Douglas County reported 129 coronavirus cases as of Friday.
And Hall County's number of cases per capita is actually higher than the Omaha area's.
Anderson said it could take as long as eight weeks before the number of COVID-19 cases in the area begins to drop.
"Everybody's in the dark about" where the virus could be spreading, said Mark Henk, a Grand Island resident who owns a Godfather's Pizza there. "There's just not a lot of people out and about — unless you go to Walmart. Of course, the Walmart lot is full all the time."
Anderson has said it is no longer useful to release details about where infected people have traveled or shopped.
"Because we have community spread of the virus, our assumption is it is actually everywhere we are," she said Friday. "It will be in places of employment, in places of recreation, in places of shopping, all places."
Guillermo Pena, a traveling nurse and property manager in Grand Island, said local officials are not releasing enough information on the confirmed cases — a common refrain on the Health Department's Facebook page — or doing enough education and outreach to Grand Island's sizable Latino community.
"The social fabric of Nebraska is somewhat unstable because you have people who are immigrants. They may have papers, but they're still afraid to come into contact with the police department and first responders," he said.
The JBS plant, he said, is the lifeline of the city, but the sheer number of people who work there is going to make it difficult to contain the spread of the virus.
"Nobody wants to be fired from their jobs, so people are going into work sick," he said.
CHI Health St. Francis, the Grand Island hospital, set up a separate negative-pressure area adjacent to its emergency room Thursday to screen and care for respiratory patients, including those who may have COVID-19, the Grand Island Independent reported. It is unclear how many, if any, COVID-19 patients are being treated there.
Another Grand Island hospital is under construction but isn't scheduled to open until this summer.
Twenty-five miles south in Hastings, Mary Lanning Healthcare is caring for two COVID-19 patients in critical condition in its 10-bed intensive care unit.
"I think we're positioned as well as any hospital our size anywhere in the state," Mary Lanning President and CEO Eric Barber said.
The 110-bed hospital is currently at half-capacity, as is St. Francis, because elective surgeries have been canceled. That means that the two hospitals, typically competitors, could together handle a fairly significant surge in COVID-19 patients requiring hospitalization, Barber said.
Mary Lanning has eight ventilators and six anesthesia machines that could provide breathing support in a pinch. A surgical center in town has three more anesthesia machines.
"If we social distance correctly and we follow this directed health measure for the next six weeks, I still anticipate … that it's going to infect a good portion of the population. 10%? 15%? We don't know," Barber said.
Adams County, where Mary Lanning is located, had six confirmed coronavirus cases as of Friday, including two people who attended a birthday party in nearby Doniphan on March 14 that reportedly attracted hundreds of guests. Besides the two who are hospitalized, one person has recovered, and three more are recovering at home.
South Heartland District Health Department Director Michele Bever said people in Hastings and Grand Island have seized on the quinceañera — a 15th birthday party — as a possible source of community spread in the two cities.
But it's not clear that the two people were exposed at the party or that they exposed others, Bever said. Almost three weeks later, anyone who may have been infected at the party should have shown symptoms or shouldn't be contagious anymore.
"We don't have any way to say that was definitively it," Bever said. "We're moving forward from that. It doesn't really matter — it's here."
Small towns nearby like Doniphan and Giltner are bracing for the possibility of further spread, said Jay Haile, the Village Board chairman in Doniphan, 12 miles south of Grand Island. People who live there often work in Grand Island or Hastings, or do their shopping there.
The old-timers who gathered at the community center in Doniphan to drink coffee and talk can't come anymore because the center is shut down. The American Legion Post is still serving up burgers and fried fish, but for carryout only.
"I work here in Giltner, and it's like a ghost town here," said Haile, who owns an auto shop. "I'm the only guy here — me and the cat."
World-Herald staff writer Martha Stoddard contributed to this report.