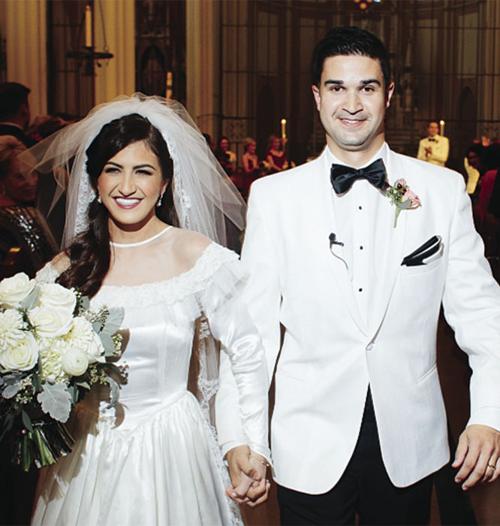 Julia Marie Boulay and Joseph Stephen Hilger were united in marriage on August 25, 2018. The wedding reception took place at Anthony's Steakhouse. The Rev. Thomas Fangman celebrated the mass with the Rev. Don Doll, S.J., Rev. Dave Korth, Rev. Robert Matya, Rev. James Morin and Rev. Leo Seiker as concelebrants.
The bride is the daughter of Kathryn and Gregory Boulay of Omaha. She is a graduate of Marian Catholic High School in Omaha and Texas Christian University in Fort Worth, Texas. She graduated with a degree in nursing and is a registered nurse at Nebraska Medical Center in the surgical ICU.
The groom is the son of Dr. David and Mary Hilger of Omaha. He is a graduate of Pius X Catholic High School in Lincoln and The University of Nebraska at Lincoln. He graduated form UNL with a Masters in accounting. He is a former CPA and now works in wealth management at Union Bank of Switzerland.
Matron of honor was the bride's sister Molly Lavelle. The brides wedding party included sister-in-law Allison Boulay, cousin Monica Barker, groom's sisters Jean Reed and Monica Hilger, and friends of the bride Kate Golwitzer, Kathy Schubauer, Megan Meyertons and Molly Wellsfry. The bride's house party included friends Alexandria Miles, Colleen Waring, Megan Jimenez, Margaret Shackelford, Laura Denny, Katie Liu and Paige Mobley.
Flower children were Katherine and Elayna Reed, nieces of the groom.
In the groom's wedding party were best man and friend James Largen, bride's brothers Vince and Thomas Boulay, bride's brother-in-law Thomas Lavelle, groom's brother-in-law Scott Reed and friends of the groom Patrick Sullivan, Zach Peed, Brenden Baker and Kevin Gillick.
Ring bearers were Nephews of the bride Leo and Domenic Boulay and Jack Lavelle, and nephew of the groom Timothy Reed.
For the ceremony, Julia wore her grandmother " Nanna" Josephine's wedding dress from 1952, which was also worn by Julia's mother Kathy on her wedding day in 1983.
The couple honeymooned in Sri Lanka.