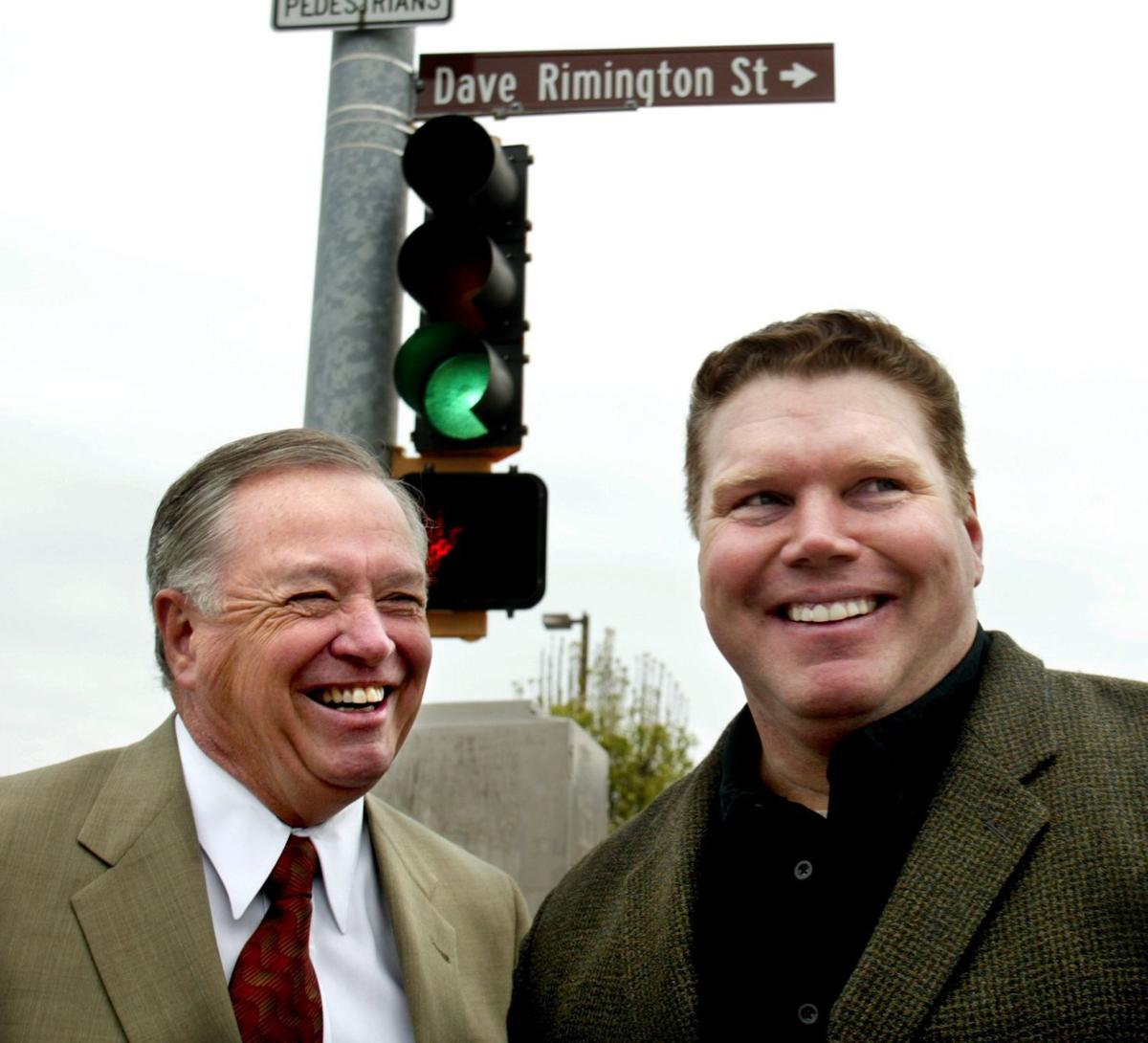 This article was first published on April 26, 2002.
Dave Rimington said Friday that he had to admit it: He had driven down L Street the night before to sneak a peek.
He saw them, the first of eight brown street signs that now bear his name.
"I thought, 'Are they really going to do this?'" the ex-South High, -Husker and -professional football star said. "They did."
During the official dedication Friday that drew Mayor Mike Fahey and the South High band, Rimington said that he was humbled and honored.
But he said his real hope is that the street signs provide inspiration and motivation to students and others who pass through the L Street path — now commemoratively named Dave Rimington Street — that connects South High to its athletic field.
"To see that someone from this area went out and followed their dream and was able to succeed, maybe that will push them to chase their dream," said Rimington, now of New York.
Among those gathered at 24th and L Streets were Rimington's mother, who came in from Texas; City Councilman Garry Gernandt; teachers; students; south Omaha merchants; and representatives of the local Cystic Fibrosis Foundation, which helped push for the dedication.
Rimington now is the president of the Boomer Esiason Foundation, which is fighting for a cure for cystic fibrosis.
One could make a case, Fahey said, to dedicate an Omaha street after Rimington simply because of his football achievements.
A two-time First-Team Academic All-American, Rimington was honored by the NCAA as a top-five student athlete and was selected as a National Football Foundation and College Football Hall of Fame scholar athlete.
"But Dave is more than that," Fahey said. "His character, dedication, humanitarianism ... are testaments to him, the foundation and all Americans."
Chuck Walker, assistant principal and athletic director at South High, said Rimington has never forgotten his roots. He returns to south Omaha to help in various fundraising efforts.
Rimington, Walker added, has an untiring work ethic, heart and humility.
"Our job," he said, "is to communicate those values so when the kids see the signs ... they make the connection."
Be the first to know
Get local news delivered to your inbox!