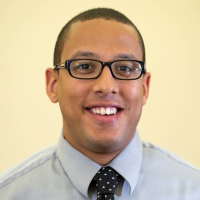 Jon Nyatawa
Reporter - Creighton athletics
Bio

Jon covers Creighton athletics, the College World Series and more for The World-Herald. Follow him on Twitter @JonNyatawa. Phone: 402-444-6611
Here's a glimpse of the offensive/defensive challenges that await Creighton's squad — which, remember, features eight newcomers and two redshirt freshmen — as the Jays approach the Sept. 28 official start date of preseason practice.
Nebraska dropped out of the top 10 for the first time in four years, and Creighton inched up one spot in the latest college volleyball rankings.
Omaha Creighton Prep forward Luke Jungers is staying home to play college ball. He announced Sunday night he's committed to UNO basketball.
No. 1 Georgetown spoiled the Creighton men's soccer team's memorable night with a goal in the final minute, securing a win at Morrison Stadium.
Wichita State gave No. 17 Creighton all it could handle for two sets. But the Jays found an extra gear to close out their sixth straight win and are off to their best start in school history.
Friday's Nebraska-Creighton baseball scrimmage featured game-like tension in a 12-inning affair that ended with a Husker win. Here are some observations and things we learned about both teams.
View all