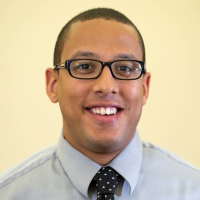 Jon Nyatawa
Reporter - Creighton athletics
Bio

Jon covers Creighton athletics, the College World Series and more for The World-Herald. Follow him on Twitter @JonNyatawa. Phone: 402-444-6611
Union Omaha can move into a tie for first in the USL League One standings with a victory Wednesday at Chattanooga Red Wolves SC. The match begins at 4 p.m. and will be shown on ESPN Plus.
Hunter Sallis. Tucker DeVries. Tamar Bates. Three of Creighton's top 2021 prospects shared the same court in an AAU game Saturday. They did not disappoint.
The Wildcats and Bluejays top our preseason Big East rankings. They have the fewest questions to answer, the fewest unknowns to solve. And they'll both return four starters — which is a rarity in this sport.
For the last two decades, former Husker Steffon Bradford has been so disciplined with his training regimen that he's rarely missed out on an opportunity to hoop. 
Union Omaha will look to remain unbeaten when it travels to face FC Tucson in the third game of its inaugural season. That match is scheduled for 9:30 p.m. Saturday and will be shown on ESPN Plus.
There isn't a clear timetable set for the on-campus arrival of Creighton's two international players, but forward Modestas Kancleris and guard Rati Andronikashvili have started the process to make their way to Omaha.
Damien Jefferson, who announced Saturday he'll return to school, heard the evaluations from those in pro hoops circles the past few months.
Saturday's socially distanced, mask-donning crowd of 2,400 fans packed into a baseball stadium to watch the city's new professional soccer team make its home debut in the midst of a pandemic.
View all