David Pearson, a hydrologist with the National Weather Service, said radar indicates that rainfall rates briefly topped 5 inches an hour downtown on Aug. 7, something that would be considered rarer than a "1-in-500-year" storm. ("One-in-500" is an estimate of the odds of a storm occurring; it does not mean that the storm would occur only once every 500 years.)
Successive storms carried so much rain and took such direct aim at Omaha that the weather service issued a new and rare type of warning for the first time in Omaha, a flash flood emergency, Pearson said.
"I remember watching the storms and thinking, 'This is going to be really bad,'" he said. "I don't know how we got out of that with nobody dying. It's incredible."
"Five inches an hour is off the charts in terms of 'unusualness,'" Pearson said.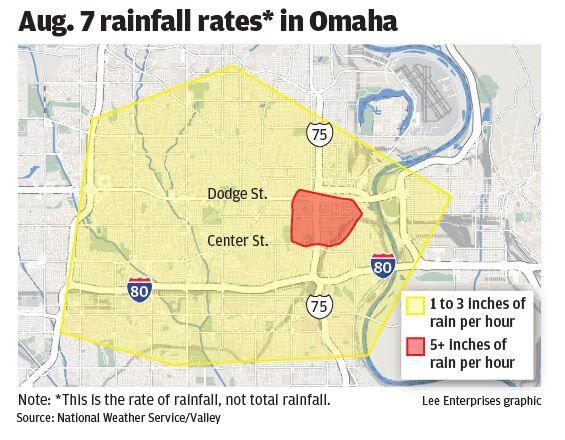 The storm underscored urban Omaha's vulnerability to flooding, especially as global warming turns Earth into a wetter planet, one that is more prone to deluges.
Flash flooding caused the foundations of two midtown homes to collapse, dumped water into an unknown number of other homes, apartments and businesses, and swamped many cars. Several people escaped with their lives when their elevator descended into the flooded basement of a downtown apartment building.
The sewer line at 19th Street and St. Mary's Avenue collapsed and is costing about $1 million to repair. Some streets ruptured, and manholes were damaged.
Over the years, the city has done what it can to improve drainage in the urban core, a senior public works official said. But those fixes focus on moving runoff along. There is no room in eastern Omaha for things like dams, which hold back runoff.
"The system has been undergoing constant improvements for many years, and that will continue," said Jim Theiler, assistant director of Public Works. "But we can only do so much. There is no system design to handle the type of rain event we saw that night."
And while many millions of dollars have been spent building dams and levees along the metro area's Papillion Creek system, those don't protect downtown because downtown is in a watershed separate from the Papio Creek system, said John Winkler, general manager of the Papio-Missouri River Natural Resources District. Those dams and levees lessen the flood risk to Sarpy County and central and western Douglas County. The Papillion creeks all stayed within their banks.
Instead, the only defense against the August flash flooding was the capacity of the city's sewer system. And that system, Theiler said, is built to a 10-year or less storm frequency. In areas developed since about the 1950s or 1960s, sewers are designed to a 10-year storm frequency. Sewers built before that may be less robust, he said.
In addition to a drainage system being overmatched by extreme rainfall, urban flooding can be compounded by clogged sewer inlets, Winkler said. In many areas of Omaha, sewer inlets are matted with leaves, sticks and litter; in some areas, they are covered by sandbags because of nearby construction.
Increased heavy rains are an expected consequence of climate change. That's because a warmer planet holds more water vapor in its atmosphere, so there is more water to wring out.
In this region, the amount of precipitation and the frequency of the biggest storms were up almost 30% for the period of 1958-2016, according to the assessment, which is the government's periodic overview of climate change's impact on the U.S.
"What's the climate change fingerprint in this?" Pearson said. "It's that rainfall rates are becoming more extreme. It's not, 'Will it storm or not?' When it does rain, the rain is coming at a faster pace ... This was predicted years ago as something that would happen."
That said, big rains are not "caused" by climate change, scientists say. They're made more likely and potentially more extreme. Natural factors also affect precipitation, including global climatic patterns and prolonged wet and dry cycles.
Had the Aug. 7 rain fallen at a more normal rate, the 2 to 3 inches it produced wouldn't have overwhelmed the sewer system, Theiler said.
"It was the intensity of the rain that led to the system being overwhelmed," he said. "The city's storm drainage system frequently will handle rains of 2 to 3 inches."
The city has been taking steps to increase the capacity of its sewers, Theiler said:
Relief sewers are being added where possible.
New sewers are being built larger as the definition of a 10-year rainfall changes.
Capacity is increasing in some areas because of a federal mandate that Omaha dump significantly less raw sewage into local waterways. The mandate has led to a $2 billion upgrade to sewers in the older part of town. And while most of the work is focused on water quality, some of the projects increased capacity, Theiler said. For example, while Omaha can't build dams in the middle of the city, it has re-sculpted some ponds and swales in parks to create room to catch and slow down runoff, which reduces pressure on storm drains.
Drainage outlets are being added along the Missouri River to allow more storm runoff to pour into the river.
A pump station that pumps stormwater out of north downtown and into the Missouri River is getting more pumps.
In no areas of Omaha has the sewer project reduced capacity, Theiler said.
While meteorologists can forecast rain totals for storms, forecasting rainfall rates is difficult, said Pearson, who works out of the Valley weather service office. Instead, the weather service is often left to issue flash flood warnings as a storm descends on an area.
Low-lying areas of midtown, like around Saddle Creek Road, received the flash flood warning about half an hour in advance, he said, while downtown had about 45 minutes' notice.
The storm was a real-world test of the weather service's new cellphone emergency alert system. Some people got the warnings, but not all smartphones picked up the alert, Pearson said. That could be because some people had disabled their weather alerts or their cell carrier didn't provide them.
"It was a very challenging night," he said.
Pearson said technological upgrades in radar and a strong network of metro area rain gauges are helping the weather service assess rainfall.
Flood reduction is one of the key missions of the NRD, and Winkler, like Theiler, said there are few easy or economical solutions for the urban core.
"The main question that always needs to be answered: Is there the political will to dedicate the financial resources necessary to construct the appropriate infrastructure to adequately mitigate events such as the Aug. 7 storm?" Winkler said. "Or do we as a society accept the risk associated with loss of property and life?"
---