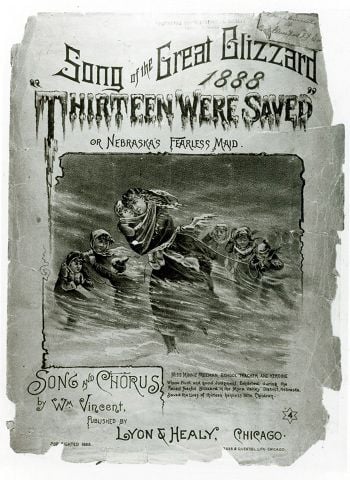 Editor's note: This story was originally published in The World-Herald on Jan. 12, 2013.
A sudden, fierce blizzard slashed across Nebraska 125 years ago today. On Jan. 12, 1888, a howling northwest wind swept across the Great Plains with no warning. The temperature fell to between 30 and 40 degrees below. The storm raged for 12 to 18 hours. Blowing and drifting snow smothered the landscape. An estimated 230 people perished, including 40 to 100 in Nebraska. People collapsed and died within yards of their doors, unable to hear pots being pounded to guide them to safety. Ice sealed nostrils in minutes.
Snow depths weren't extraordinary, but hurricane-like winds caused blinding whiteouts. Arctic air flash-froze the landscape. At Valentine, Neb., the temperature was 30 degrees at 6 a.m., 6 degrees at 2 p.m. and 14 below at 9 p.m.
Historians rank the Blizzard of 1888 as among the most severe to hit Nebraska.
None is more anchored in Nebraska lore. The blizzard's place in history is immortalized in a haunting mosaic near the ceiling of the Great Hall in the State Capitol.
The nightmare mega-storm is sometimes called the Schoolchildren's Blizzard because it caught so many children away from home on a Thursday. Acts of heroism by parents, children and teachers became legendary, especially 19-year-old Minnie Freeman's exploits.
Freeman was a teacher at a sod schoolhouse about six miles south of Ord, Neb., in an area known as Mira Valley. She linked her pupils with twine and led them through the blinding storm to safety at a farmhouse after gale winds blew off a corner of the school's tarpaper-and-sod roof.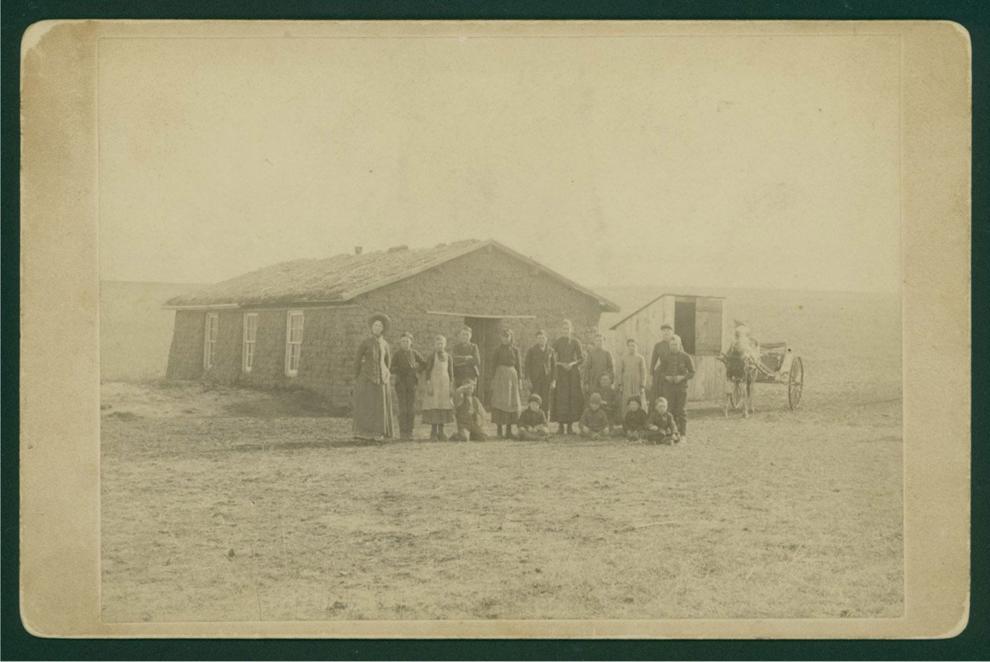 Storm stories gathered by the Nebraska State Historical Society and subsequent books chronicled how the blizzard caught people off guard. Most accounts agree that the early hours that day were unseasonably warm. Cattle were in fields. Schoolchildren played outside during noon recess. Men worked outdoors without coats.
Then the wind changed direction and a great mass of thick, blinding snow rolled across the Plains.
John Craig was a 7-year-old farm boy who lived nine miles southeast of Leigh, Neb. He was in a country school when the cataclysmic cold front dropped in about 2 p.m. He later wrote:
"With the suddenness of a clap of thunder, the sheer front of the blizzard crashed against the schoolhouse like a tidal wave, shaking the wooden frame building and almost lifting it from its foundation.''
Many teachers kept their students for two nights until rescuers arrived. One teacher had children ring the school bell day and night to let people know they were safe. Church bells in O'Neill, Neb., tolled and mill whistles sounded at one-minute intervals to guide people lost on the prairie to safety.
It took a few days before the scope of the natural disaster became apparent as word of tragedies and heroics trickled in to newspapers.
Seattle writer David Laskin reconstructed the storm in "The Children's Blizzard'' in 2004:
"For years afterward, at gatherings of any size in Dakota or Nebraska, there would always be people walking on wooden legs or holding fingerless hands behind their backs or hiding missing ears under hats — victims of the blizzard.''
Decades later, storm survivors organized a club and met annually to commemorate the storm. The club published a book of blizzard stories in 1947.
They called it, "In All Its Fury.''
Tales of tragedy and triumph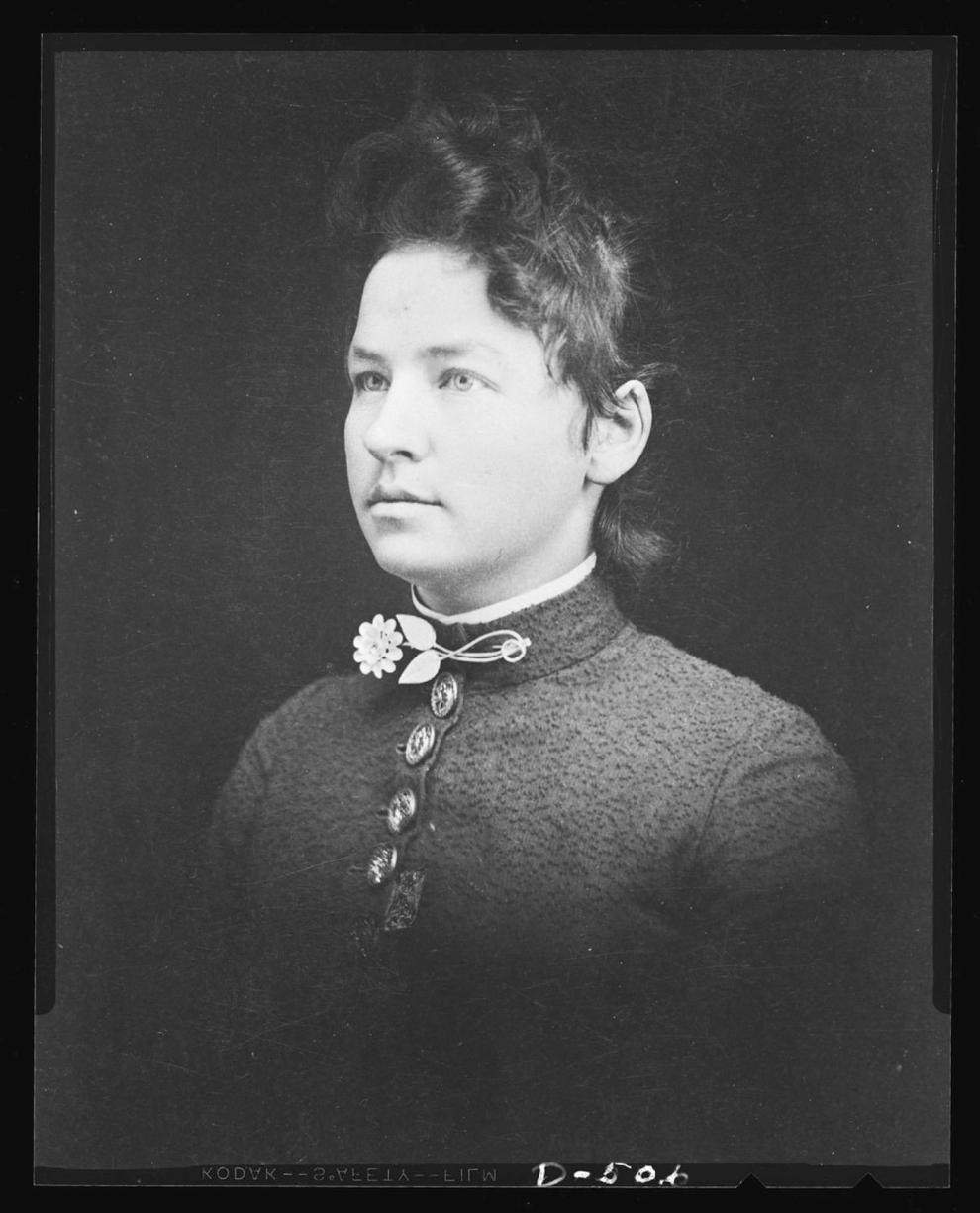 Bravery came from women, men and beasts caught in unexpected situations during the storm. Some efforts were successful; others resulted in the lifeless bodies of children and parents, cradled by the snow.
Minnie Freeman was a reluctant folk hero.
Freeman's actions quickly symbolized the countless acts of bravery that surfaced in the wake of the Blizzard of 1888, despite her attempts to dismiss national acclaim for leading her pupils to safety when the storm struck central Nebraska.
A musician composed "Thirteen Were Saved, " a song honoring "Nebraska's Fearless Maid." She received more than 80 marriage proposals. The State Education Board gave her a gold medal. A wax bust of Freeman was exhibited across the nation.
Accounts vary of how many children were in Freeman's sod schoolhouse at Mira Valley near Ord. Some say 13, others 17. A few say 16.
Newspaper accounts detailed Freeman's matter-of-fact explanation of what happened during the storm:
"I took a ball of stout twine I had in my desk and tied the children together, fastened one end to my arm and waited for an opportunity. Then the roof blew off. We started. It was about three-quarters of a mile to the nearest house, and the wind blew in our face ... but we finally got through. I really do not think I am deserving of so much credit.''
The youngest student was 5. Freeman described the journey:
"I told them we would all have to stick together. If anyone was to stop to rub cold hands, all would stop. We went two by two, with strict orders to keep hold of the one just ahead.''
Freeman said that walking into the wind toward the farmhouse where she boarded kept her from wandering off course. Visibility was four or five feet.
"Somehow or other we managed to struggle to that house, where hay was put on the floors, covers brought out and all the children taken care of for the night. Parents were desperate. They thought all had perished. When they found all were saved, they called it providential. It must have been because not far away a farmer froze to death trying to get to his house from the barn only 150 feet away.''
Three years later, Freeman married farmer Edgar Penney. They had two sons, and she was politically and socially active. According to obituaries, she was Nebraska's first Republican national committeewoman, first president of the Nebraska American Legion Auxiliary, an officer of the Nebraska League of Women Voters, president of the Nebraska Federation of Women's Clubs and a member of the committee that selected a new state seal. The Penneys kept their legal residence in Fullerton, Neb., after moving to Chicago in about 1923. Penney was president of a chemical company.
Minnie Freeman Penney died in Chicago in 1943. She was 75. A three-paragraph obituary in The World-Herald was printed on the comics page near "Joe Palooka, '' "Blondie'' and "Orphan Annie.''
Lost children, lost limbs
Other Nebraska teachers weren't as fortunate as Minnie Freeman.
Lois May Royce, a country schoolteacher near Plainview, tried to lead three students to her boarding house about 200 yards away after determining that the school fuel supply would not last the night.
The group lost its way in the storm. The children — ages 9, 9 and 6 — died. The next morning, Royce crawled to a nearby farmhouse. She suffered severe frostbite to her feet, and they were amputated weeks later. Royce eventually learned to walk with artificial limbs, married in Iowa and moved to California.
Emma Shattuck, a teacher near Emmet, found refuge in a haystack, where she remained for two days until discovered by a farmer. She was so badly frozen that both legs were amputated. She later died of her injuries.
Hundreds of people in 400 sleighs and cutters paraded through Omaha and crossed the frozen Missouri River — while a brass band played — to dinner and dancing in Council Bluffs, then a town tucked into the hills far east of the river.
The revelers were celebrating the early completion of a Douglas Street bridge to the Bluffs.
The storm hit shortly after 4 p.m. and caused anxiety among the partiers worried about returning to Omaha across the windswept prairie west of the Bluffs and a river known to have holes in the ice below the bridge.
At least two Omahans died in the blizzard. Cigarmaker Ferdinand Eller froze within a block of his boardinghouse at 24th and Leavenworth Streets. Wixell Beck, 8, left Walnut Hill School to walk a quarter mile home at 3:30 p.m. He wandered lost onto the prairie and froze.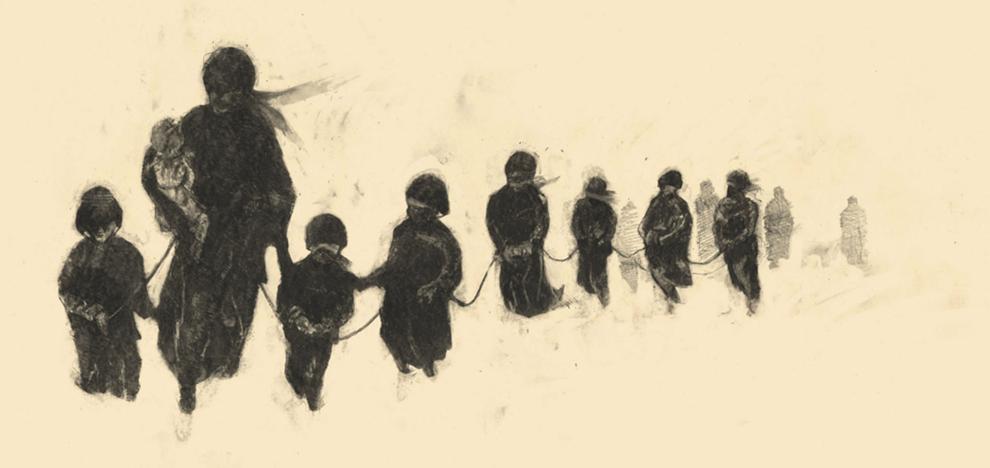 Four years ago, Opera Omaha reintroduced the storm to Nebraskans with the world premiere of "Blizzard Voices.'' The oratorio featured dramatic dialogue by Nebraska poet Ted Kooser.
The day after the blizzard, the Omaha Republican newspaper treated the storm with a one-line comment:
"The local ice crop is assured.''
Omaha Indians Charley Stabler and Rough Clouds were hunting and trapping muskrat and beaver along Beaver Creek near Genoa, Neb., with Stabler's dog, Bear Claws. The young men took shelter under a tree, and snow drifted over them.
Stabler awoke the next morning. Rough Clouds was dead. Bear Claws was missing. Stabler could not break out of the tomb of ice and snow.
About noon Jan. 15, Stabler heard his dog whining and digging over his head. They both dug frantically and broke through the crust of snow. Stabler, with the dog at his side, crawled toward a dim light in the distance and fell against a farmhouse door. The farm family took him in and cared for his frozen hands and feet.
Bear Claws went on to the Omaha camp where he whined and whimpered until some of the men followed him to the farmhouse. The dog later led the men to the place where Rough Cloud's body lay. Tracks in the snow showed that the dog had made many trips back and forth, trying to bring help to his master and friend.
An intoxicated man in Falls City, Neb., froze his hands so badly while attempting to walk to his house three miles south of the town that they were amputated. The man's attorney sued the saloonkeeper for $5,000.
Trees point way to safety
Wilhelm Glaubius hitched horses to his wagon and drove to a country school southwest of Wisner, Neb. He loaded children and teacher Howard Miller aboard and headed for safety. Glaubius left a note written in German on the door, telling parents that he was taking the children to his home. Glaubius became lost, however, until a lull in the storm provided sight of a grove of trees around his house.
Mom dies looking for sons
Mary Masek of Milligan, Neb., walked nearly two miles to a country school to locate her sons, Charles and Thomas. Finding the school empty, she started back. Her frozen body was found huddled near a cottonwood tree, a short distance from a neighbor's farmhouse.
Older sister tried to help
In Dodge County, Neb., two daughters of the widow of Peter Westphalen started home from a schoolhouse. Their bodies were found lying close together in an open field drifted with snow. The older girl, 13, had taken off her wraps and put them on her sister, 8.
Mark C. Rich, who later lived in Council Bluffs, was riding horseback in Horse Camp Draw on the Sidney-Deadwood Trail south of the Black Hills in Dakota Territory.
He dismounted, took the saddle off his horse and stood it on end against a large bush. Dressed in an overcoat, mittens, overshoes over his boots and a waterproof slicker, Rich wrapped in the saddle blanket and lay in the shelter of his saddle.
He unfastened one of the bridle reins from the bit, fastened it to the end of the other rein and tied it around an arm to keep the horse from wandering away.
Snow drifted over Rich but he survived and continued his ride to the Z-Bell Ranch about 12 hours later.
A girl named Mary was out with the family cows in an Antelope County, Neb., field of corn stubble.
One of the old cows led the herd, and when it was time to take the cattle in, Mary would hold the old cow's tail to walk home and the others would follow. The old cow started for home when the blinding storm hit. Mary grabbed the tail and was safely guided home.
Theodore Peterson of Oakland, Neb., had been to the mill at Lyons to grind wheat for flour when he was caught in the storm. He was driving a wagon hitched to an old blind mare and another horse. The blind horse had been over the road many times without seeing it, so Peterson loosened the reins and let her find the way home.
Hotel provides 'chance of a lifetime'
Van Nostrand, the cemetery sexton in Tekamah, Neb., guided his two daughters and four other girls from the town school to the local Brookings Hotel, where the children camped on the floor of the upstairs parlor.
Ella Sloan Young later wrote: "It was a long time before we got to sleep. Six little school girls getting to have a slumber party was the chance of a lifetime.''
Frank Carney was a 20-year-old night telegraph operator for the Chicago and Northwestern Railway at Irvington. His office was a boxcar parked on a spur along Papio Creek.
Carney later wrote: "By 9 (p.m.) the blizzard was howling down the Pappio valley and the old boxcar, which stood ... broadside to the wind, was groaning and swaying on its tracks at every blast until I was afraid to stay there longer, expecting that at any moment it would roll down into the creek with me and a red hot stove in it.''
Carney telegraphed the train dispatcher in Fremont and received permission to leave his post and walk a half mile to the depot. Carney blindly stumbled along the rails.
"It was like trying to see with my face pushed into a snowdrift.''
He feared not being able to see the light in the depot agent's window and walking to his doom in the countryside. So every few steps, Carney reached out to the north side of the track to see if he could feel the depot platform.
Father, sons pass each other along fence
William Hagemeister, 12, and his brother Frank, 15, started home from their country school four miles west of Bradshaw, Neb., after school was dismissed at 3 p.m.
They followed a row of trees and a fence about a half mile east and a mile south to the family farm. Their worried father had started north to find the boys.
"He was on the east side of the fence and we on the west side. We must have passed each other, not many feet apart, but we did not see each other. We arrived home about the time father reached the schoolhouse. He got back safely, too.''
A boy and girl who had to walk a mile and a half northwest perished.
Whistle of wind guides rescuers
Townspeople came to C.W. Senift's grocery store in Pickrell, Neb., to rescue children from the hilltop schoolhouse about three blocks away.
They took rolls of rope and followed the Lincoln-Beatrice telephone line that paralleled the highway near the school.
They couldn't see from pole to pole but the whistle of the wire in the wind guided the men. They fastened rope to each pole and followed the line back to the store from the school.
Compiled from contemporary newspaper accounts, the book "In All Its Fury" and Nebraska State Historical Society records.