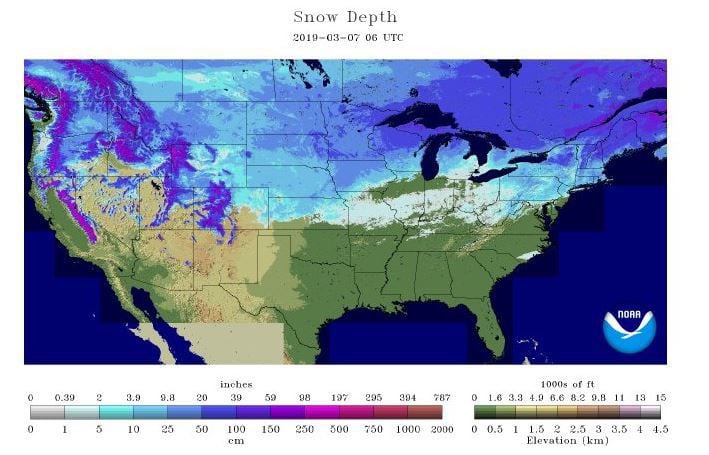 This could be a rough spring.
National Weather Service hydrologists on Thursday sounded the alarm over the potential for significant flooding in the central U.S. in the coming season, including in eastern Nebraska and western Iowa.
Saturated soils, high stream levels, layers of ice on rivers and a thick blanket of snow in the Plains and mountains all contribute to the risk.
"We're trying not to go too far to the pessimistic side, but we're also trying to be realistic," said David Pearson, hydrologist with the weather service office serving the Omaha area. "If you had a checklist for the things you don't want to have for flooding to be worse, we're checking all the boxes. The recipe is there."
Pearson said this year in Nebraska somewhat parallels 1997 and 2010.
In 2010, record June rainfall triggered major flooding in Nebraska. One person died, a number of towns sustained losses and some roads, bridges and six earthen dams were washed out. More than half of Nebraska's counties earned federal disaster status due to various storms.
That was also the spring that northwest Iowa saw flooding.
The historic, summerlong flooding on the Missouri River in 2011 isn't what immediately comes to mind, Pearson said. That's because 2011 was largely confined to the Missouri Valley and was driven by heavy snowpack and astonishing spring rains in Northern states — places like Montana and the Dakotas. Instead, this flood risk is based on local conditions on the ground, including in Nebraska and Iowa.
Earlier this week, officials alerted the public to risks of ice-jam flooding on Nebraska streams. Those floods occur suddenly and locally — and the threat disappears once the ice flushes downstream.
On Thursday, however, weather service hydrologists warned of a broader, longer-lasting threat: Generalized flooding across a larger area than typically happens with ice jams. Additionally, this threat will persist well into spring.
The key to whether widespread flooding occurs, Pearson said, will be rain.
John Remus, chief of Missouri River Basin Water Management, said the reservoirs behind the dams have room to accommodate their required amount of floodwater this year. That cushion of space was reached Jan. 29.
The Nebraska and Iowa flood threat varies by individual watershed, according to the weather service. Most streams across the region are at elevated risk, according to Pearson and fellow weather service hydrologist Kevin Low, and include:
Nebraska: North Fork of the Elkhorn, Logan Creek, the Loup River and the Big Blue River.
Iowa: Big and Little Sioux Rivers, the Floyd River and the Nishnabotna River.
Bottom line, said Pearson: "If you're somebody who is vulnerable to flooding, you're more vulnerable this year."