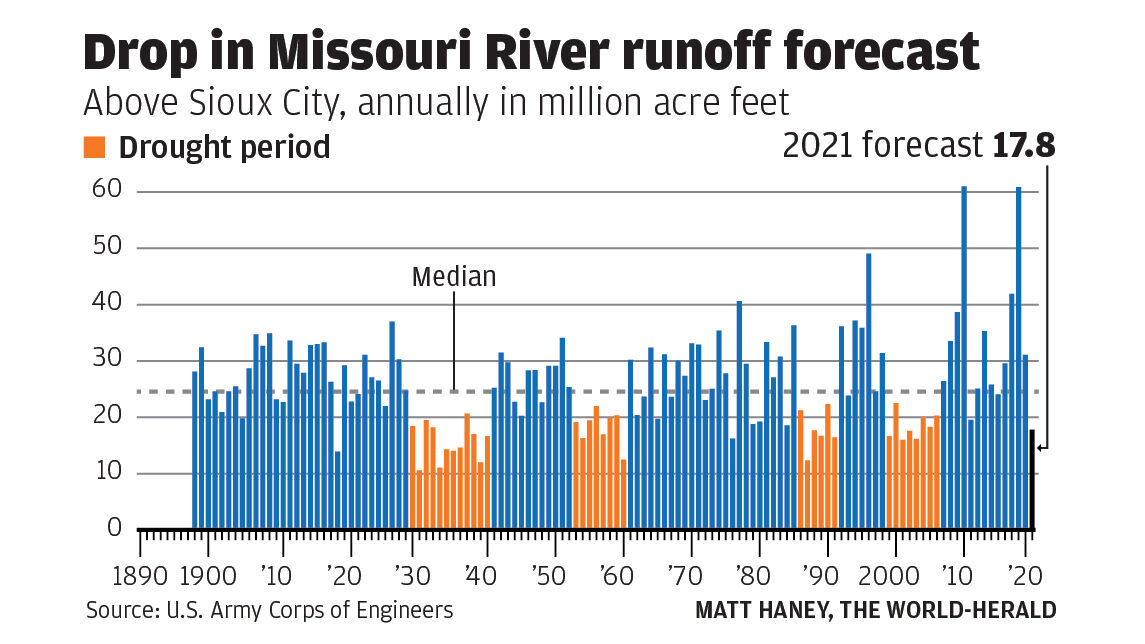 For the first time since 2013, drought is affecting decisions on how to manage the Missouri River.
The U.S. Army Corps of Engineers on Thursday said that some reservoirs and the river will likely be lower than usual this summer and that releases from the massive upstream dams will likely be below average this fall and winter. So the agency is advising those who rely on the reservoirs and river to prepare for lower levels.
John Remus, chief of the Missouri River Basin Water Management for the corps, said the corps hasn't had to manage the river for drought since 2013, and that was in the wake of the flash drought of 2012. That year, the problem was short-lived, he said. This year, he said that he expects the river to have enough water to meet needs but that local entities should take steps to ensure that they can reach that water.
"There will be adequate water in reservoirs and the river to supply all needs," Remus said. "However, the corps doesn't provide access. ... It's up to you to maintain access."
The Missouri River has two distinct sections: the upper portion, which is controlled by six massive dams, and the remainder, essentially downstream of Sioux City, Iowa. It is an economic engine because communities rely on it for municipal water and the safe operation of power plants, as well as other industrial services.
About three-fourths of the Missouri watershed is in drought or near drought, said Kevin Low, a National Weather Service hydrologist. Dry soil, virtually absent snowpack in the Plains and a forecast for a warmer and generally drier than normal summer are reasons for the pessimism about this year's runoff, officials said. (Mountain snowpack peaked at 86% to 96% of normal.)
According to Kevin Grode, also of the corps, runoff was below normal February through April. Last month, runoff was 44% of normal, which ranks it ninth-lowest in 123 years of record-keeping.
Remus said the corps usually "banks" runoff in the reservoirs in the spring, but hasn't been able to because runoff has been so low already. The last time the reservoirs took in more water than was released was March 23, he said.
For now, tributaries such as the Platte River are providing plenty of flows into the lower section of the river, Remus said. As those flows diminish because of the normal seasonal shift, the corps will have to increase releases from the reservoirs to keep the river high enough to meet its required uses. Even with those increased dam releases, the corps projects that the river will be below its optimal levels by July.
---
Nancy Gaarder's memorable stories of 2020
Here are five of my better-read stories that are varied and share only one thing in common: They have nothing to do with COVID-19.