Flash flooding washed through basement apartments, swept up cars and heaved pavement in low-lying areas of the Omaha metro area over the weekend.
Cleanup on Sunday was tedious, muddy work, but most people were counting their blessings.
Tony Luu, one of those who had been trapped, said he had no idea how dangerous flash flooding could be.
"I wouldn't have stepped in the elevator if I had known," he said, "Now I know to use a bit more caution."
Alex Speakar was likewise awed by the power of the water that lifted up her car and carried it down Jones Street to rest against other vehicles.
"When they say how fast (flooding) comes in, it just didn't register," she said. The 22-year-old had packed all her possessions in her car in front of the Old Market Lofts for her planned return to the University of Kansas on Sunday. Instead, she spent the afternoon watching her uncle, a mechanic, hook it to his truck for the trip to Lawrence, Kansas.
"It could have been worse," Speakar said. She still had a car — she hoped— and not everything in the car got soaked.
But dozens of motorists were caught in street flooding and required rescuing. Parked vehicles that had been pushed together by rushing water remained in place Sunday morning.
No injuries or deaths from the flooding were reported.
"We're very, very lucky," said Becky Kern, meteorologist with the National Weather Service in Valley. Flooding and heat waves are the two deadliest forms of weather, Kern said.
And in Nebraska, flash floods routinely claim more lives than tornadoes.
While heavier rain fell in rural areas of eastern Nebraska, the downtown area likely received 2-plus inches of rain in about an hour. The urbanized location of the rain, the compressed time frame and the amount of rain all worked against Omaha, she noted.
"(It) being a popular area and on a Saturday night, we were lucky," she said. "It wasn't just standing water, it was rushing water."
A succession of storms hit the metro area, said weather service meteorologist Dirk Petersen. "The storms hit the western edge of Omaha about 8:40 (p.m.), and then they kept coming one after another. From 9 p.m. to 10:30 is when (the rain) really hit downtown Omaha."
Officially, Omaha recorded 2.02 inches of rain at Eppley Airfield. Other reports include 2.39 inches at the Millard Airport and about 3 inches at several sites throughout the area where weather observers report data to the weather service.
The highest rain total was 5.1 inches about 75 miles west of Omaha near David City.
Officer Michael Pecha, an Omaha police spokesman, said flash flooding occurred throughout the southeast precinct.
"Flooding at 13th and Leavenworth (Streets) was significant," Pecha said. "Several vehicles were completely submerged, and others were floating down 13th."
Once the water receded, he said, significant mud and rock debris was left in roadways.
Portions of the roadway at 13th and Jackson Streets collapsed. Chunks of pavement washed out of Center Street east of Saddle Creek Road.
"There were also calls to other areas, including vehicles floating along Turner Boulevard," Pecha said. "Also, Jones Automotive at 20th and Poppleton was hit by a wave of water that breached their garage door, causing significant damage to the facility."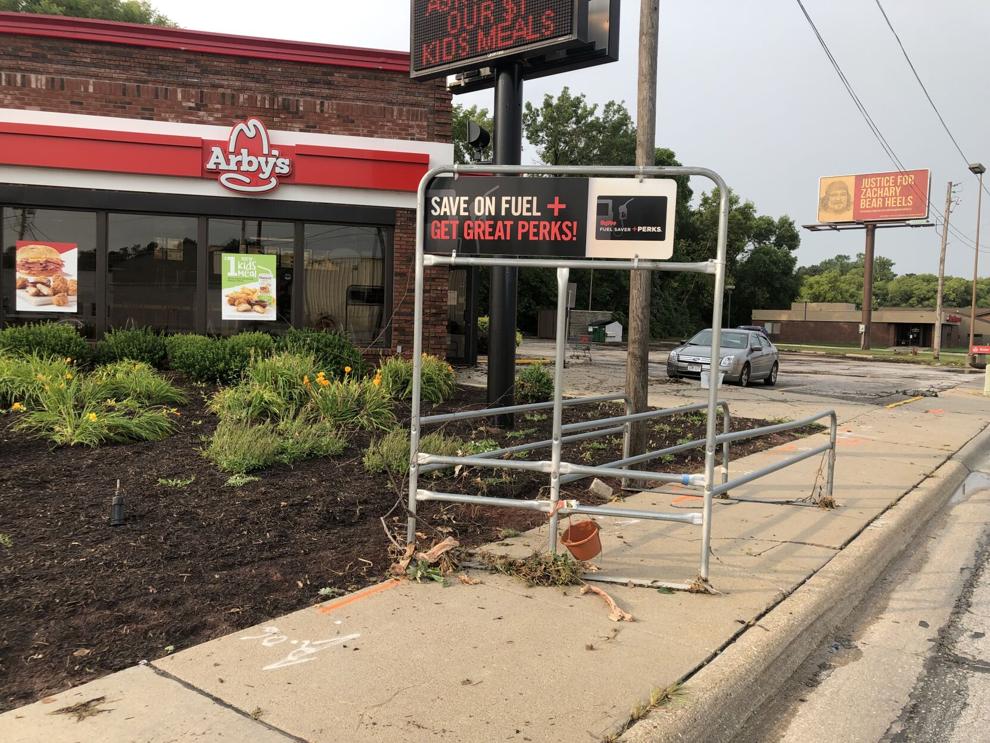 Omaha's Public Works Department called in additional crews to respond to damage reports, said Steve Andersen, manager of the sewer maintenance unit. Saddle Creek Road, Jones Street downtown and the area of 20th and Leavenworth Streets were some of the areas crews were working, he said.
"The combined sewer system was overloaded," Andersen said. "Some of our rain gauges showed up to 4 inches (of rain) falling an hour. We're fortunate that the rain was short-lived."
Also in the path of the flooding was the Kaneko gallery at 1111 Jones St., which was in the process of installing the works of its founder, Jun Kaneko, for a major exhibit.
The gallery took on water, but Maggie Smith, director of operations, said it appeared that nothing irreplaceable was damaged.
The gallery still was in the process of clearing out the muck and assessing the damage, she said.
At 50th Street and Saddle Creek Road, the roadway was filled with rocks and other washed-out debris. Four abandoned cars still surrounded the intersection Sunday morning.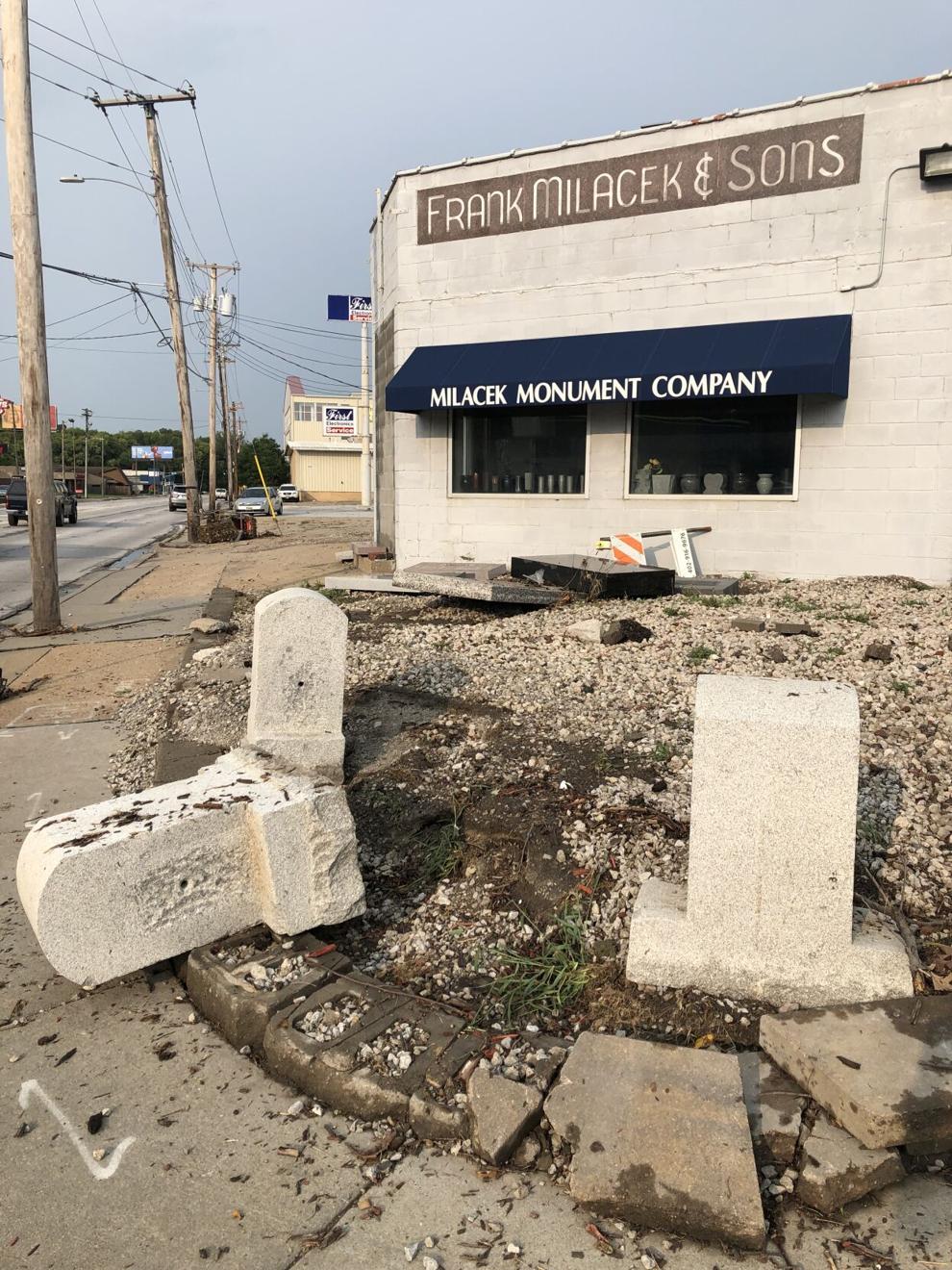 The water was so powerful, it moved and knocked over headstones at the Milacek Monument Co. near 52nd and Center Streets.
The Omaha Public Power District reported 18,000 power outages Saturday night. By 9 p.m. Sunday, that number had been whittled to less than 60.
Some homeowners in older parts of Omaha reported that water came up out of their floor drains Saturday night.
Saddle Creek Road became a virtual river, as water 2 to 3 feet high flowed down the roadway.
Downstream of it all, Tina Bachal's Salon 51 near 52nd and Center Streets caught the brunt of it.
On Sunday morning, she and some helpers were pulling salon chairs and other furniture and equipment out the door and assessing the damage.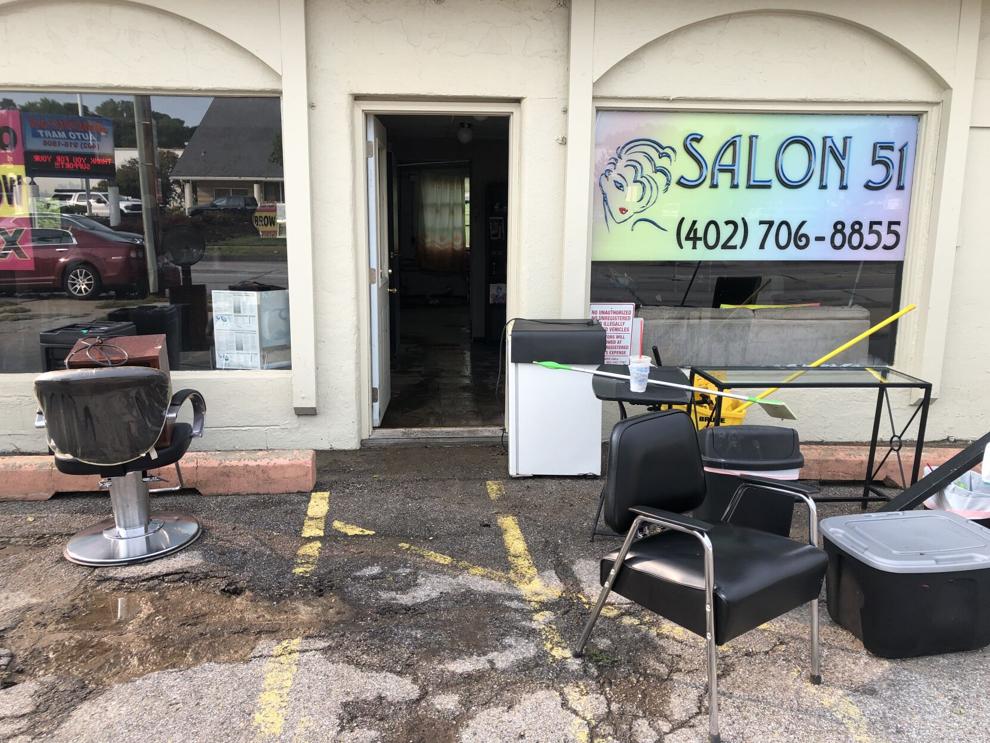 Bachal kept a sense of humor about it all.
"We're trying to pull everything out just to see what is all really damaged, cleaning up the mess," said Bachal, who was wearing boots. "I don't really know what to do. My landlord's on vacation somewhere nice right now."
A water mark on the front door showed that at its height, the water had reached almost to the doorknob, roughly waist-high. A car that had floated and smashed against a power pole remained out in front of the business.
Bachal figured that it might be a few days before she is able to reopen.
"Rainbows and butterflies," she told a passerby who asked how she was doing.
World-Herald photographer Chris Machian contributed to this report.
---