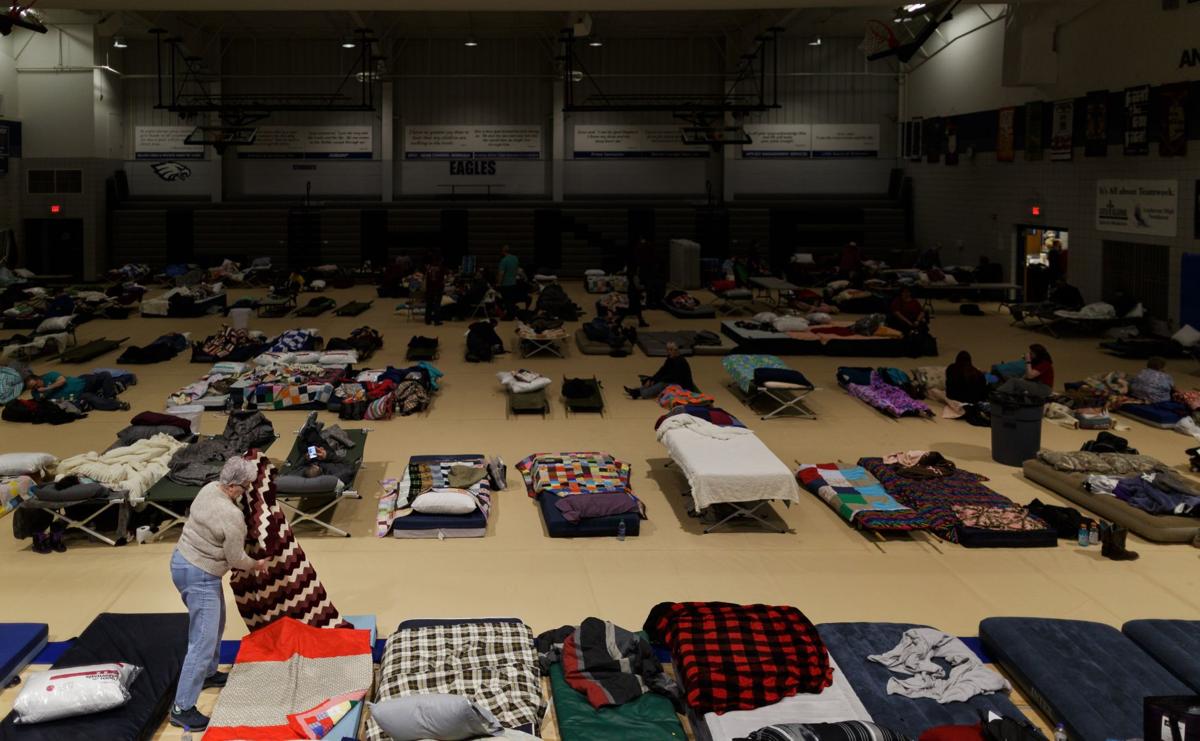 The Salvation Army set up a donation center Saturday at the now-closed Canfield's store near 84th and Center Streets in Omaha.
The center will be open Saturday until 7 p.m. and Sunday from noon to 7 p.m. Donations of flood-cleanup items and supplies including shovels, masks, disinfectant, tarps, bottled water and sports drinks are being accepted.
The Salvation Army will begin to distribute cleanup kits and bottled water to people in flood-afflicted areas, said Susan Eustice, director of public relations for the Army's Western Division.
The local Salvation Army also is partnering with NRG Media on a water drive Saturday from 10 a.m. to 6 p.m. Bottled water donation sites will be at the Nebraska Furniture Mart and all three Fresh Thyme stores in the Omaha metropolitan area.
Eustice said the agency also has set up a special donation tab at salarmyomaha.org.
The agency also is calling for additional volunteers for flood relief efforts. Volunteers can sign up at registertoring.com or 402-898-6050.
American Red Cross
As of mid-day Saturday, the American Red Cross was operating or about to open 13 shelters in Nebraska and western Iowa for people displaced by this week's devastating floods. That list included locations at the Elkhorn Middle School in Omaha, Council Bluffs, Missouri Valley, Plattsmouth, Fremont and Bellevue.
All told, the Red Cross sheltered 880 people overnight Friday, said Josh Murray, the agency's regional communications and marketing manager for Nebraska and southwest Iowa.
Murray said additional shelters could open later.
Area residents can donate at redcross.org/local/nebraska. Monetary donations are better than material goods, which are hard to distribute, he said.
United Way
United Way of the Midlands has established the Nebraska & Iowa Flood Relief Fund to help people who lost homes or suffered other setbacks in this week's flooding. 
One hundred percent of every donation will be given to nonprofit programs that provide shelter, food and other services in the Omaha area. Donors also can direct gifts to another flood-impacted community.
To donate, go to unitedwaymidlands.org/floodrelief or text FLOODRELIEF to 41444. United Way also is helping flood victims in Nebraska and southwest Iowa through its 211 Helpline.
First responder AID
Two churches and a radio station are collecting new blankets, towels, bottled water, prepackaged snacks and adult-size socks for first responders who have been working to rescue flood victims.
You can drop off items at Community of Christ Church, 2102 Liberty Avenue in Missouri Valley, Joseph's Coat Ministries, 1737 Washington St. in Blair and at the studios of Boomer Radio, 1016 S. Highway 50 in Blair and 11717 Burt St., Suite 201 in Omaha.
CHI Health has provided about 100 vaccines for tetanus, Hepatitis B or both for flood rescue workers. Family Fare supermarket in Blair also is taking donations of nonperishable food for flood victims.
Nebraska Farm Bureau
The Nebraska Farm Bureau has established a disaster relief fund and launched the Agriculture Disaster Exchange portal to connect farmers, ranchers and agricultural communities with help. To donate, apply for aid from the Disaster Relief Fund or use the Agriculture Disaster Exchange portal, www.nefb.org/disaster.
United Healthcare
Flood-affected plan members in Nebraska can contact a provider or get an early prescription refill by calling the number on the back of their medical ID cards. If you've lost your card, call 866-633-2446. Optum, a health and behavioral health services company affiliated with United HealthCare, has a free emotional-support help line at 866-342-6892. Mental health specialists will be available 24 hours a day, seven days a week for as long as necessary. It's open to anyone.
Benefit fish fry
All proceeds from the St. Patrick Catholic Church fish fry from 5 to 8 p.m. Friday will be donated to flood relief efforts, according to a Facebook post from the church's pastor, the Rev. Tom Fangman. The church is at 20500 West Maple Road.
Sign up for World-Herald news alerts
Be the first to know when news happens. Get the latest breaking headlines sent straight to your inbox.