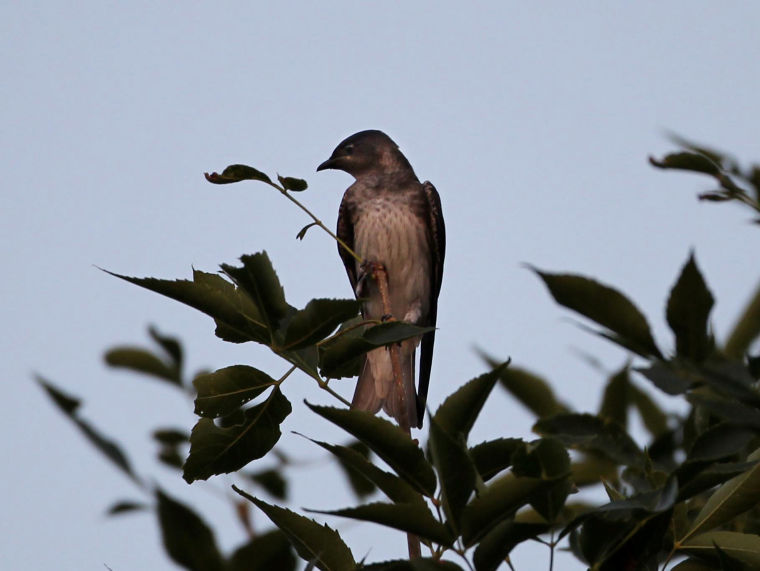 Purple martins, those beloved backyard acrobats, are returning.
The first sightings in Nebraska and Iowa occurred March 22, and since then sightings have increased. On Sunday and Monday, four Omaha metro area reports were filed with the Purple Martin Conservation Association.
Not too many years ago, reporters at The World-Herald would have received a phone call by now from Dennis Devine, the self-proclaimed Purple Martin Man. Devine, who died in 2011, was passionate about the bird and wanted to remind martin enthusiasts to get their martin houses cleaned and ready for the birds to begin families.
Martins are popular for a variety of reasons — they're fun to watch in flight, and they can be lured to a yard year after year by providing carefully tended birdhouses.
Omaha area residents get a special treat late each summer when martins leave their backyard homes and roost en masse at the University of Nebraska Medical Center. Each evening's arrival — swirling clouds of birds — provides a fun and mellow family activity.
The increase in sightings indicates the birds have now begun returning from their winter grounds in South America. They are among the earliest migrants to return from South America in the spring, according to the Cornell Lab of Ornithology.
In general, the birds arrive in southeast Nebraska and southern Iowa from April 1 to April 15, according to the Purple Martin Association.