Ted Herman and Josie Pilakowski kicked back in lawn chairs and soaked up some Sunday sun.
They took turns flinging a Frisbee across the sprawling lawn in Tom Hanafan River's Edge Park for their Australian shepherd named Guinness.
Herman and Pilakowski were some of many metro-area residents who took to parks, splash pads and restaurant patios on Sunday to enjoy the first taste of summerlike heat.
Sunday's temperature peaked at 85 degrees, thanks to clouds that rolled in. That one-day interruption in what was otherwise expected to be a string of 90-degree days will keep Omaha from starting out the month with a record number of days at or above 90 degrees.
Omaha's longest stretch for June is 12 days, said Paul Fajman, a meteorologist with the National Weather Service. The city has reached the 12-day streak in 2016, 1954 and 1933.
Friday and Saturday each saw the temperature hit 94 degrees, and highs are likely to remain in the 90s this week, Fajman said.
This time of year, Fajman said, the average temperature in Omaha is about 81 degrees. The long-range outlook favors above-average temperatures through June 20.
The heat is likely to become a bit more unbearable. The dewpoint is forecast to continue creeping higher, leading to more humidity as the week goes on.
"Once the dewpoint increases, the heat becomes a little more oppressive," Fajman said.
Herman, who lounged in the Council Bluffs park, said he and Pilakowski enjoy getting out when the weather is nice. But once things really start heating up, they'll stay inside with the air conditioning.
Sarah and Jon Anderson cruised across the Bob Kerrey Pedestrian Bridge pushing baby Maia in a stroller. It was the couple's first time on the bridge and they were enjoying the warm weather.
"It's nice. It feels like (summer) has taken forever to get here," Sarah Anderson said.
Farther down the bridge, Robert and Megan Boulter made their way back to the Nebraska side of the river with sons Shawn and Collin. The boys rode in a red wagon shaded by an overhead canopy.
The Bellevue family wanted to get out while it was still a little cloudy and breezy.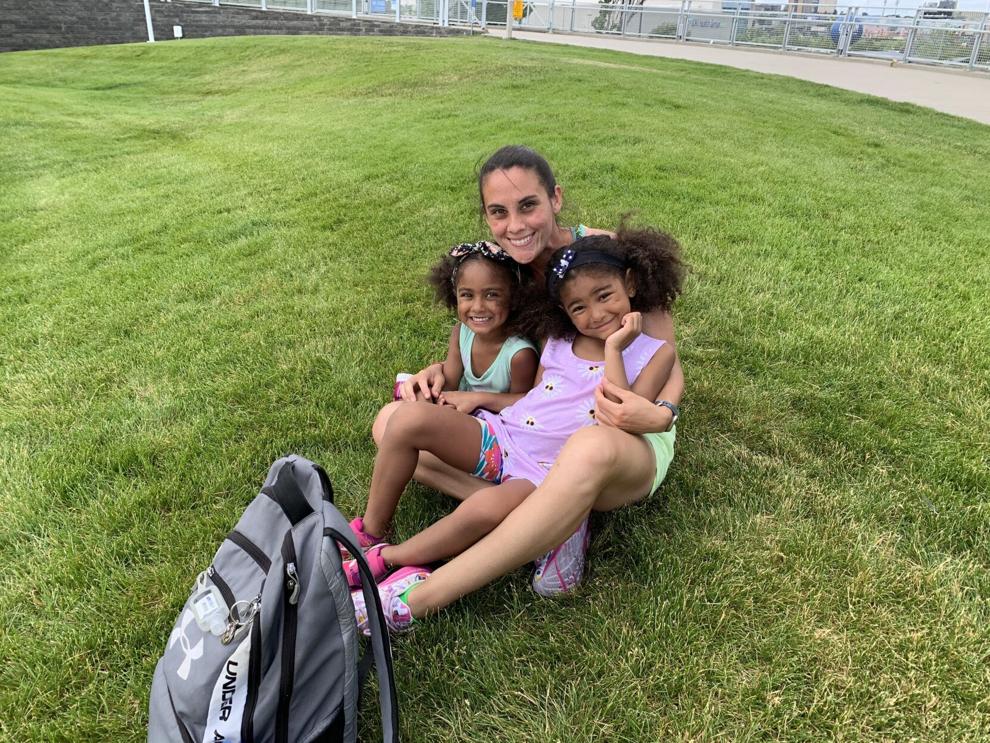 Other parkgoers cruised by on bicycles or walked dogs. Kids sporting colorful helmets raced up and down the sidewalks on scooters. Some couples and families posed for photos on top of the pedestrian bridge.
After playing in the spray ground near the base of the bridge, Gracelynn Hogan, 5, and Harleigh Hogan, 3, took part in another seasonal ritual. The girls rolled down the grassy slope between the bridge and water feature.
Visiting local splash pads is one of the girls' favorite summertime activities. They've been to three so far this year. But, Gracelynn said, she's also a fan of swimming and eating Popsicles.
"It feels like summer," said McKenzie Hallstrom, the girls' mom.
---