An eerie, thick fog settled over Nebraska and Iowa on Tuesday.
Wisps of moisture drifted up from this winter's record-setting snow piled along driveways and streets, blanketing cornfields and yards.
The fog was bringing an early warning: a powerful cyclone was arriving.
In popular culture it's known as bombogenesis, or a bomb cyclone, an epic drop in air pressure that triggers historic weather.
By itself, the moisture-filled storm would not have dealt Nebraska the crippling blow that has occurred. Our harsh, late winter set the stage. When the two combined, they produced Nebraska's worst flooding in 50 years and worst blizzard in nearly as many years.
"This storm can be considered historic," said Greg Carbin, chief of forecast operations for the National Oceanic and Atmospheric Administration's Weather Prediction Center. "This was a monster, no question about it."
As the storm roared to life over the Great Plains, it set an apparent record for low pressure in Colorado, set records for snows in Wyoming and Nebraska and shattered flood records in eastern Nebraska.
"It just kind of blew up over you," Carbin said.
Carbin and other meteorologists say the storm's genesis is well understood: It's a seasonal phenomenon that draws its power from the volatile currents in the atmosphere as spring jostles with winter.
Sign up for World-Herald news alerts
Be the first to know when news happens. Get the latest breaking headlines sent straight to your inbox.
As the bomb cyclone ensued, weather satellite images showed what appeared to be a land-based hurricane.
The 1- to 3-inch rainfall the storm delivered wasn't extraordinary. But it fell on snow rich with water. In Omaha, several inches of snow remained on the ground, remnants of the 30 inches that had fallen since early February, itself a record-setting month for snow.
Across eastern Nebraska, locked in that snow was 1 to 3 inches of water, according to the National Operational Hydrologic Remote Sensing Center. Beneath that snow was frozen ground — unable to absorb the runoff. In a sense, eastern Nebraska was one big concrete parking lot, and the equivalent of a 2- to 6-inch rainfall was about to wash off it.
As if that weren't bad enough, there wasn't the usual amount of room in eastern Nebraska's rivers. They were already high as they continued to drain away last fall's abundant rains. For Nebraska, September through February was the fifth-wettest fall-winter in 124 years of records, said Dan Pydynowski, senior meteorologist with AccuWeather Inc., The World-Herald's weather consultant.
And to top it off, the last half of winter had been so cold; Nebraska had its eighth-coldest February in 124 years, Iowa its 15th. Those rivers were covered by sheets of ice up to 20 inches thick.
As runoff washed off frozen ground, it lifted the ice sheets up, broke them into huge slabs that banged downstream and eventually clogged together in ice jams, some several miles long.
Water surged over riverbanks into farm fields, rushed into homesteads, swept into towns. Even without ice jams, flooding would have occurred, but the jams made it all the more sudden, capricious and terrifying.
By the time it moved out, last week's storm had stretched from Texas to Canada and from the Rockies toward the Great Lakes. Multiple states were affected not only by flooding but by blizzards, deadly fog, damaging straight-line winds, even tornadoes.
Nebraska and neighboring areas of South Dakota and Iowa were the hardest hit by flooding.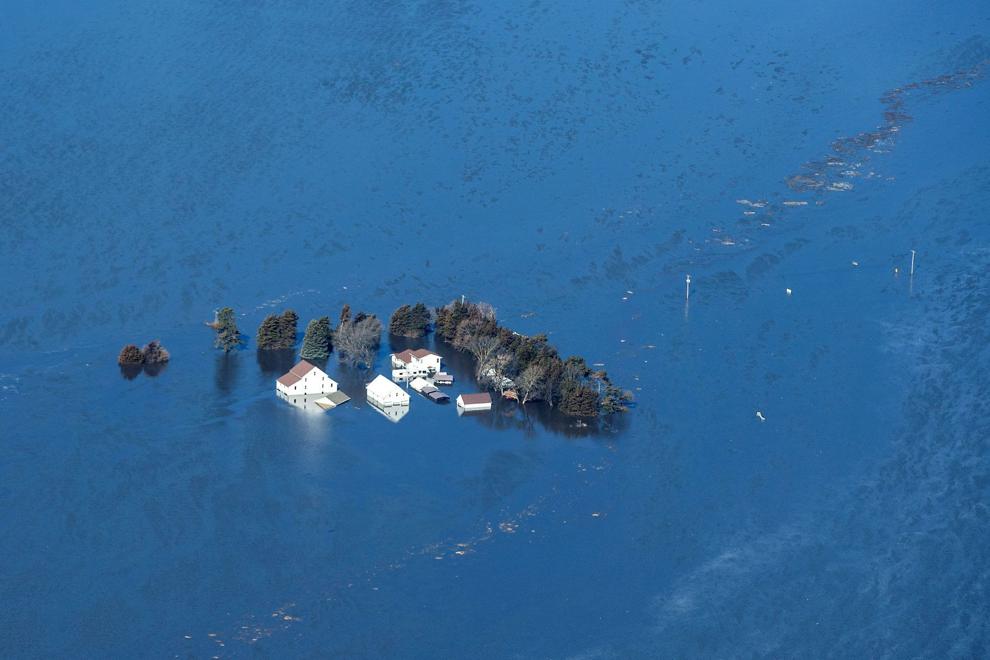 Bomb cyclones likely have been a part of the planet's weather system for many millennia. And Nebraska is known for having — over the course of its four seasons — some of the most extreme combinations and types of weather on the planet.
But human-caused climate change is warming the planet at an accelerating pace, and that has set the stage for even more extreme weather.
"For sure, the strongest storms are getting stronger with global warming," said noted climate scientist James Hansen, a native of Iowa. As the Earth warms, its atmosphere has become richer with moisture, which means there's more latent energy for storms to tap.
Some studies indicate that the factors that led to the type of storm that struck the Great Plains last week are increasing, said Michael Mann, director of the Penn State Earth System Science Center.
"There is evidence now in modeling studies that climate change is increasing these factors, supporting the development of more intense bomb cyclones and Nor'easters, packing tropical storm-scale winds and dumping huge amounts of precipitation (often in the form of huge snowfalls)."
Additionally, one of the best understood consequences of global warming is the trend toward heavy rains and snows. That's what happens on a planet that is more humid.
Winters also are changing in Nebraska. Rain on frozen ground is becoming more likely, the state's climatologists say. And there's a trend toward a harsher end to winter, despite overall warming.
Last month was Omaha's snowiest February on record and one of the 10 coldest. This change in winter has increased the potential for a buildup of snow and ice just as spring arrives. The consequence? A greater potential for widespread flooding.
"It makes us more vulnerable," said John Pollack, a retired National Weather Service meteorologist.
The power of last week's storm also pulled phenomenal amounts of warmth and moisture up from the Gulf of Mexico, Pollack said. That's why western Nebraska got 10 inches to 20 inches of snow — Scottsbluff set a daily record with 12 inches Wednesday. It's why so much rain fell across Nebraska. And with climate change, the Gulf of Mexico is warming, which means it will continue to surcharge the atmosphere with moisture.
"Disasters have become more likely to happen," Pollack said. "Our risk is changing, the risk of flooding is getting worse."