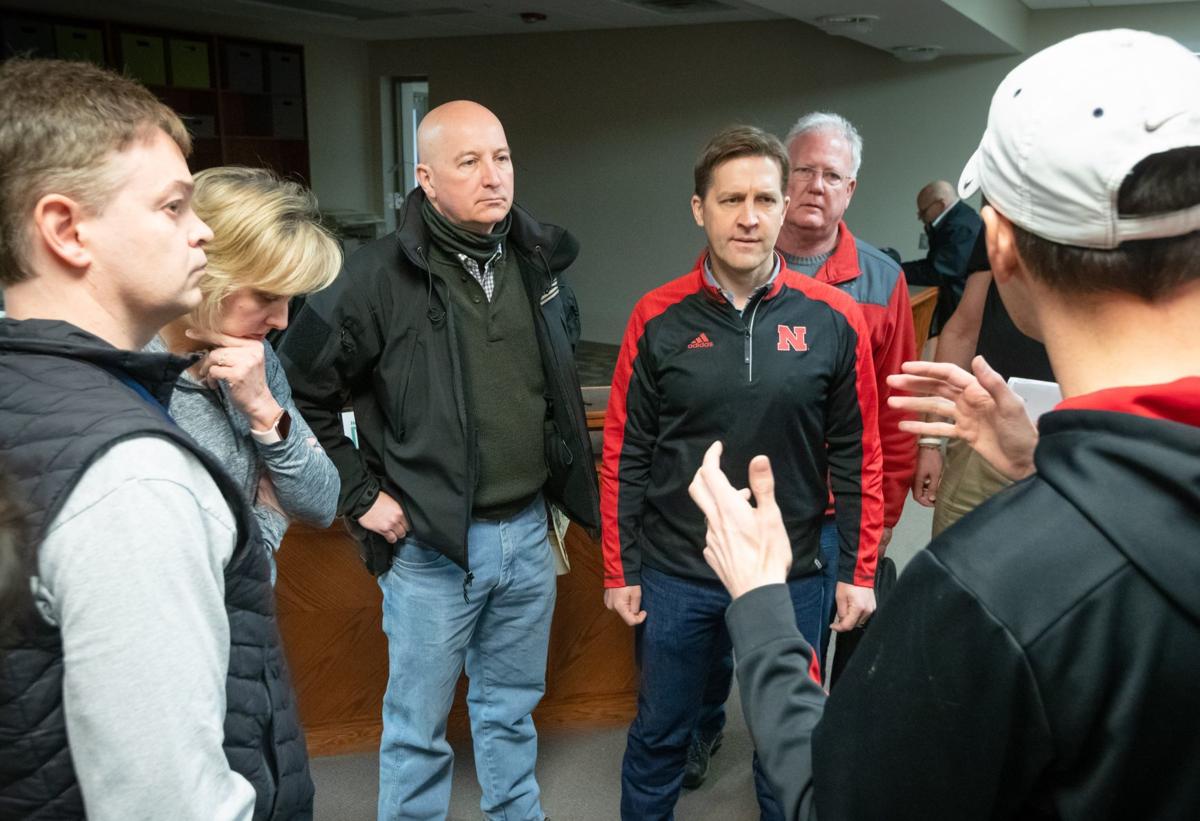 Gov. Pete Ricketts flew into Fremont Saturday morning to hear firsthand from shelter volunteers about how the city — cut off by floodwaters — was faring.
Roads remained inaccessible in and out of town. Three church shelters were full, with two more in the process of being opened. And needs, like all the flood water around Fremont, were not abating.
Both Ricketts and U.S. Sen. Ben Sasse, whose own Fremont-area home was taking in water, said they had been in contact with President Donald Trump in the past 24 hours. Sasse said he had also spoken to Vice President Mike Pence. He said his role Saturday was to be a "listener," but he said Nebraska has the president's ear.
Ricketts offered a bigger picture to the people marooned in Fremont. A third of the state is dealing with flooding and what's happened already is a precursor or what is likely to come in southeast Nebraska, as higher water releases are coming.
Ricketts rattled off sober statistics: one fatality and one person missing. Scores of cities that have had some sort of evacuation. Untold bridges and roads that would need to be replaced or shored up. Levees to fix.
Flying to Fremont, Ricketts said it was hard to tell where the Platte River's channel was supposed to be. The Elkhorn River, he said, "looked like the Missouri."
Ricketts then offered caution: Don't drive into water. Don't do it. And be prepared.
"We don't want anyone to get trapped," he said.
The Douglas County Sheriff's Office also plans to ticket anyone driving around barricades on closed roads around Valley and Waterloo, Capt. Wayne Hudson said Saturday.  
Stone-faced volunteers at the First Lutheran Church told Ricketts and Sasse that needs were dire.
Water supply was still good. Most city streets were still dry.
But Nick Vrba, parishioner, board chairman of the Fremont Area United Way and employee at First State Bank and Trust, told the officials needs were growing.
The need for stuff: pillows blankets, food, cots. The need for money: many evacuees would need permanent shelter after this. The flood damage would not be temporary and already United Way leaders had spotted two fake GoFundMe campaigns. And blood. The American Red Cross predicted it would need blood donations.
Sign up for World-Herald news alerts
Be the first to know when news happens. Get the latest breaking headlines sent straight to your inbox.
"Where are the people coming from?" Ricketts asked.
"Southwest parts of Fremont. Western edge. Valley," said Vrba.
"Yeah, Valley's a mess," said Ricketts, who had just flown over it.
Vrba said the Red Cross was handling and donations sites had been set up.
Man. Gen. Daryl Bohac of the Nebraska National Guard said he's hoping that private aircraft owners might be able to coordinate deliveries to Fremont by air.
Ron Young, maintenance worker at First Lutheran Church, said his house near the Platte River is heavily damaged from flood waters he said "looked like from the dinosaur times."
Yet, as emblematic of the stoic face Fremont seemed to be putting on Saturday, Young shrugged, smiled and got to work.
"I feel pretty good," he said. "I work for a church. And believe the Lord is my savior. That helps me out."
Photos: Major flooding hit Nebraska and Iowa towns in March 2019