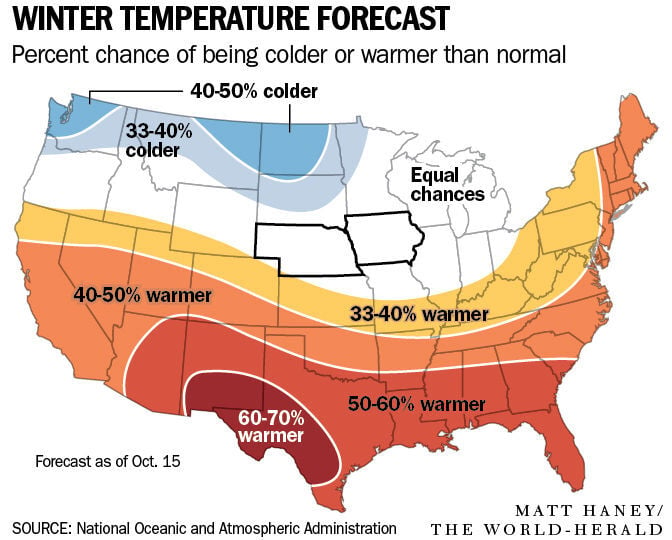 The best news about the Nebraska and Iowa winter outlook issued this week is that it's a toss-up.
But if you need anything else to fret over in 2020, consider this: Conditions are tilting the odds toward a colder, snowier than normal winter across the northern Plains and a warmer, drier than normal winter across the Southern U.S.
In other words: The upper Missouri River watershed could see heavier than normal snowpack, potentially resulting in heavier than normal runoff next spring — at the same time that drought could be creeping northward from an increasingly parched southern U.S.
Closer to home, it could be a roller-coaster winter, with the weather alternating between cold and wet and warm and dry before it settles into a pattern. (Or, as some like to call it: winter in the Great Plains.)
Mike Halpert, deputy director of the Climate Prediction Center, said Thursday that the projections for this winter are being driven by La Niña conditions in the equatorial Pacific Ocean.
A La Niña is defined by cooler than normal waters in the central Pacific. On average, when those waters are cool, winter is harsher across the northwest and north-central U.S. and warmer and drier than normal across the southern U.S.
Mike Moritz, a meteorologist at the National Weather Service office in Hastings, said La Niña conditions could bring an increased frequency of fronts moving through and a slight increase in windy days. If the weather proves to be warmer than normal, that most likely will happen across the southern part of the state, he said. And a La Niña means that the region might see more precipitation in December and January than in February, which is favored to be drier.
"As a whole, La Niña winters generally tend to be a bit drier overall, especially for southern areas of the Plains," he said.
The Climate Prediction Center, which issues seasonal projections, is a sister agency of the National Weather Service. Both are part of the National Oceanic and Atmospheric Administration.
Because Nebraska and Iowa are situated in the heart of the continent and sandwiched between the two opposing patterns, it's difficult to predict what might happen here.
The historic 2011 flood on the Missouri River was preceded by a La Niña winter, and that flooding was caused by extreme snowfall and spring rains in the upper Missouri River basin. (By contrast, the catastrophic flooding of 2019 occurred following an El Niño winter, defined by a warmer than normal equatorial Pacific. Those tend to juice up storms across the southern U.S., systems that can feed into Nebraska and Iowa.)
Halpert and others caution that other large-scale climate patterns may yet appear that alter the nature of this winter. The value of looking at El Niño and La Niña conditions is that they develop slowly over many months and have continental scale impacts, which means that they have use in seasonal forecasting.
Other potent drivers of winter weather are atmospheric patterns in the Arctic and North Atlantic, but those surge onto the scene with just a few weeks' notice, so there's no way to know about them far enough ahead to incorporate into a seasonal forecast.
Other items from Thursday's national and regional weather briefings:
The six large reservoirs on the upper Missouri River are holding more water now than they do on average at this time of year, according to Laura Edwards, South Dakota's state climatologist. But the reservoirs are holding less water than they did at this time before the 2011 flood and far less than they did going into the 2018-19 winter, she said.
Many factors influence flood potential on the Missouri River, the Army Corps of Engineers has said. These include the amount, timing and location of snowfall as well as the rate and timing of snowmelt. The timing, amount and location of rain are also a factor. Storage capacity in the reservoirs plays a role in their ability to hold back runoff, but that too depends on the location of the runoff. (Rain or snow has to fall above the dams, not below them).
Soils in this part of the country are significantly drier going into this winter than they were in 2018-19, said Dennis Todey, a U.S. Department of Agriculture climatologist. So when soils freeze, they will be more "porous" than they were in early 2019, when the soggy ground froze into a
concretelike surface, he said. This could lessen flood potential by allowing the ground to absorb more runoff.
Because soils are so dry, and drought is forecast to persist or worsen in the months ahead, concern is beginning to develop about soil not recharging with moisture. Much of Nebraska and western Iowa are already in drought, so a La Niña winter increases the risk of having dry soil going into the planting season, Todey said.
As of this week's National Drought Monitor, 47% of the territory in the Lower 48 states was in drought, the highest level since September 2013, when the country was coming out of the flash drought of 2012.