The price of natural gas and other heating fuels is the highest it has been in years, which bodes ill for those trying to keep their budgets in check.
Any increase could hardly come at a worse time, say those who help Nebraskans most in need. Some Nebraska families are still recovering from the flood of 2019, and others are dealing with the economic fallout of the COVID-19 pandemic.
"Families struggling before COVID are worse off and even further behind coming out of COVID," said Matt Wallen, senior vice president of the United Way of the Midlands. "Any further stresses like increased utility bills makes it that much more difficult for families to make ends meet."
The United Way operates the region's 211 help line, and Chief Operating Officer Pamela Schwalb said calls in 2020 were almost double 2019, and 2021 is on course to be 25% higher than 2020.
"We have never seen it to this extent," she said.
Susan Zagozda of Omaha has been watching the price of food, gasoline and other expenses rise.
Working part time at 65, she has no room in her budget for extra costs. As of Friday, she had yet to turn on her furnace, even though frost had nipped the plants outside her home.
"I don't turn it on unless I have to," she said. "When you're on a fixed income, you have to watch your spending."
According to the Energy Information Administration, propane bills are forecast to increase an average of 54%, natural gas about 30% and electric about 6%.
The actual increase will depend on the weather, though other factors could come into play.
Nebraska energy officials have a simple two-word message for the state's residents going into winter: "Be prepared."
Amanda Woita, spokeswoman for the Nebraska Department of Environment and Energy, said the department suggests that propane and fuel oil dealers build their inventories and that customers keep their propane and heating oil tanks full.
Spokeswomen for the state's natural gas utilities suggested that customers join a level payment plan so that their bills are predictable, weatherize their homes to reduce energy loss, contact their local utility or social service agency if they're struggling, and donate to utility assistance funds if they are able.
Social service agencies are also gearing up. As it has in the past, Habitat for Humanity is weatherizing the homes of those in need, and Project Houseworks is providing free furnace checks, repairs and replacement to qualified older homeowners.
On Friday, Matthew Robinson, a service technician with Aksarben ARS, inspected and tuned up Zagozda's 30-year-old furnace as part of Project Houseworks.
Robinson verified that the furnace was operating safely, but he also found the common problem of debris and dust caked on the blower motor and flame sensor. Once he was finished, he said the furnace should operate more efficiently, saving on natural gas.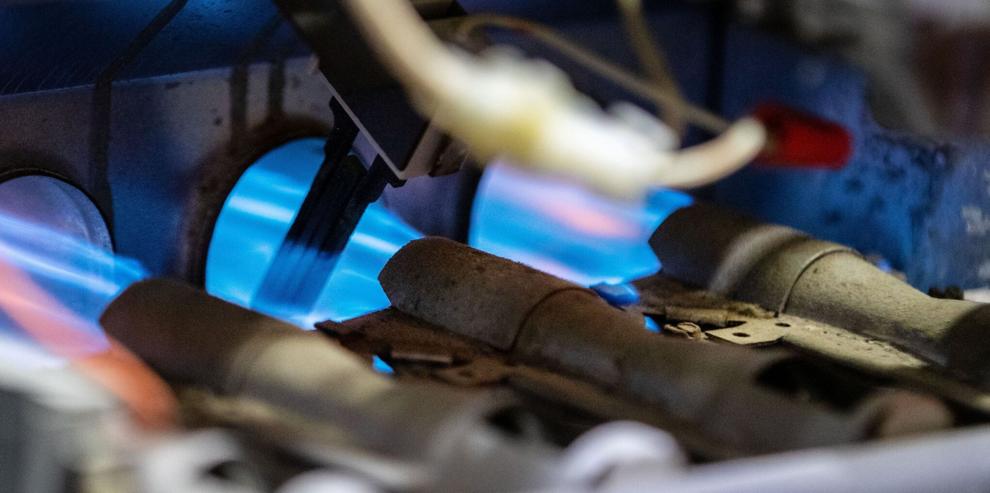 Nebraska energy officials note that:
The spot price of natural gas at the Henry Hub, an important natural gas distribution site where prices are a key signal, was up more than two-and-and-half times in September, compared to a year ago.
Propane's average price is 87% higher than at the start of last winter and is similar to February's average, when the polar vortex caused prices to spike.
Heating oil is 75% higher than at the start of last winter.
According to data from MUD, which provides natural gas to homes and businesses in Douglas, Sarpy, Saunders and Washington Counties, natural gas prices have been rising since April.
The average MUD residential bill for September was about 11% higher than September 2020, taking into consideration weather and price. Based on price alone, the price of gas at MUD was up 32% from September to October. And it is almost double what it was a year ago.
Indeed, the cost of natural gas for MUD customers this month is the highest it has been in more than 10 years. The saving grace for customers has been that the weather has been mild enough for many homeowners to make minimal use of their furnace, even keeping it off like Zagozda.
MUD spokeswoman Tracey Christensen said it's not possible to predict what prices will be this winter, given the volatility of both the weather and the market.
"Gas market prices fluctuate daily and even by the minute," she said. That's why, at the start of each month, MUD resets the price it charges customers for gas using a weighted average based on what it is paying to buy the gas. This is the wholesale per therm price for natural gas. MUD also attaches fixed charges to cover its costs.
Utilities such as MUD and Black Hills Energy take advantage of several tools to keep prices down.
MUD stocks up on fuel during the warm months, when prices are low. As a result, Christensen said the district is in the unique position of being able to tap storage to supply 40% of energy needs on the worst days of winter. In the future, it will be able to do more. The MUD board recently approved $78 million in spending to expand storage capacity for liquefied natural gas, which will increase reserves for peak-day needs by about 20%.
Those reserves helped shield MUD from the excessive bills that some Nebraskans experienced during the polar vortex. Even though natural gas usage rose by about 50% during that frigid outbreak, the district was able to limit the average increase in residential bills that month to $17.
The impact of the vortex varied by utility.
At Black Hills, customers are paying an extra $10 a month for three years to cover the price spikes that resulted from that polar vortex. At other utilities, customers are paying more.
Brandy Johnson, spokeswoman for Black Hills, said the utility has been working to lessen the impact of high fuel prices on its customers. Black Hills provides natural gas to Lincoln, Papillion, La Vista, Ralston, Council Bluffs and a number of other Nebraska and Iowa communities.
"We're making a major effort to help customers across our eight states use less energy through conservation and energy efficiency," she said.
Among its programs, the utility offers rebates to customers who purchase energy-efficient furnaces, heat pumps and water heaters.
Another factor at play is that consumers have had years of relatively low natural gas prices.
The market, Johnson said, is "more dynamic ... than we've seen in recent years."
Utilities such as MUD and Black Hills also take advantage of various purchasing practices and contracts to pay less for gas. At MUD, these efforts allow the utility to pay a discounted price on about 60% of the gas it uses, Christensen said.
The Omaha Public Power District primarily uses coal and renewable energy to generate electricity. Because it uses only a modest amount of natural gas, it isn't expected to be as affected by this winter's price spikes. The utility will be setting next year's rates at a meeting later this year.
State and local energy officials said there are many factors driving up costs.
Demand for natural gas in the U.S. has increased by 4.4% from 2020, while the supply has increased by only 0.5%, Christensen said.
Additionally, the amount of natural gas in storage in the U.S. is 4% below its five-year average for this point in the heating season.
But prices are only one part of the bill.
Weather will drive demand, which in turn will affect prices and total amounts owed.
If the winter is mild, consumers will be spared some of the financial pain they otherwise would have experienced. Nationally, gas futures declined early last week after a forecast of mild weather continuing deeper into autumn.
On Thursday, the U.S. Climate Prediction Center issued its winter forecast for the nation. Nationally, the odds favor a colder than normal December through February across portions of the Northern U.S. and warmer than normal weather across the South. But for Nebraska and Iowa, there's little clarity on what kind of winter is in store because the states lie in the corridor between those competing air masses.
The state has seen a trend toward particularly harsh weather in late winter. It was February 2021 that generated the polar vortex that sent temperatures plunging and spiked energy bills. And it was February 2019 that set the stage for the catastrophic flooding the next month.
"Demand will increase with the weather as it gets colder," said Woita, of the Department of Environment and Energy. "Weather is a wild card and a big factor."