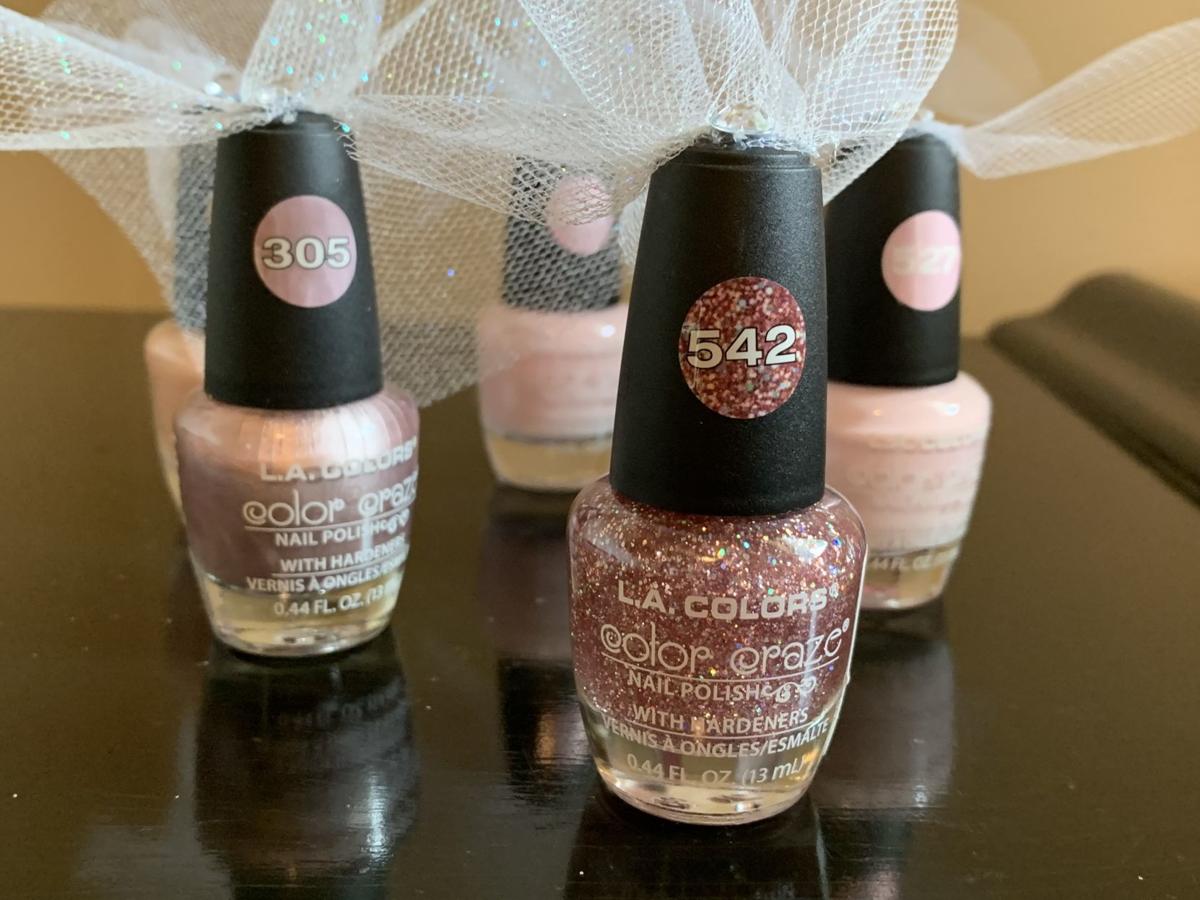 Sitting at my desk, I'm looking at notebooks filled with story lists, sticky notes with reminders and stacks of stories I've printed out to give one last read before they run in print.
That's made it easy for me to stay on top of wedding planning, especially thanks to my freshly organized three-ring binder.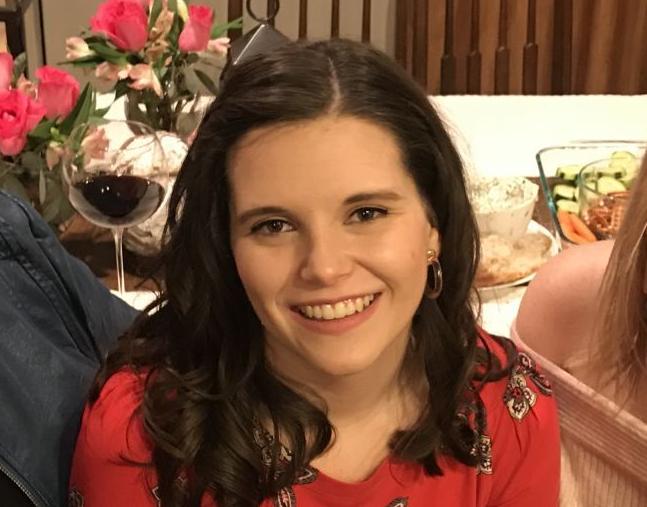 But that means it's harder for me to sit out planning things like a bridal shower or bachelorette party.
When it came to picking a shower date, I dragged my feet. I wanted to wait as long as possible to make sure that it was safe and that guests would feel comfortable.
They'll have a little less notice than would be ideal in a pre-pandemic world, but who has concrete plans right now anyway?
As much as I've tried to see myself out of planning, I've been a little pesky.
I held onto the guest list for a little too long, once again double-checking names and addresses. I asked to do a quick proofread before the invites were mailed.
And I insisted on making a party favor for guests. It's an idea I've been holding onto since I popped by the Wedding Essentials Idea Show in October.
By then, I'd tackled most of the big planning — venue, dress, flowers and caterer. But it was worth a peek to see if anything else caught my eye.
And sure enough, as we passed the Hilton Omaha booth, my mom and I spotted the perfect party favor for a shower.
Next to the hotel pamphlets, they set out bottles of nail polish that were decorated to look like brides.
My mom and I got busy, cleaning out the dollar store of just about every shade of pink polish.
She cut out squares of tulle, some a plain white and some a glittery white. I grabbed each one, carefully bunched it up and placed it on the lid with a dot of hot glue.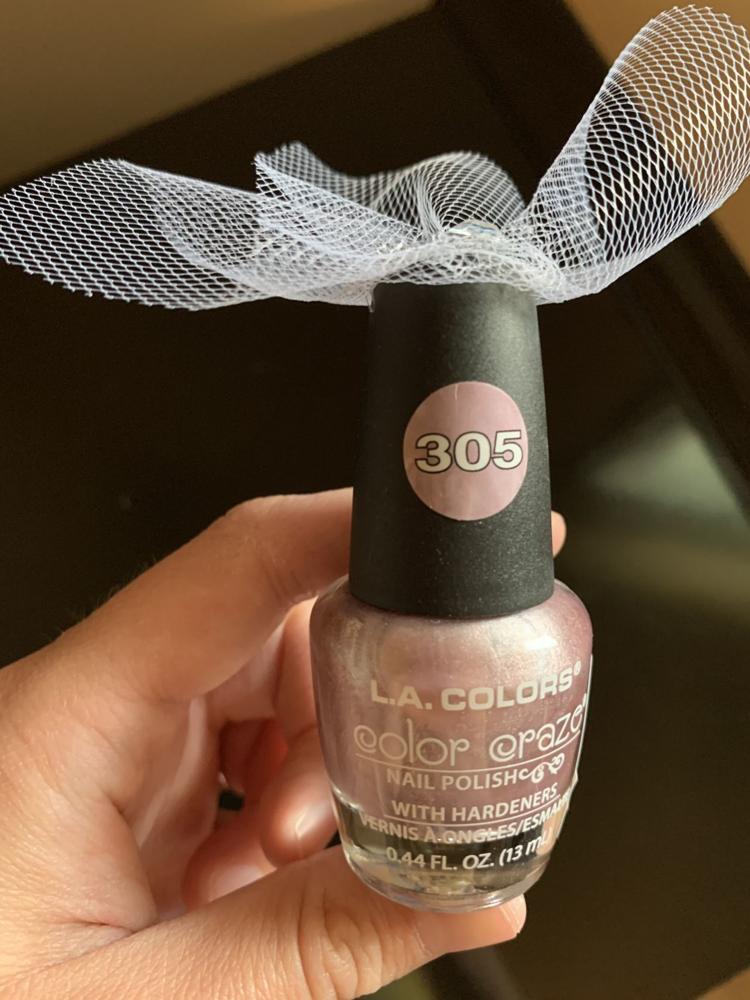 I decided to add one embellishment to the craft because seeing a dot of dried glue through the tulle drove me a little batty. I stuck large rhinestones on top, covering the glue spot.
About 50 bottles of polish later and we were all set.
Now I really will sit back and let my aunts, cousins and bridesmaids take over. Or at least I'll try.
---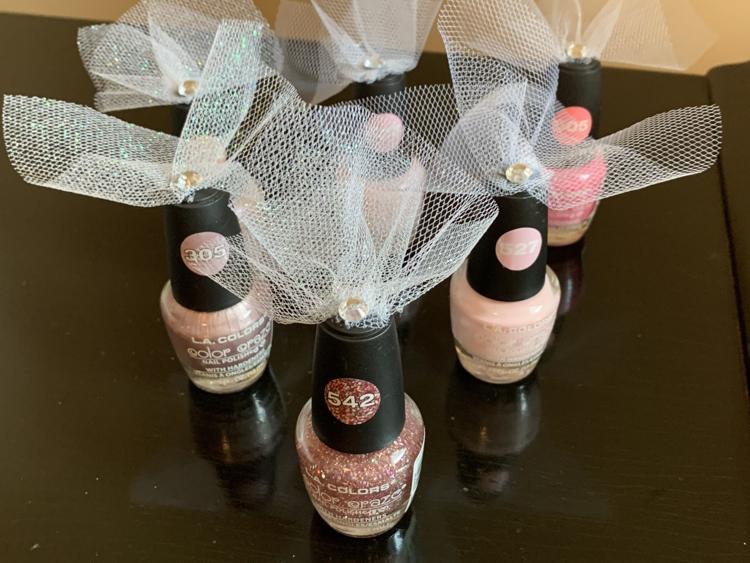 Nail polish bridal shower favor
Bottles of nail polish
Tulle
Hot glue gun
Rhinestones or crystal gems
1. Cut tulle into 3-inch squares.
2. Fold the square diagonally, pinching the tulle in on the sides to look like a veil.
3. Put a small drop of hot glue on a nail polish lid and attach the tulle. Adjust the mini veil as needed.
5. Stick a rhinestone or crystal gem on top to cover up the dot of glue. Let dry.