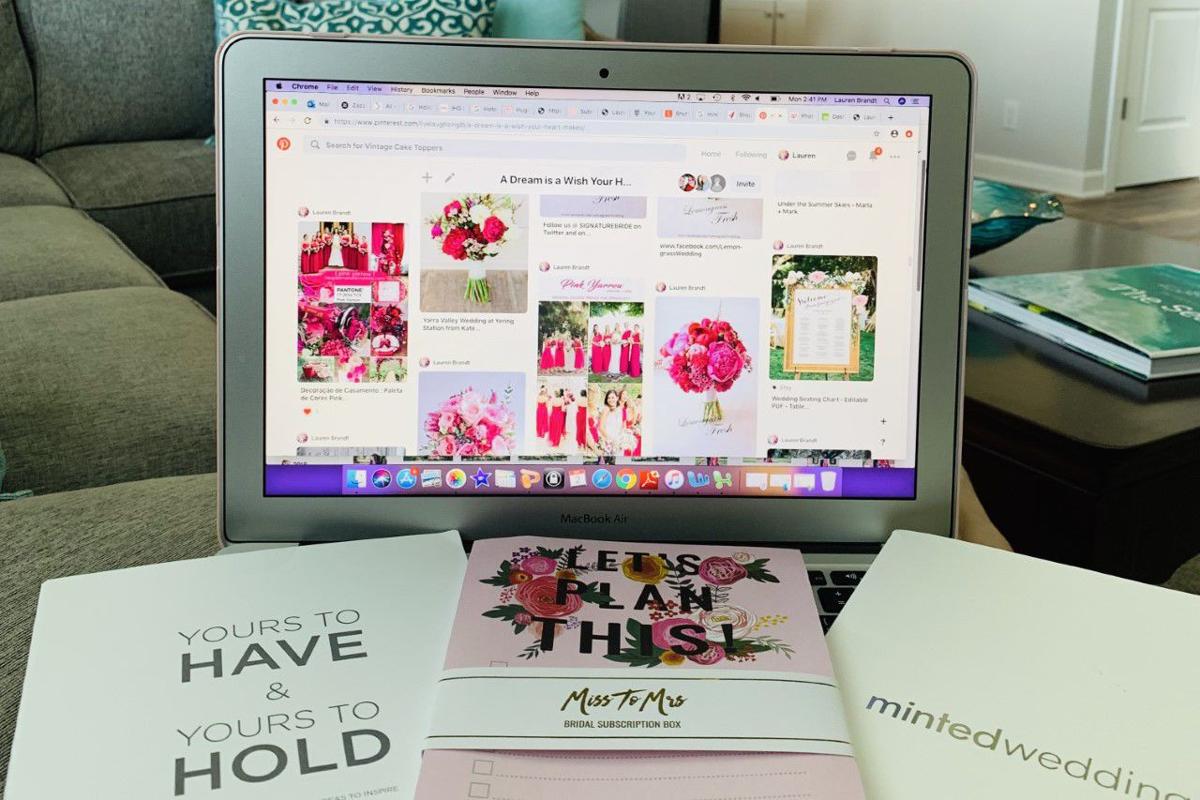 As you read in my last blog, I have a group of women who are gorgeous inside and out, and have said "yes" to standing beside me as I marry the man I love, my fiancé Alex.
Being a bridesmaid is a huge time commitment and expense. It takes dedication, selflessness and a deep love for the bride-to-be. I'm so honored and privileged to have these girls as a crucial part of our big day, so the least I can do is find a dress that they feel beautiful in.
Easier said than done. The dress hunt has been one of the most stressful pieces of wedding preparation thus far, other than the guest list. (You'll read about that adventure soon enough.)
The research began right after Alex and I got engaged. I started looking at dresses in soft pink; that had been my mother's wedding color, and I loved the look of such warm and romantic shades.
However, when we chose the Orpheum as our venue, I pivoted to raspberry- and fuchsia-tinted gowns. I wanted something glamorous and bold for such an exquisite space.
I browsed local shops, but the perfect color seemed to elude me. There were so many shades of pink and red, but none that truly matched my vision.
My friend Katy, who was recently married, showed me a website called Azazie. There were a zillion dress styles as well as a huge variety of colors to choose from, including a shade of fuchsia that caught my eye. I found a few styles I liked that wouldn't require complicated undergarments, and ordered samples for my gal pals to try on. It was $10 a dress to order a sample, and you could pick the exact size, style and color you wanted.
When the samples arrived, I tried them on one by one, only to find that they just weren't what I was looking for. I stressed and obsessed over finding the right one. After all, it was going to affect the flowers and so many other pieces of the big day. My mom reassured me that it would all fall into place.
One Sunday afternoon at my parents' house, I was flipping through a local wedding magazine that our wedding photographer, Ashley Nicole, had given me at our first meeting. I came upon a picture of a bride surrounded by rose gold, beaded gowns.
LOVE at first sight. Absolute perfection. It was the glamorous, beautiful soft pink color I had originally sought.
Our wedding will be a Great Gatsby meets Downton Abbey feel, and the Orpheum is a '20s treasure. We want all the magic of that time period to shine through. So, my mind was made up! It had to be sequins and rose gold. Now the challenge would be to find a dress that would be flattering on different body types.
I dove deep into the Internet and happened upon a website called Revelry. There before my eyes was a selection of rose gold sequins gowns. The style Hazel looked to be a cut that would be stunning on all of my girls. I ordered a $10 sample (plus $12 shipping) and it arrived two days later.
The moment it came out of the box, I knew this was THE dress for my bridesmaids. I slipped it on and sashayed around the living room.
The sequins grabbed every beam of light. It was elegant, vintage glamour. The dress was fitted at the waist with give throughout, the sequins not scratchy and the lining luxurious. It would stretch versus cling as the girls enjoyed champagne, dinner and dancing on my wedding day. I couldn't wait to share it with them all!
My maid of honor Jennifer also had ordered two sample dresses to try on. She brought them over to a housewarming party that Alex and I were hosting, and my bridal party and I proceeded to have a fashion show in my walk-in closet, as the others downstairs feasted on walking tacos and margaritas.
There we all were, grinning from ear to ear that the dress was not only stunning on the hanger, but also perfect on each and every unique and beautiful body type. Emily, my bridal attendant, would order a variation of the same dress, as a sequin blouse and tulle skirt, to match the rest of the wedding party. That moment in my closet with Sidney, Jennifer, Lauren, Trista, Emily and my mom all in the same space is one I'll treasure forever.
To say I'm excited about these dresses is an understatement. I cannot thank my mom enough for helping me to steady the course and be patient until the perfect dress presented itself.
This dress fits my personality, my venue and my vision. And with those sequins on my knockout group of ladies, I'll be sharing the limelight on June 27 next year.
Be the first to know
Get local news delivered to your inbox!