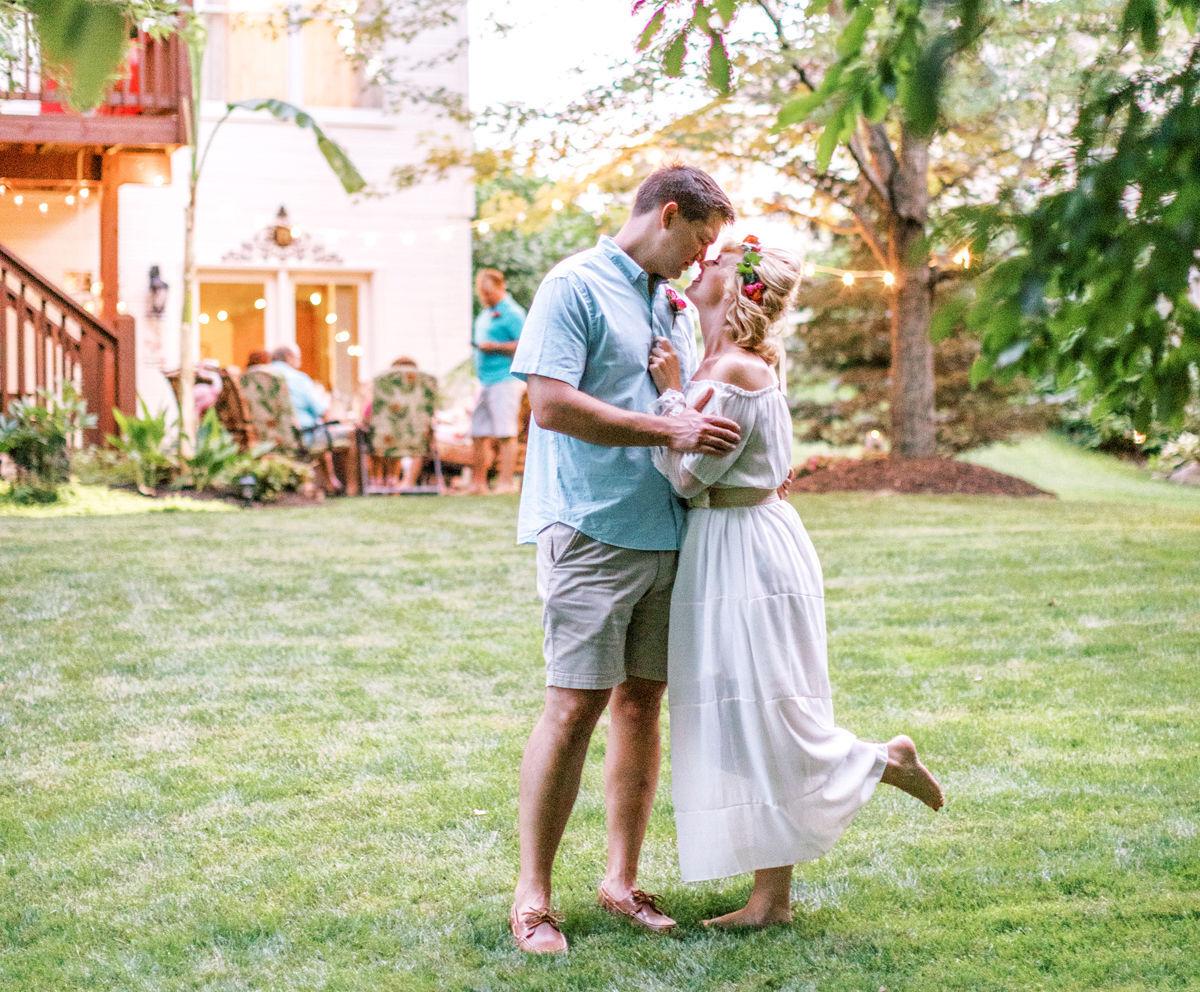 Some moments are like fireflies, beautiful but fleeting. Others are ingrained in your very soul, moments that turn into memories you can almost touch, feel, smell or taste years later. That is how June 27, 2020, will be remembered in my family.
My fiancé Alex and I were facing the sadness of our would-be wedding day. Instead, it was a day where love prevailed, tears turned to laughter and joy overcame sadness.
Our makeup plan, "We Still Do and We Will Soon", had been in the works since May. Alex and I had planned to surprise my parents with the news of their backyard vow renewal on Friday night, the 26th.
However, another surprise occurred earlier that week when my aunt Brenda called. "I think we're coming to Omaha" were the words that echoed through my iPhone, so the reveal plan needed shifting.
After consulting with my fiancé, we opted to let the cat out of the bag on Thursday, since our special guests would be arriving Friday afternoon. On that muggy Thursday evening in the shade of my parents' maple trees, we had Mom and Dad open a special invitation, a variation of the one we had sent their friends and family.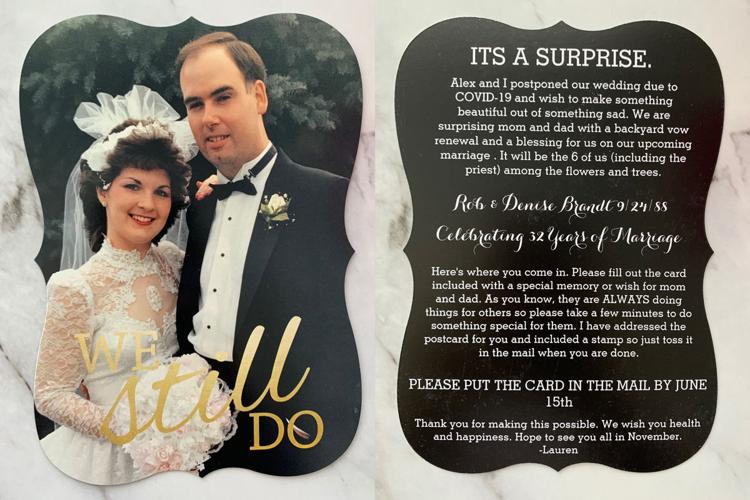 Their initial shock was real. And the excitement that followed was the ultimate reward. We then announced the next day's arrival of Aunt Brenda and Uncle Terry. The plan was off and running!
We spent Friday picking out outfits and decorating my parents' house and backyard. My mom pulled out her wedding champagne glasses, cake topper, marriage certificate and cake cutter from their big day. She also got out her vintage wedding box, and we used some of their original decorations and cards around the house. She'd even kept her bridal magazine from 1988!
Friday night, Alex and I hosted the family for dinner at our house, tacos all around. Although it wasn't the 40-person rehearsal dinner we had originally planned, the six people, tacos and a special Milk Bar cake from one of my bridesmaids made for a pretty special evening. We went to bed dreaming of sunshine and the taste of buttercream frosting.
Saturday started a bit off the rails: A storm woke us in the wee hours of the morning, and I could not settle myself back into dream land. Up and at it super early, we grabbed breakfast and, in turn, ruined a surprise bridesmaids visit. To be so loved was both a comfort and a sadness, due to the fact that this perfect June day was supposed to be Alex's and mine, and the reality was a difficult one.
We stopped by Janousek Florist to gather our blooms for the evening, then picked up our cakes at Hy-Vee. Both elements were as beautiful and bold as we had envisioned. Michael, our florist at Janousek, created two tropical bouquets for our backyard soirée, as well as a couple of centerpieces and boutonnières. One centerpiece had been delivered the previous day as a gift from my maids of honor — that gesture was a real tearjerker.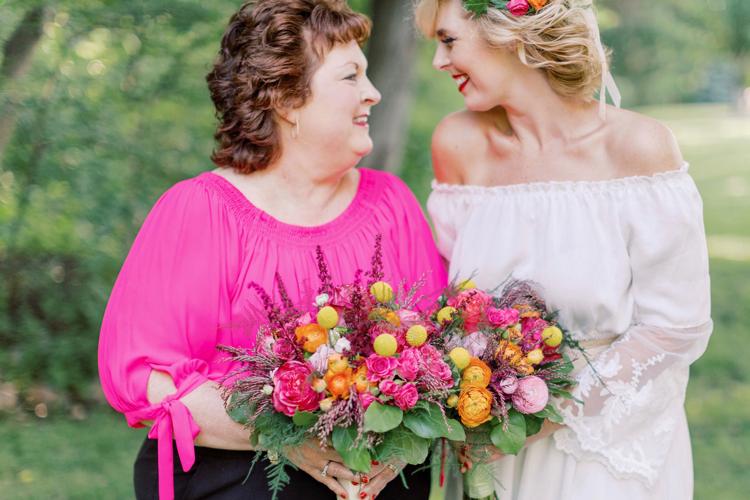 The gentlemen worked on stringing lights through the yard, and we hung a beautiful banner from one of the maple trees that read, "I have found the one whom my soul loves." My beautiful gold and faux marble desk served as our cake table, decorated with clip lights and the postcards of love and well wishes for my parents from our family and friends. Vases at each end of the table held the bouquets. Two ornate gold frames held a 1988 wedding photo and an updated photo of my parents. The cake, frosted with white rosettes, sat in the middle with a rhinestone topper.
It was just as I had envisioned it. The trees, the sunshine, the feeling in the air. With all the stirring in the house, it felt like a real wedding day.
Before we knew it, our photographer Ashley had arrived for pictures. Shortly after, our priest Father Tom arrived, just in time to share in the laughter and even jump in a few pictures.
With just the nine of us in the backyard, it was tempting to forget that COVID-19 was even in existence, although it was entirely the cause of this event. The closeness of human touch was everything.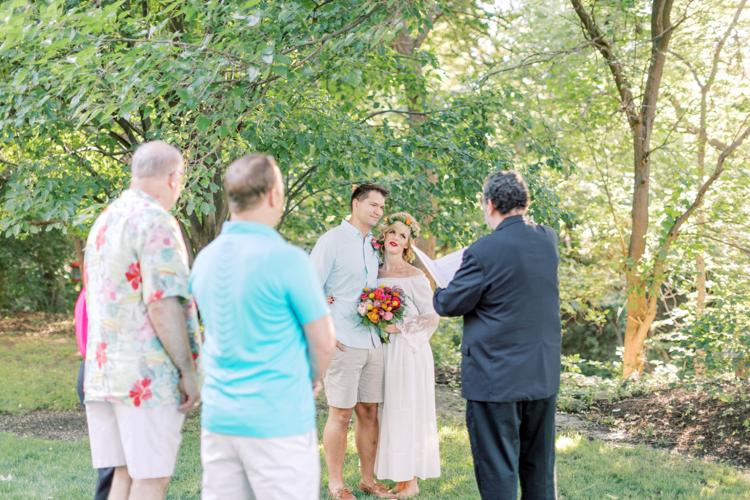 Father Tom gave a beautiful sermon, and my parents recited their vows under the great oak with John Denver playing softly in the background. Alex and I were given a blessing to keep us cradled as we wait patiently for our rescheduled day in November. To have these memories in my childhood backyard, as my aunt and uncle looked on from their lawn chairs, was something I will cherish forever,
The rest of the evening included an incredible meal, a couple of cake cuttings, Corona beers, champagne and dancing under the twinkle lights. We sat around the fire pit for hours sharing love and conversation, just so happy to be surrounded by those who mean the most.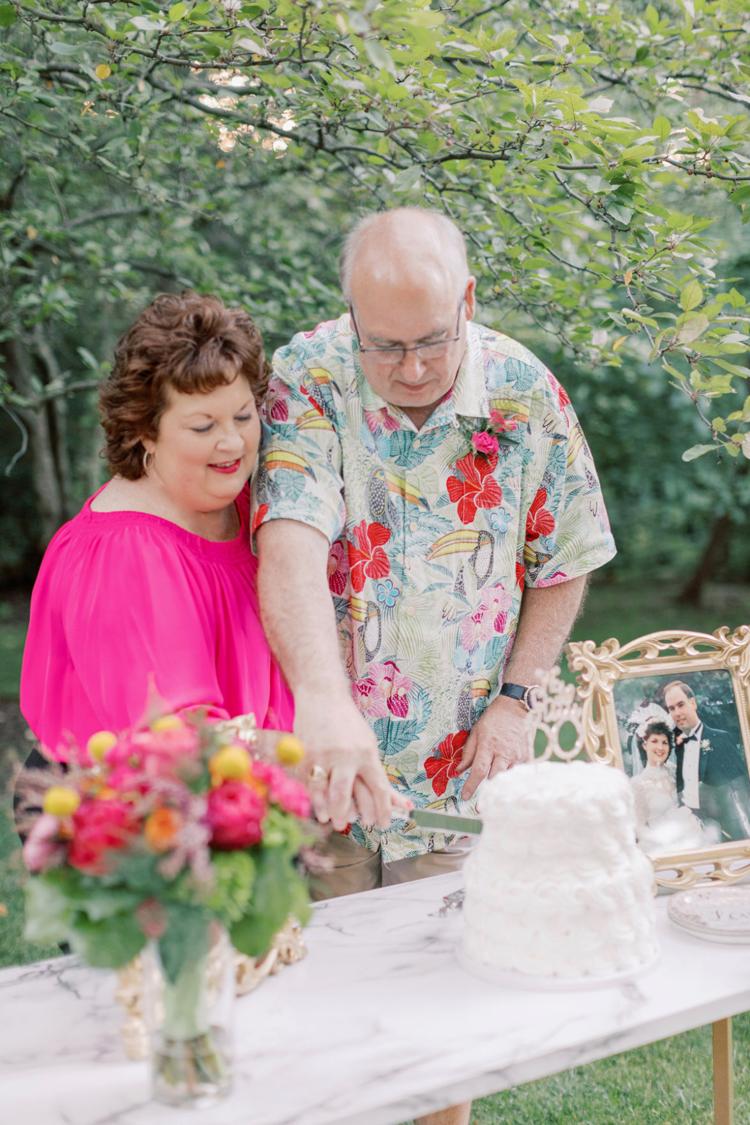 After everything, we were in buttercream bliss, ready to go to bed. We gave hugs, kisses and well wishes. Alex and I cleaned up the mountains of cake, wrapping up sections for the family and my bride tribe.
To be in a flower crown, barefoot, and carefree despite the state of the world was so sacred and special. I will never forget those moments shared among the fireflies, wildflowers and cascading maple branches. June 27 will not be a memory that is fleeting, but one that is as strong as the oak tree under which promises were renewed and blessings were given. Its roots will run deep into our souls as we march forward in life, cherishing those we love and remembering to never take a simple touch or an "I love you" for granted.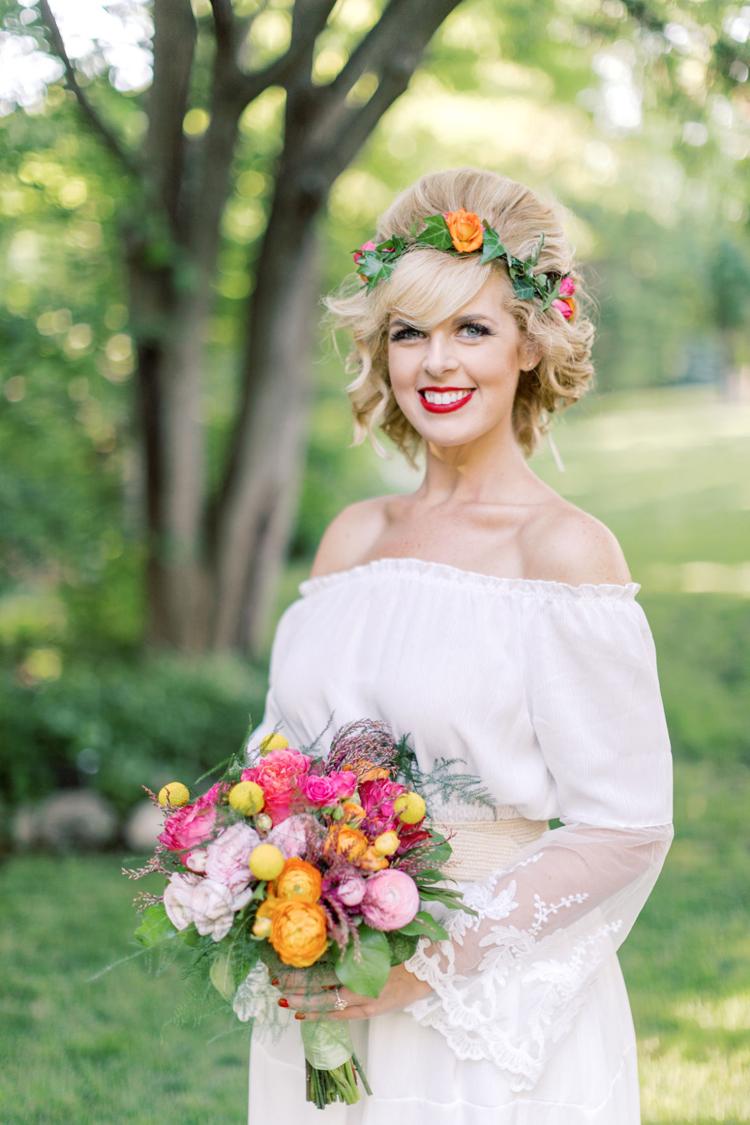 The pandemic may have changed our plans and the world itself, but it can't change the essence of love. Postponing our wedding was an act of love. Giving my parents this day was an act of love.
It was not an easy day — not being able to say our own "I do's" on such a gorgeous day took its toll. But my loved ones are what make life beautiful and what made this day possible. I would like to thank a variety of people who made this vision a reality:
Ashley Nicole Dickes for capturing these incredible images. She is not only a wonderful photographer and artist, but also now a dear friend.
Father Tom Bauwens for his presence, joy, grace, faith, and sharing God's love within our backyard.
Jennifer Solma for picking up and delivering the catering for the evening.
Janousek Florist for creating our beautiful blooms.
Hy-Vee's bakery for the best buttercream frosting in town.
Uncle Terry and Aunt Brenda for making the journey from St. Louis to share in the day with us — an extra special surprise and the ultimate act of love!
My bride squad: Jennifer, Sidney Adams, Lauren Taylor Anderson and Trista Groves for the extra blooms, cake, pastries and infinite love through this whole process.
My parents, who have been a beacon of love and light as we've struggled to cope with the state of the world and our wedding.
All my parents' friends and loved ones who sent back postcards of love and well-wishes — such a highlight of our celebration. You were with us in spirit.
And my fiancé, who has been my anchor through every tear, mood and moment. You are selfless and loving in every way, and I'm so lucky to be yours.
Despite the sadness that led to the creation of this event, this truly was a perfect evening. In the end, no matter what the trial or tribulation, love conquers all.
They still do. We will soon.
---
Photos: Dreamy summer backyard vow renewal and marriage blessing
Midwest Magnolia Lauren Brandt was set to marry Alex Olinger on Saturday, June 27, but the coronavirus pandemic led them to postpone their wedding to later in 2020. To mark the would-be wedding day, Lauren surprised her parents with a vow renewal in their Omaha backyard, styled by Lauren, with photography by Ashley Nicole Creative, flowers by Janousek Florist, cakes by Hy-Vee and catering by Vincenzo's.
Be the first to know
Get local news delivered to your inbox!