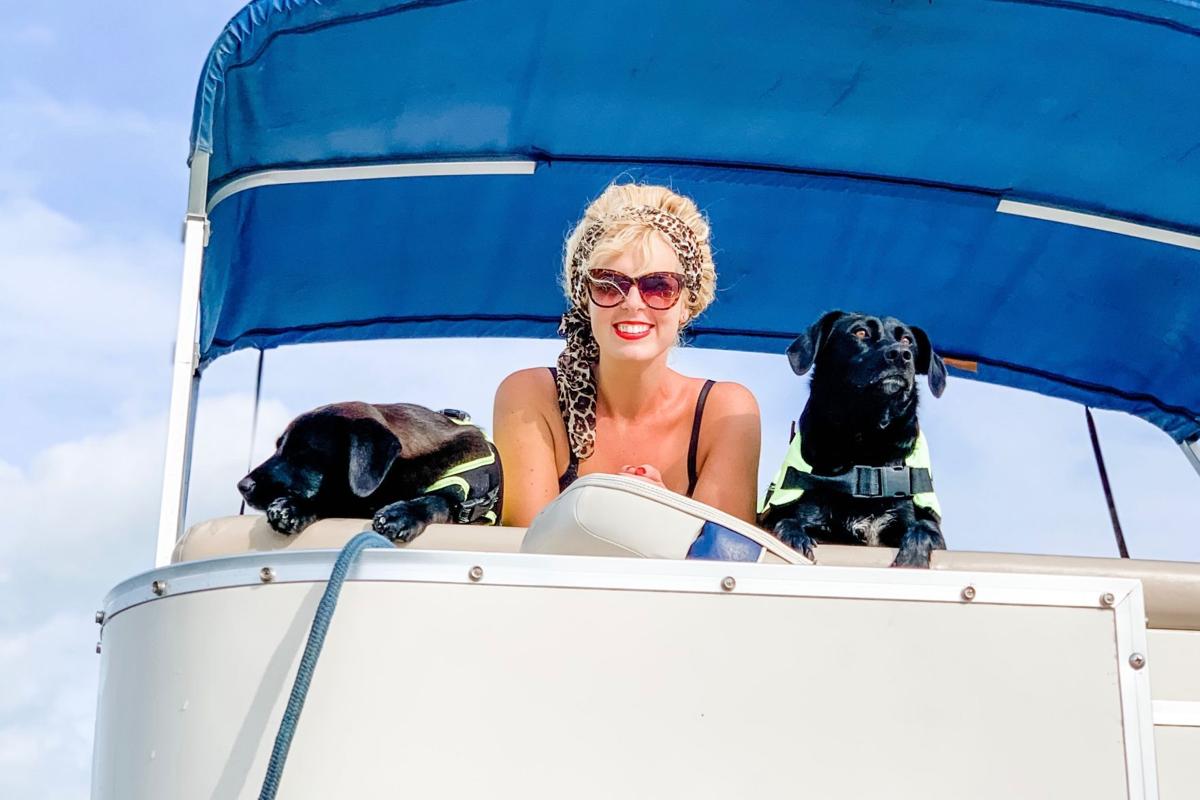 Earlier this month, Alex and I would have been lathering each other up in Hawaiian Tropic sunscreen, sipping piña coladas and frolicking in the Caribbean Sea. COVID-19 had other plans for us.
After our backyard soirée on June 27, we had planned a mini-moon. So, we stuffed the car full of leftover cake, swimsuits and Crystal Light drink mix and headed to my future in-laws' lake house. Our "corona-moon" had begun.
Sun Valley Lake is a hidden treasure; 125 miles east of Omaha, it's tucked right outside of Ellston, Iowa. This private lake is lined with beautiful homes, cabins and cascading trees. The water is some of the clearest I've ever seen, which is a bold statement from this Caribbean queen. Alex and his parents had to coax me into the water my first time out there, and now they can't get me out of it. I overcame my fear of killer lake fish.
Upon arrival, we were greeted with hugs, BBQ and a series of puppy cuddles. My in-laws have two German shepherd-black lab mixes, Maggie and Winnie (a rescue puppy from Tulsa who is too cute for words). As a person with a dog allergy, it takes all my willpower not to snuggle them ALL DAY. These dogs adore me, and make it their personal life goal to sit on and/or shake their hair all over my belongings.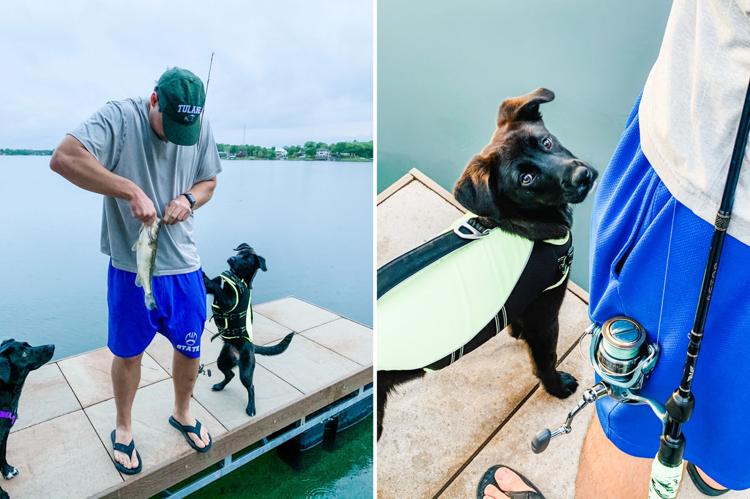 Dinner overlooking the water and an evening boat ride reinforced the reason we chose to spend the week at this oasis in place of our original Bahamas honeymoon.
We kayaked, paddleboarded (I ate so much water, even with being a dancer and yoga enthusiast), swam and boated all weekend. There was dessert with nearly every meal and lots of sunshine and magazines.
Having five days with my future in-laws was such a gift, but the real bonus was seeing my future brother-in-law, Andrew. A second-year medical/MBA student at Tulane University, he is currently living and studying at the lake. He took refuge there at the start of the pandemic because New Orleans became a hot spot so quickly.
Having that time with Andrew, especially since his life is and will continue to be so demanding and busy, meant everything. He has been such a treasure, confidant and friend throughout our relationship. And believe it or not, he and my brother Robert have the same birthday — month, day and year. Coincidence? I think not. Fate for sure.
Alex and I also did a bit of décor-updating at the lake house. It's my favorite hobby. Anything design is right up my alley.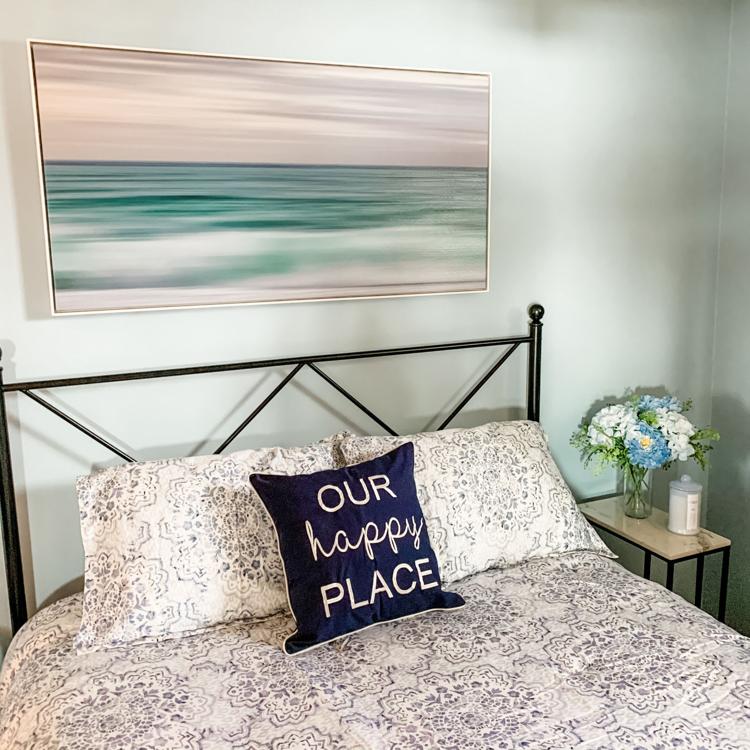 We had donated my bed from my single days to one of the guest bedrooms. We brought from Omaha artwork, lamps, flowers, candles and faux-marble end tables. These items breathed new life into the house. It was such a joyful feeling to have made my mark on a place that had become like home. We also printed some family photos on canvases for the living room. These personal touches were our gift to Alex's parents, just as we had gifted the vow renewal to my parents.
Alex and I enjoyed rocking the boat with our change of plans, and we are so grateful to his parents for making this all possible. I have felt so loved and welcomed from the very beginning by his family. It is so wonderful to be marrying into a family that is so close.
To have both our parents still married and still in love is a rarity in our current society. We have two beautiful examples of marriage and commitment, through thick and thin, to model our own life and relationship after.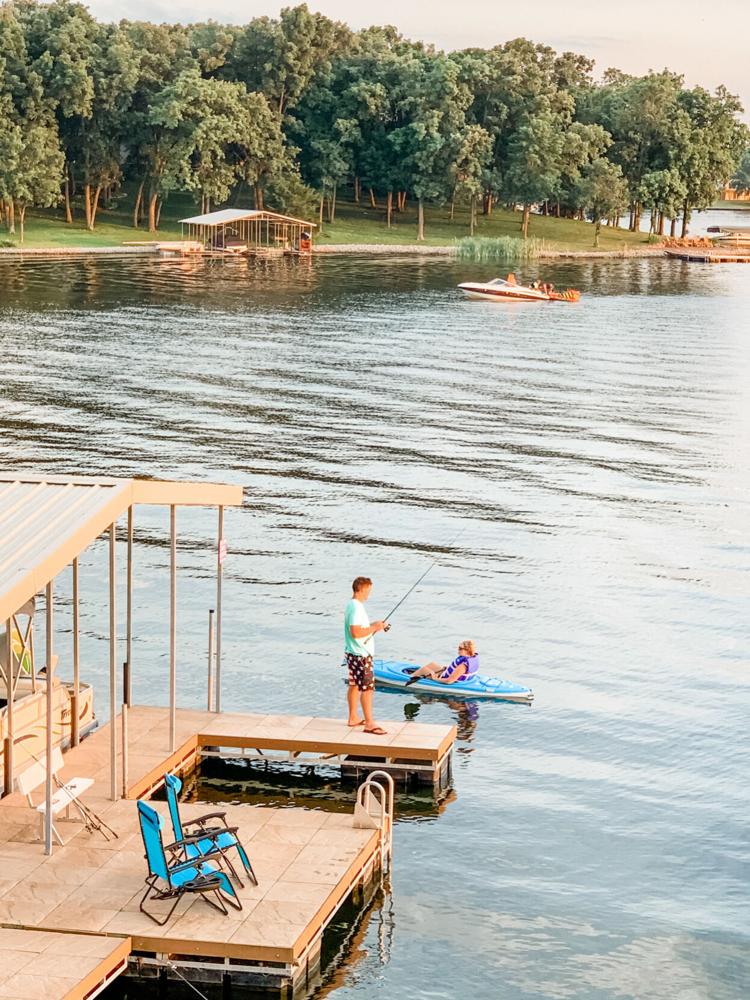 We may not have had lobster, daiquiris and ocean waves as planned. Instead we had a week of BBQ, homemade ice cream, fishing lessons and evening boat cruises with the gang. I'd say, all in all, that our corona-moon was much more than a concession. It was a gift.
There is a time for everything, and this was a time to develop a deeper bond not only with my future spouse, but my future and forever family. Love always finds a way.
---
Photos: Dreamy summer backyard vow renewal and marriage blessing
Midwest Magnolia Lauren Brandt was set to marry Alex Olinger on Saturday, June 27, but the coronavirus pandemic led them to postpone their wedding to later in 2020. To mark the would-be wedding day, Lauren surprised her parents with a vow renewal in their Omaha backyard, styled by Lauren, with photography by Ashley Nicole Creative, flowers by Janousek Florist, cakes by Hy-Vee and catering by Vincenzo's.
Be the first to know
Get local news delivered to your inbox!