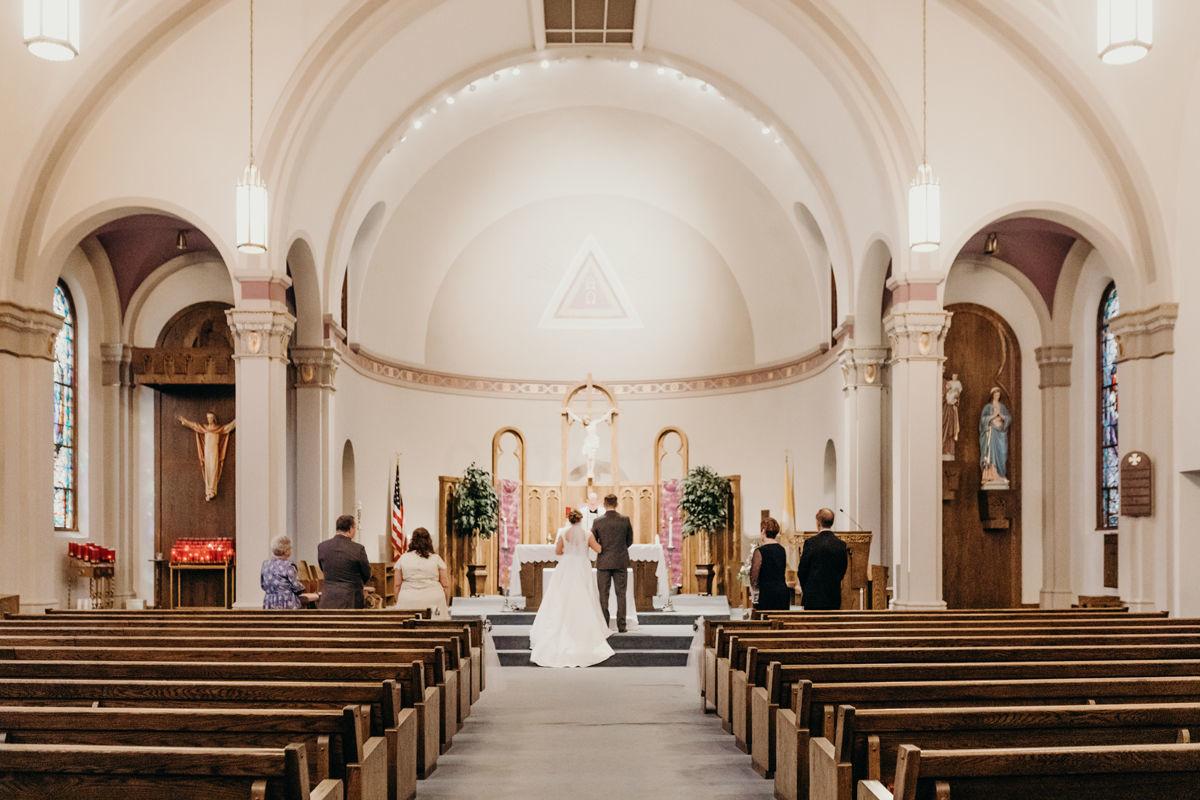 If you've just started your wedding planning, you're in a good position, etiquette consultant Kelly Thedinger assures couples nervous about COVID-19.
"You have the advantage of planning strategically" for any curve ball the coronavirus pandemic may throw between now and your wedding date, Thedinger says.
It's still a topsy-turvy exercise, and most likely will remain so into 2021, she says.
"There is no cookie-cutter advice." But a COVID-19 playbook is beginning to emerge.
These 10 tips from Thedinger and other wedding pros will help you through the etiquette dilemmas that arise with any change of plan.
1. Do what makes you comfortable. "This hits very close to home," Thedinger says. "I have a son contemplating his own COVID-19 wedding plan for January 2021 in Boston." Pick a drop-dead date for a decision on the type of wedding you will be able to have based on local projections. "It will be staying like this through the end of the year and into spring 2021," predicts Thedinger, who is married to a physician watching the trend line of the pandemic.
2. Don't second-guess yourself. "If you can accept that smaller is OK, stay with your original date and scale back," advises Lilian Jacobitz of Creative Fleurs. "If you're distraught that you can't have everything you've always dreamed about — lots of guests, dinner and dancing — then move your date." All of her spring and summer brides elected to move their dates to late 2020 or early 2021.
3. Consider hiring a wedding planner to help you sort through your options. "It's the best decision my son and his fiancé made," Thedinger says. A planner gives you an extra set of eyes on vendor contracts, plus added insight and expertise to pivot and improvise, if necessary.
4. As you compile your guest list, take the extra step to get everyone's email address, phone number and mailing address. Go ahead and send your save-the-date announcement four to six months in advance, then stay connected with your guests throughout the planning process.
5. Prepare your invitations but wait to seal the envelopes. "Invitations typically are sent two months in advance. The pandemic gives you permission to shorten the lead time," Thedinger says. She suggests delaying until your plans are firm.
6. If your wedding is scaled back, notify everyone who received a save-the-date or an invite. Craft a heartfelt message telling them that it's not going to be possible to have everyone there. "Be sensitive to your audience," Thedinger says. Sending an email is fine for those who use the Internet regularly. For others, a phone call is best. "The most personal form of communication is the best form."
7. If you decide to cancel your wedding, call everyone on your guest list. If calling isn't practical, use email to notify as many people as possible, and telephone those who don't use the Internet.
8. If your wedding is postponed after your invitations have gone out, send a printed announcement of the change. State the reason for postponing and announce the new date, if you can. If your invitations are already printed but haven't gone out, simply add an enclosure card stating the new date. "The main thing is to be certain that there is no confusion over the date," Thedinger says.
9. Realize that everybody understands the fluidness of the situation, especially with guest lists. "Nobody feels slighted," Thedinger says. Keep your guests updated so they feel part of the event — even if they might not be able to attend.
10. If your wedding has been downsized and a guest who can't come already has sent a gift or contributed to your Honey Fund, it's not necessary to offer the gift's return. "I can understand how a bride and groom might be sensitive to that," says image consultant and author Dick Lerner. "But it's not necessary. The gift will not be an issue with a close friend or family member." Graciously accept and acknowledge it as coming from the heart.
And a bonus tip for guests: "Be a good guest. We have to be understanding as plans are being unraveled," Thedinger says. "Be gracious. Be kind. Be positive. And RSVP on time."
Be the first to know
Get local news delivered to your inbox!