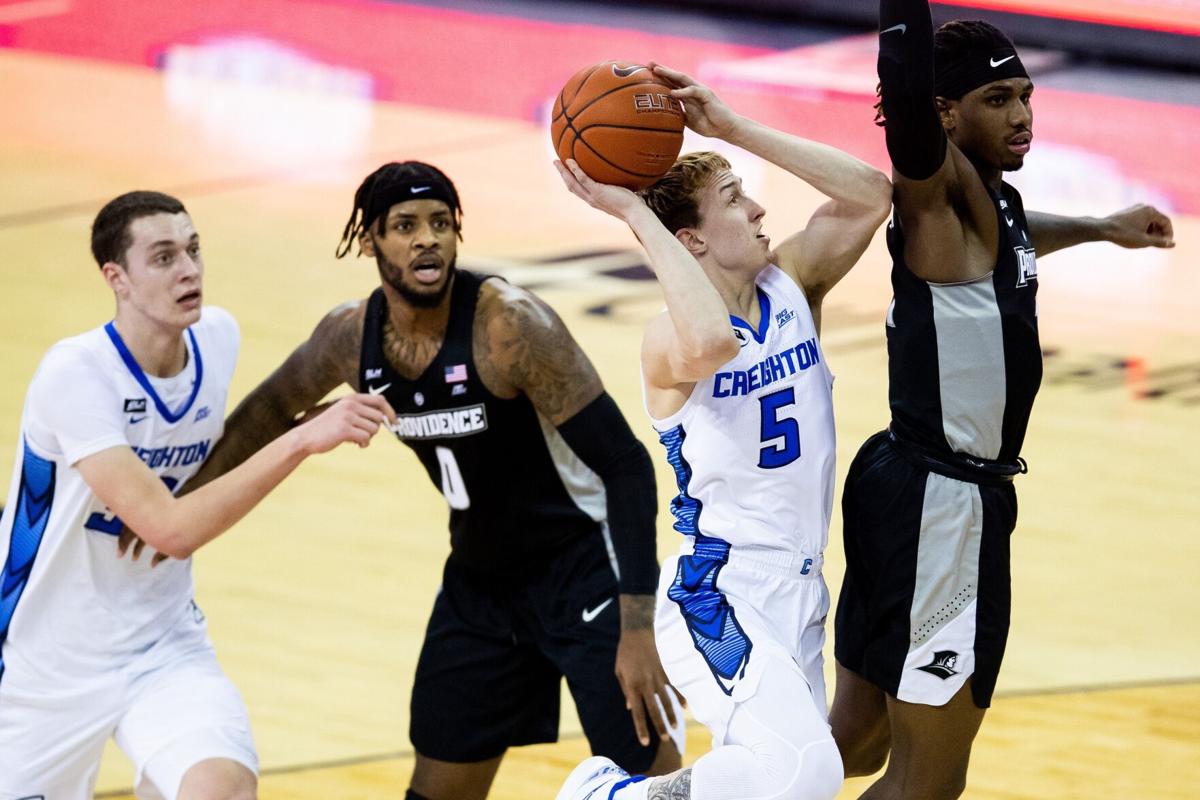 When speaking at Big East media day, Creighton coach Greg McDermott regularly referenced his team's youth and hinted that CU is in store for some up-and-down moments this season.
But he's not ready to concede his expectations have dipped.
Sure, it'll be challenging to get the young players — five true freshmen and two redshirts — up to speed. McDermott thinks the Jays should grow as the season unfolds, though. Look out for this team in January and February.
"We're not going away," McDermott told reporters during his Zoom interview session with the media day's virtual attendees.
The Jays won a share of the 2020 conference championship and reached the 2021 Sweet 16. But they're replacing all five starters and bringing back just three members of last season's rotation. They're adding in a top-10 recruiting class and two graduate transfers.
Creighton was picked to finish eighth in the league's preseason poll — the third time in the past four years league coaches picked CU to finish seventh or lower before the season. Creighton did not have a player named to the preseason All-Big East first or second team.
The conference coaches annually vote on a predicted order of finish and name the league's top players. This year's results were released Tuesday in conjunction with Big East media day.
Villanova earned the top spot in the preseason poll, and its senior point guard, Collin Gillespie, was named the league's preseason player of the year. The coaches named Georgetown's Aminu Mohammed the preseason Big East freshman of the year.
A few notes from McDermott, senior Alex O'Connell and sophomore Ryan Kalkbrenner during their time in New York City on Tuesday:
Kalkbrenner almost struggled to find the words to describe the potential of freshman Arthur Kaluma. Bottom line: Kaluma is incredibly talented.
"Can't say enough good things about him," Kalkbrenner said on the Big East Network.
Kaluma has improved since arriving on campus, which has impressed McDermott.
"Arthur Kaluma's got a chance to be really, really good," McDermott said during a Big East Network interview.
Another freshman who's performing well in practice: Ryan Nembhard. He'll contend with junior Shereef Mitchell for minutes at point guard. McDermott compared Nembhard's pace and vision to the playing style of former Creighton standout Maurice Watson.
"He really fits our style of play," McDermott said of Nembhard. "He pushes the basketball. Really developed his jump shot. He makes everybody else better."
The biggest thing Kalkbrenner has noticed while playing alongside Nembhard? He's a table-setter.
"He just sees the floor so well," Kalkbrenner said. "Such an amazing playmaker. If you're open, he's going to find you."
The CU coaching staff knew months ahead of time that it would have openings on its roster once last season ended. McDermott said he and the coaches made the decision to fill most of those vacancies with freshmen instead of transfers — a roster-construction philosophy that emphasizes player development.
"To use an NBA term, you either build through the draft or you build through free agency," McDermott said. "We decided to build through the draft.
"We've enjoyed a lot of success bringing in a lot of young guys, keeping them in our program, watching them grow and watching them develop. That's the way we've chosen to go."
McDermott said a couple of times Tuesday that he expects the Jays will have at least one freshman on the court at all times this season. It's just unavoidable. They're going to have to rely on their youngsters, he said.
Which means there will be growing pains.
"We'll have some bumps in the road," McDermott said.
O'Connell is looking forward to stepping into "a more prominent role" for Creighton after making his CU debut last season. But he's not focusing on his individual objectives just yet. This preseason has been about the team, according to O'Connell.
"One of my goals has been to try to make everybody on the team a better player," O'Connell said. "As a vet, I think that's one of my responsibilities. I'm excited to see where we go."
Mitchell, who had offseason foot surgery, is still working his way back to 100%, according to McDermott.
CU women picked sixth
The Creighton women's basketball team was picked to finish sixth in the Big East preseason coaches poll.
It's the lowest preseason ranking the Jays have received from the conference coaches since joining the league. They were predicted to finish in the top four every year until they were slotted fifth ahead of last season.
Creighton is coming off a disruption-filled campaign because of COVID, but it managed to finish sixth in the league standings and reach the conference tournament semifinals. It will have to replace leading scorer Temi Carda, an All-Big East second-team performer who averaged 15.6 points per game last year.
But CU does return 67.2% of its scoring — 10 of the 12 players on the Jays' roster this season played for the team last year.
There was no Creighton representative on the 10-player preseason All-Big East team released Tuesday along with the conference's preseason poll.
The coaches picked UConn to win the league. Sophomore Paige Bueckers was named the preseason player of the year, and Huskies guard Azzi Fudd was named the preseason freshman of the year.