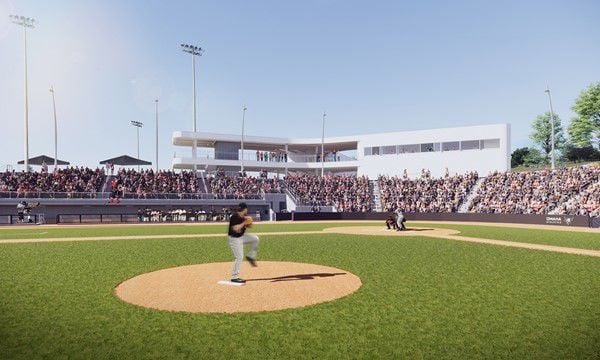 The University of Nebraska Omaha Mavericks baseball team has been Division I for nearly a decade, but can finally call some place home after the construction of Tal Anderson Field over the offseason.
The field is named after Tal Anderson, a former UNO baseball standout and long time donor and supporter of the program.
The newly-constructed gem is extremely fan-friendly and even shares the same concourse with Connie Claussen field, the home of Omaha softball.
Located on campus just west of Baxter Arena, the all-turf field opened to the public for the first time on March 5, when the Mavs hosted the cross-town rival Creighton Bluejays. UNO entered the weekend with a 3-3 record after splitting a two-game series with Oklahoma and a four-game series with Missouri.
The weekend series was completely sold out as Tal Anderson field's inaugural game unfortunately ended with a 10-3 Creighton win but the new stadium was on full display. Saturday's contest was also less than ideal as Creighton jumped on Omaha early and won big again, 15-2. UNO was able to capture their first win on their home field Sunday afternoon behind strong pitching as the Mavs won 5-2. The next time Tal Anderson field will be in use comes on the weekend of March 19, against South Dakota State.
The $23.5 million complex features fixed seating for 1,500 fans with additional berm seating on each baseline. This facility couldn't come at a better time as UNO baseball is coming off its most successful season in program history. Before the cancellation of last season, the Mavs finished 2019 with their program's first NCAA tournament appearance. UNO also won its first regular-season Summit League championship and won the Summit League tournament in 2019, they finished with a 31-24-1 record.