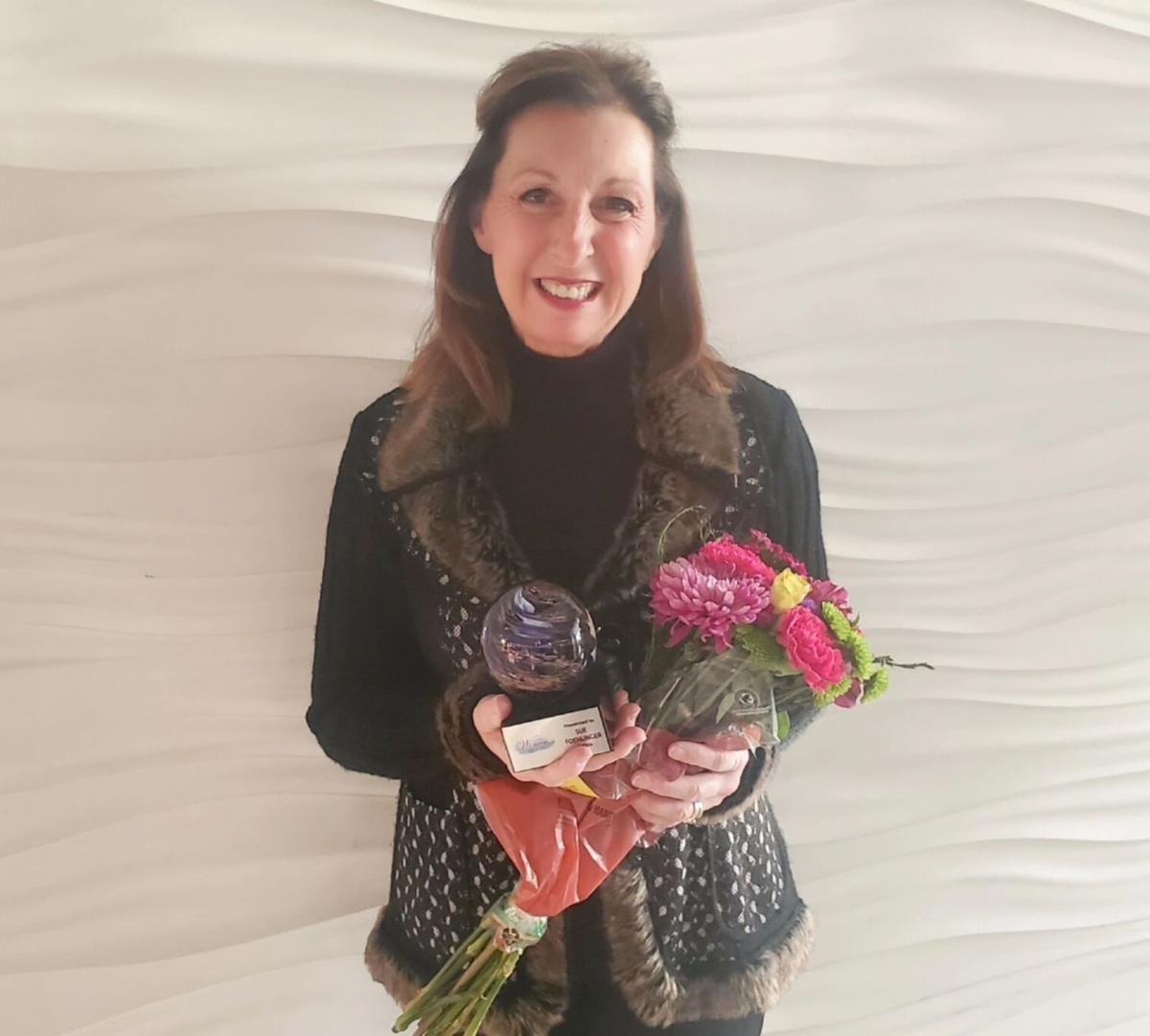 *The following story was mistakenly omitted from the 2020 Women of Distinction special publication, which published on Dec. 16. The electronic edition of the section has been updated to include this report.
Poised for the start of its 48th year serving the residents of the La Vista, Ralston and Papillion communities and beyond, Sue's Stepper-ettes continues as the life-long vocation of Sue Foehlinger.
"The Stepper-ettes began in 1973 when I was 15 years old," Foehlinger said. "At the time I was the baton twirler and drum majorette for the Ralston High School marching band. That summer, 12 little girls wanted to learn how to twirl for the Fourth of July parade. They loved their experience so much that they wanted to continue lessons.
"Soon after, the La Vista Recreation Center contacted me to teach lessons. I agreed to host a registration for baton-twirling classes. In one day, 80 students signed up."
The rest, as they say, is history.
From 1974 to 1997, Foehlinger taught baton twirling and dance at various schools and churches through the La Vista Recreation program. She recalls that one of the Stepper-ettes primary locations was the G. Stanley Hall Elementary School.
During those early years, Foehlinger's students performed as part of many local parades and other events. She points with pride to the fact that the Stepper-ettes have marched in both the La Vista and Papillion Days parades for 45 straight years until this year when the celebrations were interrupted because of the COVID-19 pandemic.
"In 1997, my husband, Bob, and I decided to lease a space for a more permanent Stepper-ette home," Foehlinger said. "It had become more and more difficult to find places to teach. Stepper-ette Studios was located in La Vista near 112th and Harrison. It served us well, and the business continue to grow. In 2018, we took a big leap and built our own larger location from the ground up."
The Steppe Center, located off of 118th and Harrison, opened in February of that year. For Foehlinger, it was a dream come true and the culmination of many years of hard work.
Currently, the studio offers not only baton twirling but also ballet, hip hop, cheer, tumbling and preschool classes.
"Those original 80 students have grown to over 400, and we are now one of the largest studios of its kind in the country," Foehlinger said.
She was quick to note that what began as a teenager's efforts to help younger girls learn to twirl grew into a family affair. Two of Foehlinger's three daughters, Tami and Rachel, now teach baton twirling and dance at the Steppe Center full time. Her third daughter, Tina, recently started her own baton-twirling program in Castle Rock, Colorado. Husband Bob manages all the "ins and outs" of building ownership in La Vista.
Foehlinger's son, Ryan, manages the latest evolution of the family enterprise, wedding and event rentals at the 14,000-square-foot Steppe Center.
"Over the years, the Stepper-ettes have been a part of many life-changing and exciting experiences," Foehlinger said. "In 1990, we traveled to Russia, the first of our many international travels, as part of a cultural exchange program."
Since then, the Stepper-ettes have won three World Championship titles — in 2009, 2012 and 2015 — while competing in Belgium, Switzerland and Italy, respectively. The Stepper-ettes have also won numerous national championship titles and have enjoyed performing at Walt Disney World and, closer to home, at the College World Series opening ceremonies.
Every July, the Stepper-ette national team competes at Notre Dame University. The team has won titles in Junior, Senior and College Pom Pon, Halftime Show, Dance Twirl and Twirling Corp divisions. In November 2010, the Stepper-ettes were chosen to march in the Macy's Thanksgiving Day Parade and perform on national television. In the summer of 2017, the Stepper-ettes "Batman vs Joker" routine went viral on Facebook with over 100,000 views. In 2018, 62 Stepper-ettes traveled to Dublin, Ireland, to march in the St. Patrick's Day Parade.
All in all, the past 47 years have chronicled a remarkable series of accomplishments for a local girl who began baton and dance lessons at the age of seven, was teaching those skills at the age of 15 and went on to complete seven additional years of dance training as an adult.
"The most rewarding part of my job is helping to shape so many young lives," Foehlinger said. "My goal is that student learn valuable lessons in teamwork, sportsmanship, performance skills, problem solving, self confidence and the value of hard work."
Another important part of being a Stepper-ette is the feeling of being part of a family and the lifelong friendships that come along with that, Foehlinger said.
"The city of La Vista has always been supportive of the Stepper-ettes, and for that I am extremely grateful," Foehlinger said.