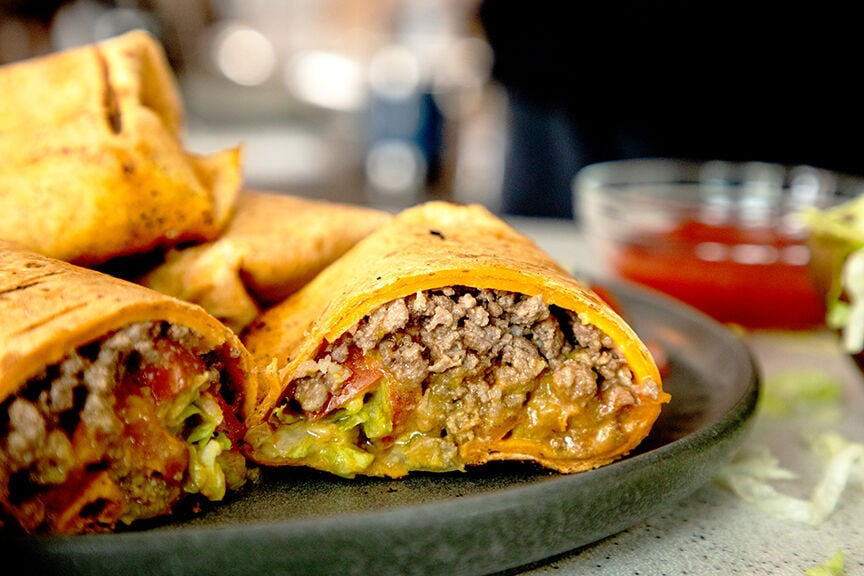 With warmer weather comes the time to start grilling again, and we all want some new ways to make a classic favorite: a cheeseburger.
With this Certified Piedmontese Grilled Cheeseburger Wrap, you have just that! It is even a healthy recipe, especially when you use Certified Piedmontese ground beef.
Certified Piedmontese Grilled Cheeseburger Wrap
Ingredients
• 1 pound Certified Piedmontese ground beef
• 1 teaspoon onion powder
• 1 teaspoon garlic powder
• 5 slices cheddar cheese
• 2 roma tomatoes, sliced
• 1 cup of romaine lettuce
• Additional ketchup (optional)
Instructions
1. In a medium to large skillet coated with cooking spray cook the beef on medium till almost cooked through but still a little pink (about 7-10 minutes) with the garlic and onion powder, and salt and pepper. Break beef up as it cooks.
2. Continue cooking until beef is cooked all the way through and is no longer pink.
3. In the upper-center of the wrap place a slice of cheese and ½ cup of the beef mixture. Add tomato and lettuce. Then, add some ketchup, mustard, and any other toppings you would like. Roll up and enjoy.
4. If you're using a grill pan, then heat it on medium high. Once it is hot, roll the wrap and place the seam side down on grill. Once there are grill marks turn over. Grill for another 2-3 minutes then remove.
5. Repeat steps 3 and 4 for the rest of the wraps.
Real Nebraska beef raised in the Midwest, Certified Piedmontese is a healthier option that's naturally leaner, more tender and flavorful — it's what beef really tastes like. Learn more at piedmontese.com.