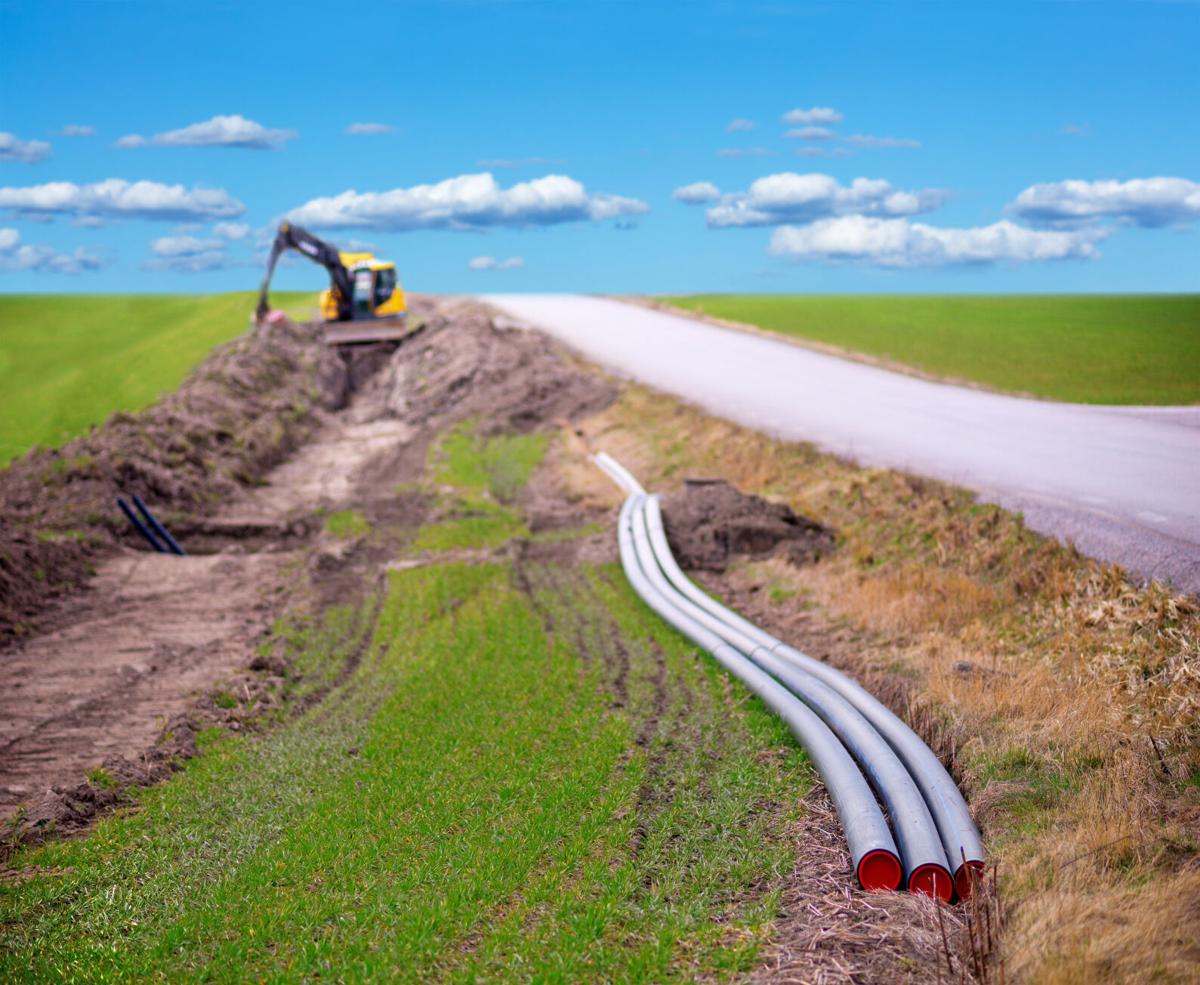 Amanda Sindelar has another box she can check.
As Atkinson's director of economic development, Sindelar's job is to attract businesses and people to the Holt County community, population 1,460. Broadband internet service, which now is available in Atkinson, often is a prerequisite for companies looking for a place to locate and people looking for a place to call home.
"It (broadband) will help grow our community." Box checked.
Since the arrival of fiber optics, rural communities have struggled to overcome barriers of distance and cost to bring broadband internet service to their ZIP codes. The pandemic demonstrated how essential broadband has become for employment, education, health care, entertainment and overall quality of life.
Without access to affordable, reliable broadband, rural communities face the very real threat of being left behind, community leaders said.
An opportunity emerged to help rural Nebraska communities in the form of federal grants created in response to the pandemic. A coalition of economic development leaders, internet service providers, consulting engineers and construction firms developed the steps necessary to turn grant dollars into fiber optics for rural communities.
"Rural communities are called rural for a reason," said Tom Martin, Elwood village board chairman. "We're off the beaten path more often than not. For us to receive services, several steps have to happen."
The catalyst for bringing broadband to Elwood and other rural communities in Nebraska came from $40 million in federal CARES Act funding that resulted from the COVID-19 pandemic. In October, Gov. Pete Ricketts announced the funding under the Remote Access Rural Broadband Grant program, administered by the Department of Economic Development.
Broadband expansion already was a priority for Nebraska, said Anthony Goins, director of the Nebraska Department of Economic Development. His department was working with the Public Service Commission and the Office of the Chief Information Officer to map out areas of the state with inadequate or nonexistent high-speed broadband.
"The onset of the pandemic added increased urgency to that mission," Goins said. "What was formerly a goal became a critical necessity in order to enable the remote business, education and health capabilities for which broadband is an essential precursor."
Goins said the enhanced broadband to rural communities could be perceived as a silver lining of the pandemic. "The pandemic made our broadband goals for the state even more essential," he said. "Capabilities like remote work, education and health care suddenly became crucial in order for us to keep functioning and doing business in a socially distanced society."
Those who have lived for years with limited internet access understand the opportunity that broadband represents. Broadband allows people in rural communities to work from home, said Darby Paxton, executive director of Holt County Economic Development. Those who were forced to live elsewhere because they lacked access to high-speed internet service for work when the pandemic hit can return home, he said.
"People want to raise families in a small community – in the community that raised them," he said.
Rural community leaders said the addition of broadband to their communities will help equalize the playing field as they work to attract new businesses and residents.
Residents of many Nebraska communities had no access to the minimum internet standard of 25/3 Mbps download/upload speeds. With the minimum requirements, a person can check Facebook with no difficulty. During the pandemic with entire families at home working and attending school remotely, those without broadband found themselves handcuffed, said Joe Johnson of Olsson, a nationally recognized engineering firm with headquarters in Nebraska.
Bringing faster internet service to rural communities takes several steps, which started with the state designating CARES Act funding for broadband to rural communities, said Johnson, development leader for Olsson's Nebraska region.
Olsson partnered with the state to provide a baseline, or current internet service levels, for more than 500 Nebraska communities. Johnson explained the typical next steps for bringing broadband to a community:
• Engineering consultants and internet service providers, or ISPs, discuss broadband deployment with communities. They then conduct feasibility studies and determine return on investment.
• Communities present an application, which contains feasibility study results and deployment strategy, to the State Department of Economic Development with the goal of receiving funding.
• The state awards individual communities and counties with a portion of the $40 million in CARES Act funding.
• Deployment of broadband within communities follows. The process involves creating a preliminary plan for deployment, meeting with stakeholders (including representatives from utilities and telecommunication companies already providing service to the community) and finalizing the design.
• Hiring an engineering consultant to oversee the ISPs installation of fiber to businesses and homes, otherwise known as premises. Many ISPs hire construction companies to install the fiber optics.
Installing fiber optics to homes and businesses takes planning, coordination and a large workforce. Creating a deployment plan for Atkinson meant driving every street and alley in the community, Johnson said. USA Communications, the ISP for Atkinson, spent an estimated 7,000 work hours to install the fiber optics for 638 premises, said Mark Liljehorn, director of sales and marketing. To bring fiber to Elwood's 361 premises, Liljehorn said, USA Communications first had to install fiber optics from Lexington, situated 21 miles away.
All this is not lost on Martin, Elwood's village board chairman. Martin found himself running his construction equipment sales business from home and constantly worrying that his internet would freeze during important calls. He knew others in Elwood faced similar challenges.
"The Village of Elwood gives a huge thank you to all the people who made this happen. To those who used their expertise to give us another choice for internet service," he said.
Chelsie Herian, executive director at Box Butte Development Corp., said she can count the ways her county will benefit from enhanced internet service. Then, she named three:
Broadband internet service means greater reliability and safety for the Alliance Municipal Airport's operations and a fixed-based operator situated there. The West Side Events Center will better be able to host conferences and training sessions. Finally, the Box Butte Industrial Site will be more attractive as a location for new businesses.
In fact, Herian said, she's awaiting word from a global company looking to close on 10 acres at the industrial site. Without broadband internet, she said, the company would not have given Box Butte County a second look.
"Fingers crossed," she said. "In order for us to grow, having fiber is huge. We small rural communities and counties need it to compete."