Is there glyphosate, the active ingredient in Roundup herbicide, hiding in your cereal?
Even if there is, there's some reliable science that says it doesn't pose a health risk. What?!
That sounds utterly contrary to intuition – that traces of a particular weed killer in food is actually NOT harmful. How can that be possible?
A few things to keep in mind when considering exposure to glyphosate in cereal foods:
1. The mere presence of a chemical like glyphosate doesn't tell us everything we need to know about safety. The toxicity of the chemical in question needs to be identified and considered. According to the EPA toxicity ratings, glyphosate is categorized as slightly toxic, while baking soda, table salt and theobromine, an ingredient in chocolate, are moderately toxic. Caffeine is very toxic and nicotine is extremely toxic. These rankings are based on the LD50 ratings and consider acute toxicity.
2. The amount of a chemical consumed is significant when considering safe levels. Paracelsus is credited with the toxicology adage, "The dose makes the poison." Even drinking too much water in a short amount of time can be deadly, and water is considered to be practically non-toxic.
3. What about long-term, low-level exposure to glyphosate? This is accounted for by the determined reference dose. An excellent resource for the exact science can be found at crediblehulk.org.
4. For example, a person would have to eat an unreasonably large amount of oatmeal to be exposed to enough glyphosate to have any adverse effects. (This example also assumes that the oatmeal contains the maximum amount of glyphosate allowable, which is 30ppm (parts per million). Using Credible Hulk's formula for how much cereal grain it would take to be exposed to the EPA's very conservative limits, I calculated that a 150-pound adult would have to eat about 70 cups, or 10 pounds, of oatmeal each day to accomplish this. A 30-pound child would have to eat about 15 cups of oatmeal each day or almost 2 pounds of oatmeal. This is an incredible amount of oatmeal, given that a serving size is only a half cup!
5. When the International Agency for Research on Cancer (IARC) says glyphosate is a Class 2A "probable" (but not proven) carcinogen, it puts it in the same category as emissions from frying food, and work exposure as a hairdresser. To put this in perspective, alcohol and sunlight are in the next level as "confirmed" carcinogens.
6. Not all farmers who grow cereal grains use glyphosate. In northern climates, it is used to assist in drying the grain before harvest. Here in Nebraska, I've never heard of glyphosate used for this purpose. It would also never be sprayed on a growing crop of wheat because it would kill the plant.
7. Both organic and conventional agriculture use chemicals. While pesticides approved in organic use are naturally derived, those approved for conventional use are synthetic. All pesticides contain a chemical or compound to be effective, either naturally or synthetically derived. Being categorized as "natural" or "synthetic" does not indicate anything about levels of toxicity. Until we live in a perfect world with no risk of insect damage, weed pressure, plant disease or storage issues, the use of these agricultural products is essential in raising high-quality food.
Just as we know to wear sunscreen and protect our skin from long-term sun exposure and sunburns, we also know not to eat an impossible amount of oatmeal for breakfast. Or, if a bowl of Cheerios is your breakfast, that 70 cups of oatmeal previously mentioned for a 150-pound adult would convert to thousands and thousands of cups of Cheerios per day.
Eating a variety of foods in moderation is generally a safe bet. It's also common sense to dig a bit deeper when stories use scare tactics to increase television ratings, Internet traffic and social media hits.
Marketing that appeals to feelings and emotions on health topics is highly effective even when it isn't accurate. Sometimes we need to be scared, and sometimes we need to remember to call out those who decide it's easier to be afraid of food than figure out the science behind it.
Credible science (not the "Google-university" kind) is our friend in finding the truth we deserve as consumers.
Diane Karr and her husband, Mike, raise corn, soybeans, wheat, grain sorghum and cattle with their four boys on their farm in south-central Nebraska. Between staying busy with four boys, Diane plays the organ for her church, manages the farm accounting and enjoys photography, scrapbooking and Husker and Packer football. Diane's passion for agriculture goes way back. Both she and her husband were raised with farming backgrounds, and their families' agriculture legacies go back 125 years. Read more on Diane's blog, Real Farmwife on the County Line.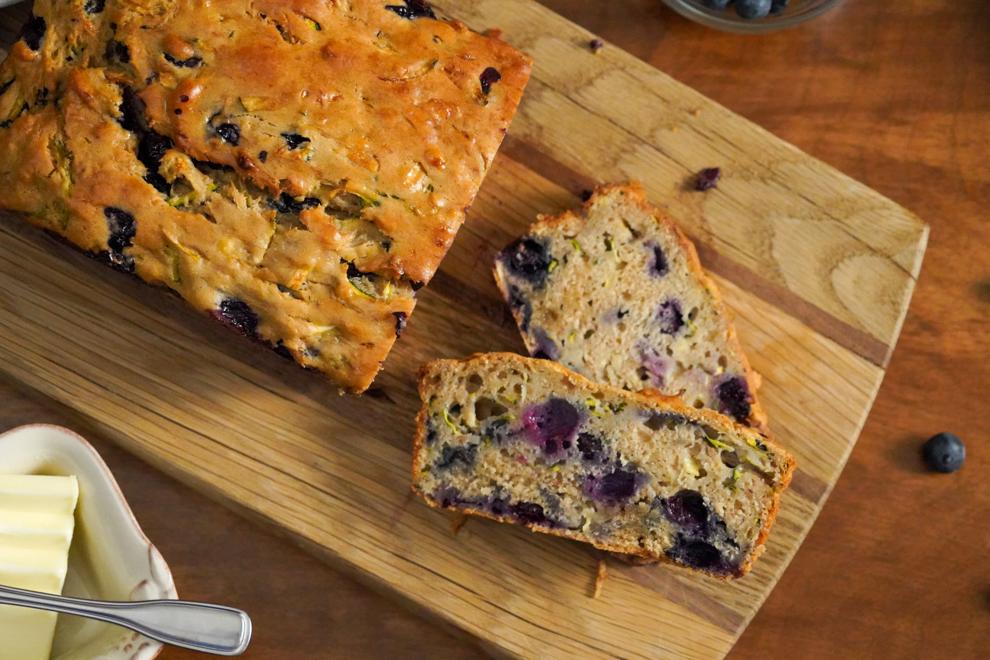 Blueberry Banana Zucchini Bread
Ingredients
• ½ cup light brown sugar, packed
• 1 tablespoons vanilla extract
• 1½ to 2 cups all-purpose flour* see notes
• ½ teaspoon baking powder
• 1 cup of fresh grated zucchini, remove moisture by placing in between two paper towels and pressing firmly * (see notes)
• 2 medium bananas, mashed
Instructions
1. Preheat oven to 350 F. Grease one 9-by-5-inch loaf pan. (You can also split the batter into two pans – just be sure to adjust the baking time.)
2. In a large bowl, whisk together the egg, brown sugar, vegetable oil, granulated sugar, sour cream and vanilla extract. Add flour, baking powder, baking soda and cinnamon, and fold into mixture.
3. Add the zucchini and bananas, and fold to combine. Add blueberries and gently fold.
4. Turn batter out into the prepared loaf pan.
5. Bake for about 65-80 minutes or until the top is golden, the center is set, and a toothpick inserted in the center comes out clean. Allow to cool in pan for 15-20 minutes until transferring to a wire rack.
6. *NOTES: All zucchini and bananas are different in the amount of moisture in them. Your batter should be on the thicker side. The zucchini will release water into the batter as it bakes. You may add additional flour to batter before cooking if needed. It's better to have your batter be too thick than too thin. I also suggest you place your grated zucchini between paper towels and press firmly to remove as much moisture as you can. Bake as long as needed and place a piece of foil on top of the bread if the top is beginning to brown.