Golfers who have experienced great play at Stone Creek for the past two decades now have an onsite restaurant and bar of similar caliber to enjoy.
Stone Creek, situated at 6220 N. 160th Ave., opened its restaurant, which features a full menu and a full bar, in mid-May to high praise.
"A few people miss the trailer, but the comments we have heard are tenfold of how much they love the restaurant," says Connor Farrell, general manager and director of golf. "We hear a lot of good things about the food we serve."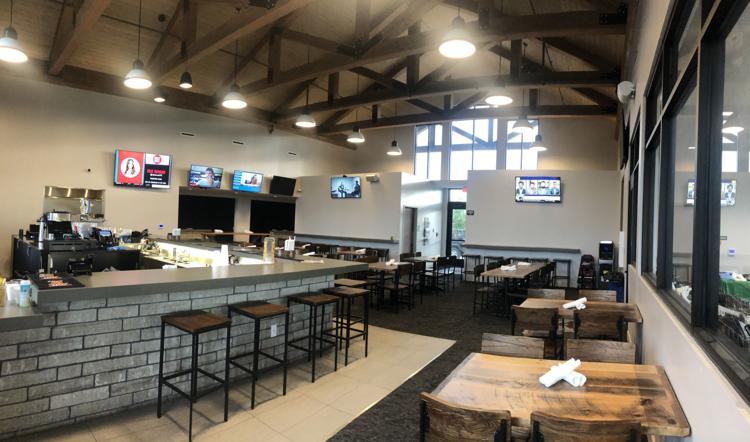 The trailer served as Stone Creek's pro shop and snack bar for two decades. It's gone — replaced with a 3,800-square-foot pro shop and restaurant, which features eight large televisions, two golf simulators and an outdoor patio with heaters.
The restaurant can accommodate – at full capacity – nearly 100 diners, not counting the patio. The patio allows diners to watch golfers finish their rounds.
The restaurant, however, isn't just for the golf crowd, Farrell says. Translation: Golf shoes aren't required to dine in or enjoy a cocktail.
He noted that Stone Creek's restaurant is the only one to be found along 156th Street, from West Maple Road to Bennington. And patrons — golfers or otherwise — don't have to dine and run. The kitchen remains open until 10 p.m.; the restaurant until 11.
For its menu, Stone Creek turned to John Benton, executive chef at Champions Run.
"It appeals to everyone because it goes deeper than most golf course restaurants," Farrell says. "It has more detail to it."
One example: Benton incorporated brisket into the hamburgers served. And  another: the wings come either saucy or dry-rubbed. And the pizza is made with a gluten-free crust. "We tried many different crusts and the one we liked best was gluten-free. So we went with it."
Stone Creek's quality as a course is well-established.
Stone Creek features three 9-hole courses, each with four tees. The course also features 93 bunkers, seven ponds and a meandering creek that comes into play on three holes.
"Three courses means variety. There's always something different each time you play," Farrell says. "And the course is in phenomenal shape. Our superintendent (Ben Hall) and his staff do a great job."
Three Stone Creek holes that stand out:
Greystone (south), No. 6 – This hole features an elevated tee to a wide landing spot. "The greedier you are, the more accurate you have to be," Farrell says. The approach shot is over water "so you need to be dialed in for distance control."
Blackstone (east), No. 6 – The lengthy par 5 provides golfers with a choice: Go for the green in two or be conservative and make it in three. The approach shot is over a pond and the creek, and requires navigating through trees. "When you're hitting over a pond and a creek, you have to get the distance correct." Or else.
Sandstone (west), No. 4 – This uphill, dogleg left par 4 features a split fairway. "If you're long enough on your drive to carry the bunker, the hole can play easier. If your tee shot is short of the bunker or too far right, the hole plays much longer."
Stone Creek offers a junior golf program under the direction of teaching professional Drake Lundeen. The program features clinics for youngsters age 5 and older and all skill levels. Tuesday and Wednesday afternoon leagues are for more advanced young players.
Stone Creek's driving range is the largest grass range in the state and can easily accommodate 75 golfers at a time.
And, best of all, no mats to hit from. "We have enough grass to hit from that no mats are ever needed."
Be the first to know
Get local news delivered to your inbox!