When some Hastings College students told their professors they did not have textbooks because they couldn't afford them, college employees brainstormed outside-of-the-box solutions. The result: The college now provides all students with the required books for their classes at no additional cost.
"We found an innovative way to remove that barrier to make learning affordable and accessible," said Dr. Rich Lloyd, executive president at Hastings College.
The books-included initiative is one of several new ideas that earned Hastings College recognition as one of the region's best undergraduate teaching and most innovative schools from the U.S. News and World Report. For many on campus, the honors highlight not only recent innovations, but also a decades-long culture of generating new ideas to benefit students.
"This is a place of ideas," Lloyd said. "We are always dreaming up new ways to benefit students. Innovations happen every day."
Among the biggest innovations recently was a total overhaul of the college's academic program to require an interdisciplinary studies minor and to convert courses to a "block" schedule. Instead of taking as many as six courses during a 16-week semester, students enroll in no more than two courses at a time over a two-week or seven-week block.
The new academic program was paired with a technology initiative that provides every student with an iPad and Apple Pencil. It also included the rollout of a "study away" program, offering students the chance to experience other cultures and gain a greater understanding of the world.
"It creates an even playing field for technology and travel for all students across campus," said theater professor Dr. Annette M. Vargas, who also heads the fine arts and humanities division and advising at Hastings College.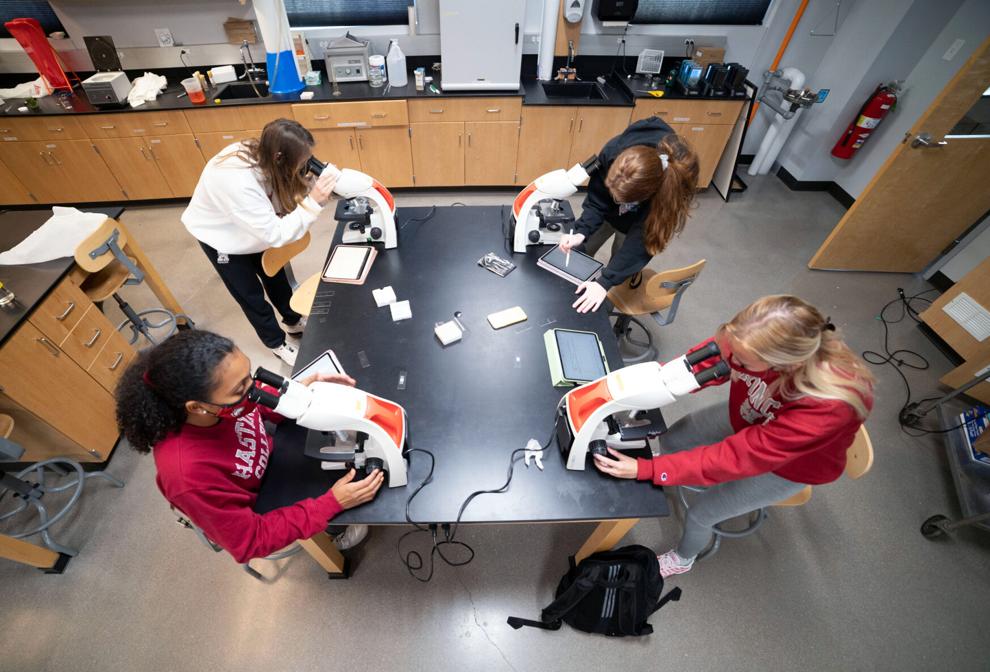 Partnerships 'best of both worlds'
More recently, the college established an academic partnership with the University of Nebraska–Omaha and the University of Nebraska Medical Center, and expanded its partnership with Central Community College (CCC). The partnerships allow Hastings students to enroll in courses at the other institutions but apply those credits to their Hastings College degree.
The college also formed a partnership with Bryan College of Health Sciences (BCHS). Hastings College will serve as an education partner, offering courses in support of Bryan's proposed second site for its undergraduate nursing program. Mary Lanning Healthcare will serve as a main clinical partner for the program.
"The focus is pinpointing what we do really well and working with educational partners that are really great at adding additional value where students have expressed an interest. Instead of saying, 'We don't do that,' we look to work with other institutions to make it happen," Lloyd said.
Vargas said one of her theatre students has already taken advantage of the academic partnership with CCC to learn drafting and design skills for theatrical set design aspirations.
"If my student wants to go to graduate school for set design, this will allow them to be a standout student because of their liberal arts foundation, theatrical experience and now the additional vocational skills," Vargas said. "This partnership is really going to market students to be able to have the best of both worlds."
The new partnerships are not the first of their kind for Hastings College. For example, the agreement with CCC expands previous agreements between the two institutions.
"The first agreement with CCC dates back to the 1990s. It allowed Hastings College students to complete agri-business classes at CCC while enrolled at HC, then transfer those credits in as part of their degree program," Lloyd said. "The agreement made us one of the first schools that I'm aware of to partner with a community college in this specific way."
Constant, continual innovation
The new block schedule also built off past innovations, namely the college's former January-Term, which started in the late 1960s as a way to give students a three-to-four-week intensive course.
Lloyd said Hastings College was an early adopter of the J-Term model. Time and time again, students rated the short and highly focused courses as the really enjoyable and excellent learning opportunities, Lloyd said.
"If we believe in that experiential model of intensive education, and students say it's one of the best things we do, then shouldn't we be doing more of it? That question, as I understand it, prompted some of the thinking behind the block schedule," he said.
Vargas said the innovative culture on campus gives faculty "permission to dream" and "an excuse to reenvision our curriculum." At a time when some institutions are struggling to survive, Hastings College continues to move forward, she said.
"We've taken advantage of the opportunity to try something new, and we've started to see really good results," Vargas said. "It's exciting and shows we are trying to be distinctive by continually helping our students and institution to grow."